Lincoln Boyhood National Memorial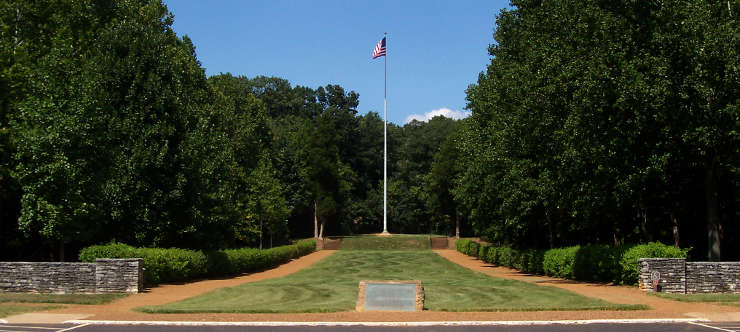 Lincoln Boyhood National Memorial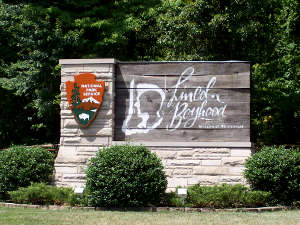 Lincoln Boyhood National Memorial is a site in Lincoln City, Indiana that preserves the location of the farm that Abraham Lincoln grew up on from the age of seven to the age of twenty-one (1816-1830). All that remains of the original cabin is the foundation, but there is a replica of the cabin nearby.
Thomas Lincoln had moved his family to the site in the summer of 1816, after he'd lost their home in Kentucky to a land title challenge (early Kentucky was surveyed very poorly and when proper surveys were done years later, many land titles were challenged and many people lost their homes). As he was an excellent carpenter with a good set of tools, he was able to build a cabin in as little as four days. He had the family home built before winter that year. Two years later, Nancy Hanks Lincoln (Abe's mother) died of "milk sickness" (generally, anyone who drank the milk of or ate the meat of cows that had eaten white snakeroot (which grew everywhere in the area) got ill and died shortly thereafter). A year later, Thomas remarried and his new wife, the former Sarah Bush Johnston, came with three children of her own. At that point, Abraham and his two step-brothers took up residence in the loft of the cabin and lived there until the family moved to Illinois in 1830.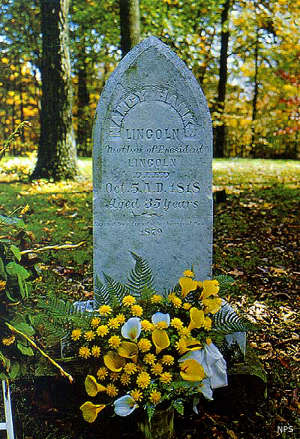 Nancy Hanks Lincoln grave
At the age of 10, Lincoln started school in November, 1819. The school year was three-months-in-the-winter long and cost $2 per year. Lincoln attended for two years. At 13, Lincoln was enrolled in a new local school but it was 4 miles away and he didn't attend very often. the next year he was enrolled in a scholl much closer and he attended that school regularly until he was 16. That was the end of his formal schooling.
As a teenager, Lincoln often worked for local farmers, plowing fields, clearing land and building fences. He got that work by hanging out at the local general store and at the two grain mills in town. He liked listening to and telling stories and would read everything anyone would lend him. Several times he had to go to Rockport (the county seat) and it was two lawyers he met there, John Breckenridge and John Pitcher, who inspired him to become a lawyer. He also made a trip downriver to New Orleans to sell produce and bring back supplies with Allen Gentry, one of the local businessmen. It's believed that it was on that trip that Lincoln saw his first slave market. Then in March 1830, the family packed up and moved to Illinois.
It was 1879 before any interest stirred about the farm. By then the farmstead had been reclaimed by nature and there was almost nothing left to indicate even where the cabin had stood. 1878 had seen Nancy Hanks Lincoln's grave found and a headstone placed on it. It wasn't until 1917 that the sandstone foundation was discovered. Ten years later the Indiana Lincoln Union was founded to raise money to build a memorial on the site. Lincoln State Park was established by the state in 1932 and at that time, included the site of the farmstead. Within a few years, a memorial district was established and the site with the nearby Pioneer Cemetery was transferred to the district. The Union raised enough funds that in 1944, the Memorial building was finished and dedicated. In 1962 the state added another 114 acres to the memorial district and the site became the Lincoln Boyhood National Memorial, a National Park Service site.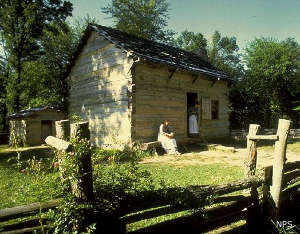 Replica of the Lincoln cabin
Today, the farmstead is the site of a working pioneer homestead, complete with log cabin, outbuildings, livestock, gardens, split rail fences and farm crops. The rangers dress in period clothing and demonstrate a variety of the activities that would have been common in 1820's America. The buildings are open from mid-April through September, the farm itself is open year round, sunrise to sunset except for Thanksgiving, Christmas and New Year's Days. The visitor center is open from 8 am to 5 pm from April 15 to the first weekend in October. From then to April 14, the visitor center is open from 7 am to 3 pm on Mondays and Tuesdays and from 8 am to 4 pm the rest of the week. Living demonstrations at the farm happen between 8 am and 5 pm daily, April 15 through early August. From then to late September, the demonstrations happen between 8 am and 5 pm Tuesdays through Saturdays. This is a day-use only site.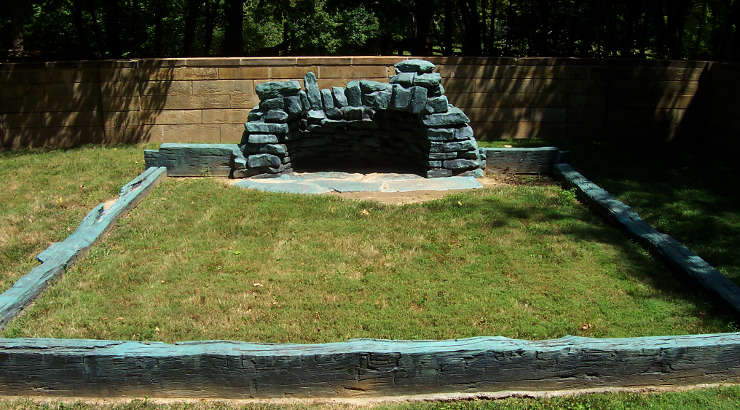 The foundation of Abraham Lincoln's boyhood home
Lincoln Boyhood National Memorial

Lower right and lower left photos courtesy of the National Park Service
Other photos are in the public domain