Wickahoney Creek Wild and Scenic River

Along Wickahoney Creek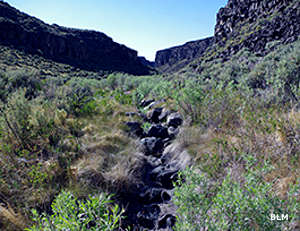 Wickahoney Creek is a tributary of Big Jacks Creek in southwestern Idaho. Only the 1.5 miles of stream from its confluence with Big Jacks Creek uphill to the wilderness boundary is designated Wild & Scenic. Beyond the wilderness boundary, Wickahoney Creek offers little streamflow and the trail into the canyon is a bit hard to locate. Most folks find their way to what remains of the old Wickahoney Stage Stop and Post Office and then follow the more worn trails from there. A problem with this is the number of trails criss-crossing the countryside as this area is a favorite among mule deer hunters.
A result of extensive volcanic activity during the Miocene Epoch (24 to 5 million years ago), the region is part of the Owyhee Canyonlands, the largest concentration of sheer basalt/rhyolite canyons in the western United States. Other rivers in the Big Jacks Creek drainage area also designated Wild and Scenic include Duncan Creek, Big Jacks Creek and Cottonwood Creek.
Wickahoney Creek flows through the basalt/rhyolite formations mostly in a very tight meander with dense riparian vegetation throughout the narrow canyon. The lower reaches of the creek have enough waterflow to support a small population of redband trout, a BLM-sensitive species and an Idaho species of special concern. The area is also known for its population of greater sage-grouse, bald eagles, yellow-billed cuckoos, ferruginous hawks, prairie falcons, several bat species, several neotropical migratory bird species, Columbia spotted frogs and western toads. The lava cliffs also support spotted and Townsend's big-eared bats, both Idaho BLM sensitive species.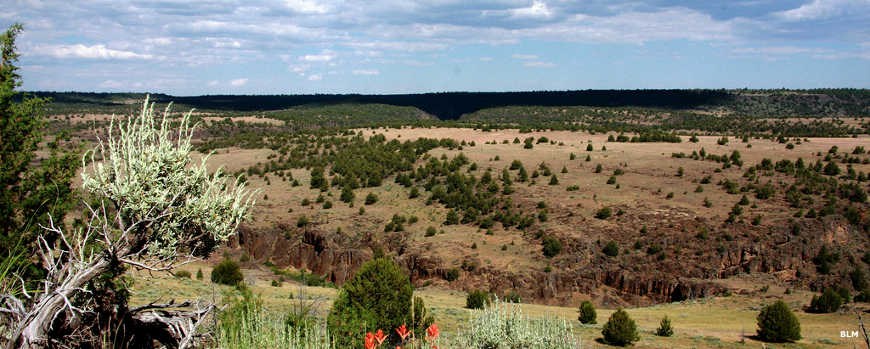 From the plains above Wickahoney Creek Canyon
Photos courtesy of the Bureau of Land Management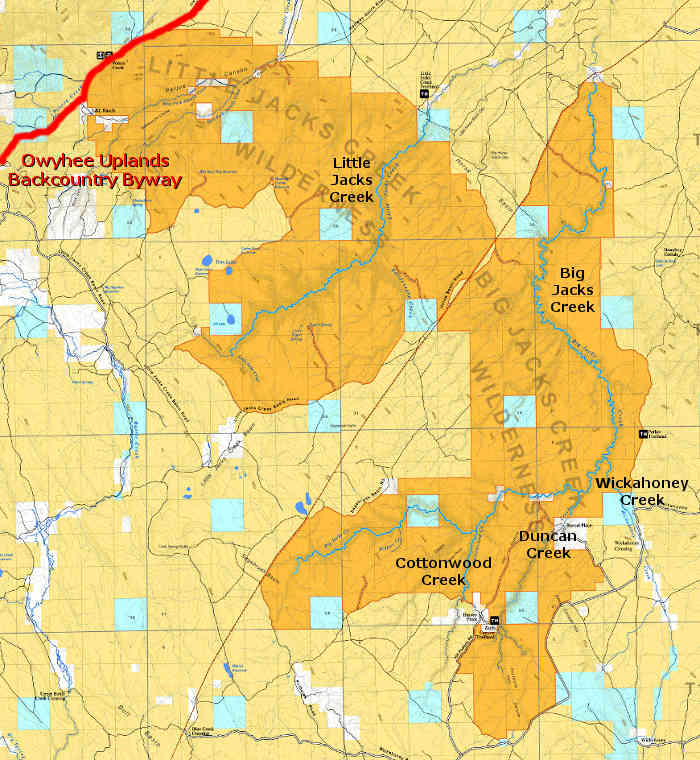 Related Pages
Map courtesy of the Bureau of Land Management