West Fork Bruneau River Wild and Scenic River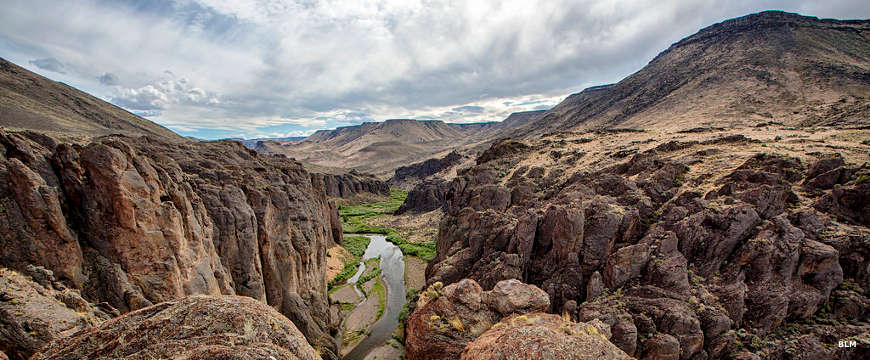 Along the upper West Fork Bruneau River
0.4 miles of the West Fork of the Bruneau River in Bruneau-Jarbidge Rivers Wilderness have been designated Wild & Scenic. That's the stretch of stream from the confluence with the Jarbidge River upstream to the wilderness boundary. That's in the deepest part of the river canyon, eroded into the basalt/rhyolite formations that make up the area. It's at the confluence with the Jarbidge River that the Bruneau River begins.
Near the wilderness boundary, the canyon of the West Fork opens up, getting narrow again near the confluence with the Jarbidge, just south of Indian Hot Springs and about 24 miles north of the Nevada-Idaho state line.
The West Fork Bruneau Canyon is dominated by a mixture of high, vertical lines and forms of rough, deeply eroded red, brown, or blackish cliffs. The cliffs are often glazed with yellow-to-light green micro-flora. The steep talus slopes are home to a sagebrush-bunchgrass and dark juniper community among the reddish rhyolite and coarse, blackish basalt rubble fields.
While rafters sing the praises of the whitewater runs in the Bruneau-Jarbidge River system, the West Fork Bruneau should only be run in kayaks by experienced kayakers: the river is rated extremely challenging due to its small size and the potential for numerous strenuous portages around the many Class IV and V rapids.
As barren as the plateau above appears, the river corridor offers a perennial stream with a riparian zone complete with river otters, bighorn sheep, mule deer, pronghorn, raccoon, bobcat and mountain lion. Be careful if fishing: there are redband trout and bull trout in the water. Redband trout are a BLM and Idaho listed Sensitive Species and bull trout are a federally listed Endangered Species.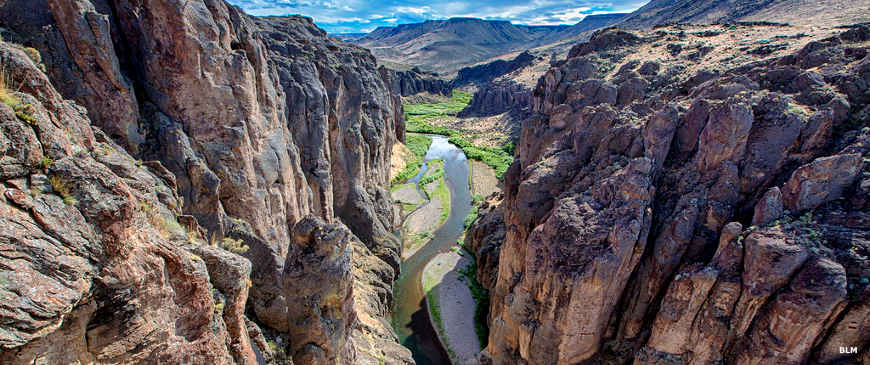 Deeper in the canyon of the West Fork Bruneau River
Photos courtesy of the Bureau of Land Management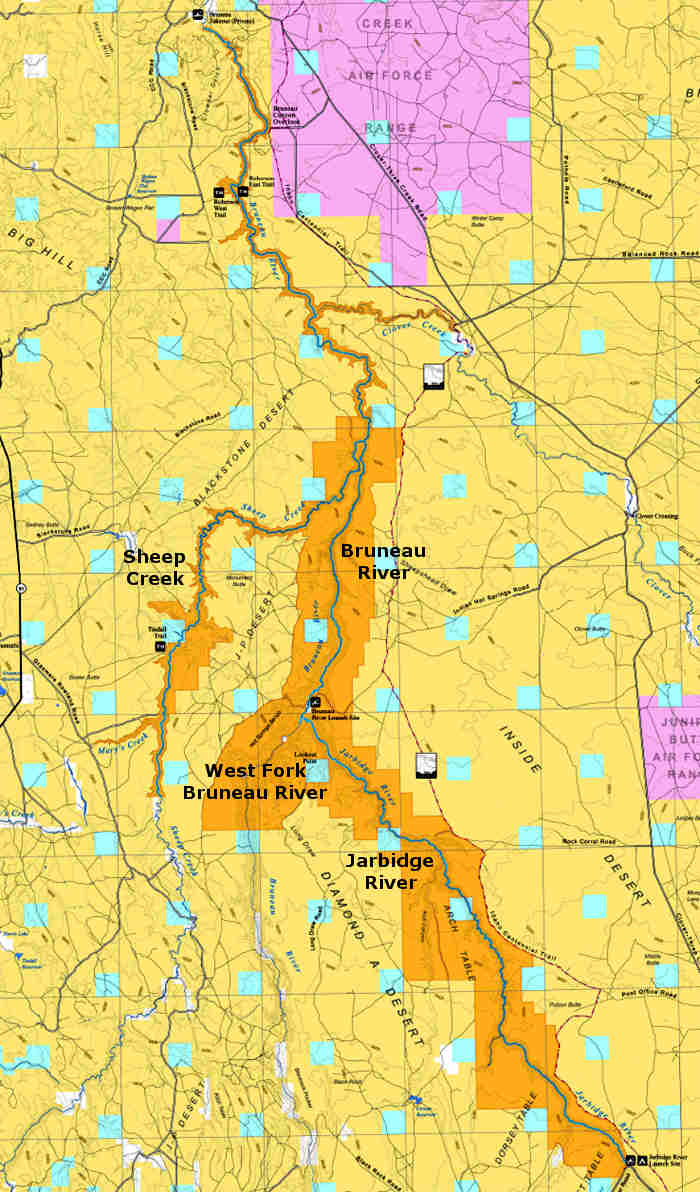 Related Pages
Map courtesy of the Bureau of Land Management