Thousand Springs Scenic Byway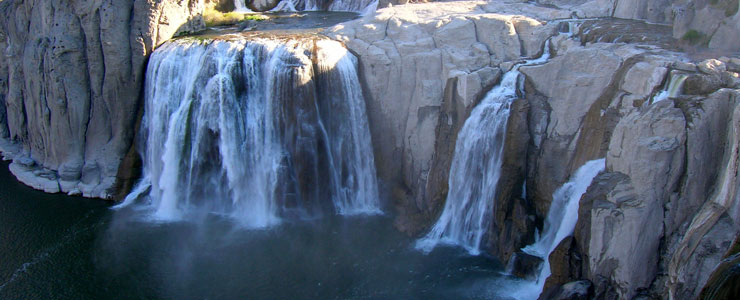 Shoshone Falls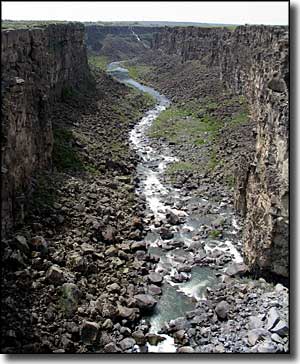 Malad River Gorge
The Thousand Springs Scenic Byway is a 68-mile route that mostly follows US Highway 30 as that road travels south of Interstate 84 in the Twin Falls area. The name comes from the "Thousand Springs" region along the Snake River (and there are really only a couple hundred springs). The springs are from the Snake River Plains Aquifer, in places where the water flows out of the sides of Snake River Canyon through the porous volcanic rock. The Snake River Plains Aquifer underlies several thousand square miles of porous volcanic rock in the Snake River Plain. The water emerges from the ground at a steady 58°F, perfect temperature for the farming of trout. The 30-mile stretch of the Snake River in Hagerman Valley produces about 70% of the farm-raised trout in the United States. There are also a couple of Federal and state fish hatcheries located along the Snake in this area.
What you will see in the Snake River Canyon these days is not what the travelers on the Oregon Trail saw. Today, several hydroelectric and irrigation projects interfere with the water flow and divert much of it into irrigation systems that spread out across the Snake River Plain in this area. On the other hand, the incredible paleontological resources of Hagerman Fossil Beds National Monument hadn't been discovered yet (and weren't excavated until 1929).
Thousand Springs State Park is in this area of Idaho, scattered across five separate parcels of land preserving and protecting different natural resources. Some parts of the state park surround deep canyons, others are down in the canyons. Also in this area is Shoshone Falls, 52 feet higher than the more famous Niagara Falls. There are overlooks available above the falls but there are also tour boats on the Snake River that allow you to get much more "up close and personal." You'll also find tour boat operators in the Hagerman area that offer dinner cruises and such as they travel upstream and down taking in the sights.
Perrine Memorial Bridge spans the Snake River Canyon near Twin Falls. The road surface of the bridge is normally 486 feet above the surface of the river, making this the highest bridge in Idaho. There are pullouts along the road near the bridge that give access to hiking trails along the rim of the canyon, affording great views of both the canyon and the bridge.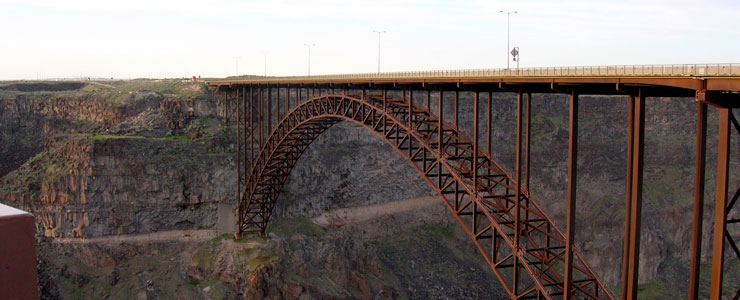 The Perrine Bridge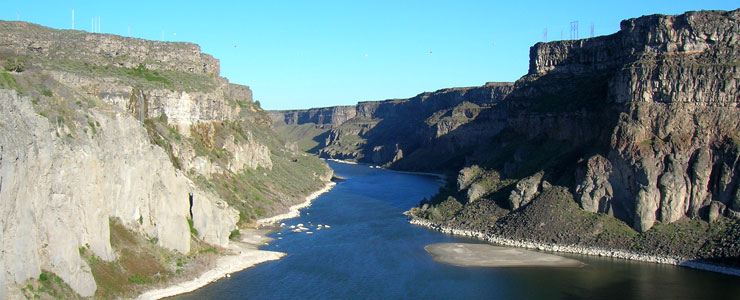 The view downstream from Shoshone Falls
Upper left photo courtesy of Idaho DOT
Other photos courtesy of TheArmchairExplorer,
CCA-by-SA 3.0 License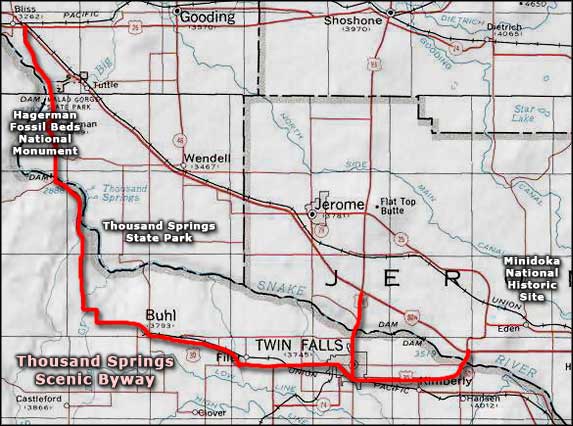 Related Pages
Map courtesy of National Geographic Topo!