Old Mission State Park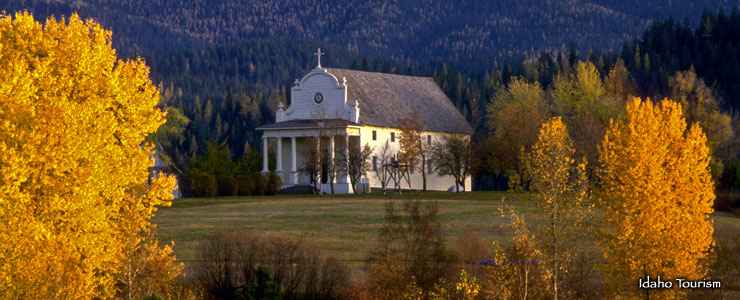 Mission of the Sacred Heart in the fall
Old Mission State Park contains Idaho's oldest standing building: the Mission of the Sacred Heart, a Jesuit Mission built between 1850 and 1853 by Jesuit priests working with the Coeur d'Alene Tribe. The Coeur d'Alenes had heard of these powerful blackrobed medicine men and they traveled eastward to meet with Jesuit Father Pierre-Jean De Smet to see if they could get him to come and visit them. He traveled to the tribal homeland in 1842 to meet with the tribal elders again and select a site for their mission. The first site they picked and built on, along the St. Joe River, was flooded several times before they decided to build a new mission in the present spot.
In 1850, Father Antonio Ravalli (namesake of Ravalli County, Montana) arrived and began designing a mission structure for the tribe. They built a nail-less, wattle-and-daub log structure and decorated the interior with fabric and hand-painted, recycled newspaper. They carved wooden crosses and gilded them, and built wooden altars that they then painted and veined to resemble marble. When finished in 1853, they christened the building the Mission of the Sacred Heart.
Over the years, the mission served as a house of worship for the tribe, then as a hospitality and supply station for incoming settlers, miners and military personnel. It was also the center of a working farm right above a disembarkation point for river boats plying the Coeur d'Alene River and carrying miners, pipeliners and railroad workers. For several years it was used as a Jesuit novitiate and was even a meeting site between union and non-union miners during a labor dispute.
Today, the Coeur d'Alenes Old Mission State Park consists of the 1853 mission building, an 1887 Parish House, 2 cemeteries and a 1,900-square-foot visitor center filled with exhibits and displays about the Coeur d'Alenes, the region and the Mission. There are plans to build a new 9,000-square-foot visitor center to house the award-winning "Sacred Encounters: Father De Smet & the Indians of the Rocky Mountain West" exhibit. The trail head of the paved, 72-mile-long Trail of the Coeur d'Alenes is here. The Mission and Parish are open every day from 9 am to 5 pm.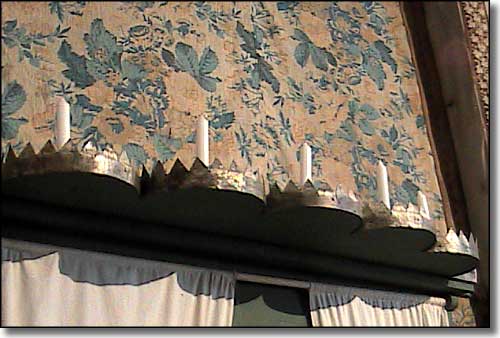 Some of the interior decorations
(note the hand-painted recycled newspaper wallpaper)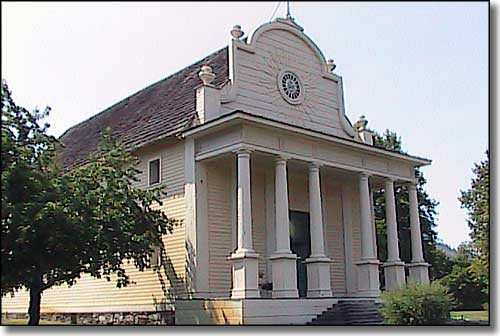 Mission of the Sacred Heart of the Coeur d'Alenes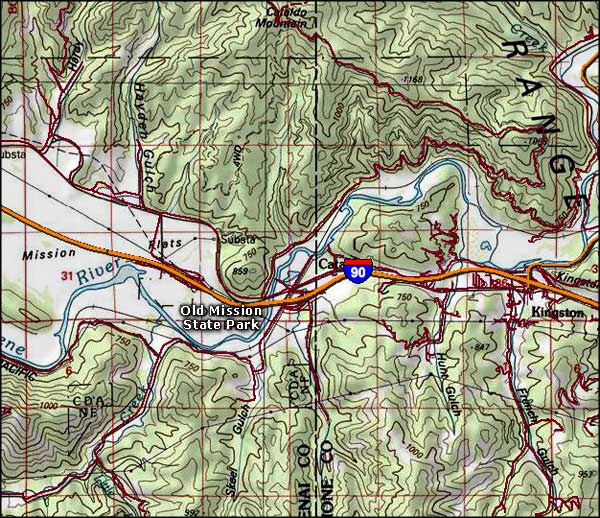 Top photo courtesy of the Idaho Department of Tourism
Other photos courtesy of Wikipedia userid Vatsun,
CCA 3.0 License
Map courtesy of National Geographic Topo!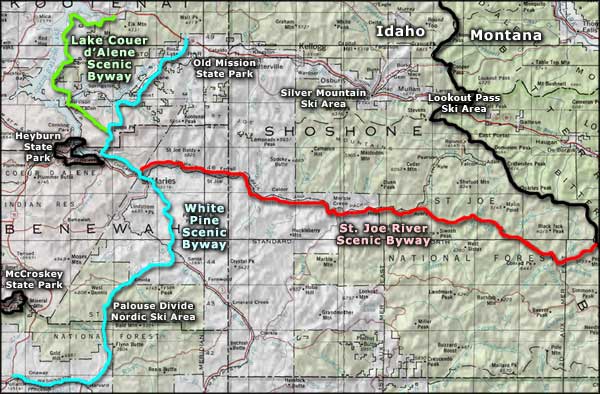 Related Pages
Map courtesy of National Geographic Topo!