Jimmy Carter National Historic Site

Jimmy Carter National Historic Site Visitor Center and Museum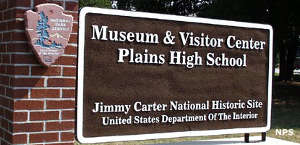 The Jimmy Carter National Historic Site preserves several places in the Plains, Georgia area that were instrumental in the life of James Earl "Jimmy" Carter, Jr, 39th President of the United States. Among those sites are the farm he grew up on, his home, the school he graduated from and the railroad depot that served as his Presidential election headquarters. The former Plains High School (closed in 1979) serves as the National Historic Site's visitor center and museum. As the Carter family still lives in Plains, the area around their home is under the protection of the US Secret Service. He and his family continue some of the humanitarian programs he began while in office through the Carter Center in Atlanta. When home in Plains, Jimmy teaches Sunday School at the Maranatha Baptist church in Plains.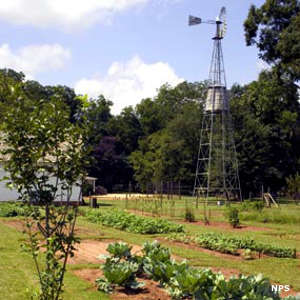 At the farm Jimmy Carter grew up on
A classroom, auditorium and the principal's office at the former Plains High School have been restored to the way they were when Jimmy and Rosalynn Carter were students there. In the museum is a replica of his presidential desk and another of his 2002 Nobel Peace Prize. Other rooms in the building offer exhibits exploring the lives of Jimmy and Rosalynn as they grew up and moved out into the world. There is also a video offered showing the life of Jimmy Carter as seen by his friends and family.
The boyhood home on the farm he grew up on has also been restored to how it was before electricity arrived in 1938 (Jimmy Carter was in high school by then). The Plains Train Depot has been restored to the way it was during Jimmy Carter's election campaign in 1976. Technically his home since 1961 is also part of the National historic Site but that is off limits to the public.
Entry to the Jimmy Carter National Historic Site is free to the public. The Visitor Center and Museum is open daily from 9 am to 5 pm. The Train Depot Museum is open daily from 9 am to 4:30 pm. The Jimmy Carter Boyhood Farm is open daily from 10 am until 5 pm. The Carter private residence and compound is not open to the public.
Should you wish to contact President Carter, don't use the contact info listed below. Instead go to the Carter Center and inquire there.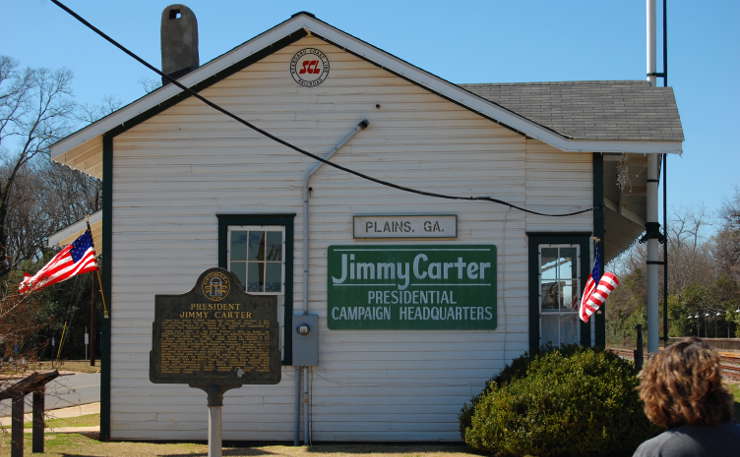 The Train Depot Museum
Jimmy Carter National Historic Site
Lower photo courtesy of Jud McCranie,
CCA-by-SA 3.0 License
Other photos courtesy of the National Park Service