Pearl Lake State Park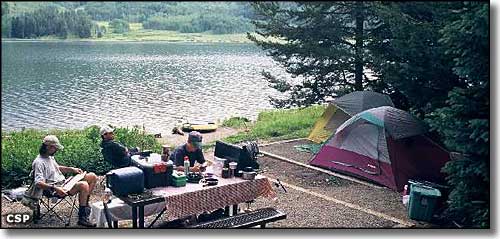 Camping at Pearl Lake State Park
Pearl Lake State Park is nestled in the mountains north of Steamboat Springs. Just a few miles off the pavement, going to Pearl Lake is like traveling into the heart of Colorado''s back country. Pearl Lake State Park offers excellent fishing for native cutthroat trout but with artificial flies and lures only (no bait allowed). There's one trail that meanders around the lake and in and out of the forest. The 167-surface-acre lake also allows boating but at wakeless speeds.
Pearl Lake is named for M. Pearl Hartt, wife of John Kelly Hartt. John Kelly Hartt was one of the largest sheep ranchers in the American West. Many of his sheep wintered in the area around Rawlins, Wyoming and summered around Pearl Lake at the foot of Hahn's Peak. John Kelly Hartt died in the early 1950's and his wife sold a lot of their land to the US Forest Service. That was the beginning of the shift from agricultural to recreational land use in this area.
Pearl Lake State Park offers 36 basic campsites, and you might want to make reservations in advance. The 2 yurts at Pearl Lake are available for rent but with more than 300 inches of snow every year, you might want to bring either snowshoes or cross-country skis in the winter (the yurts are about 1/2 mile in from the parking lot).

Upper photo courtesy of Colorado Parks and Wildlife