John Martin Reservoir State Park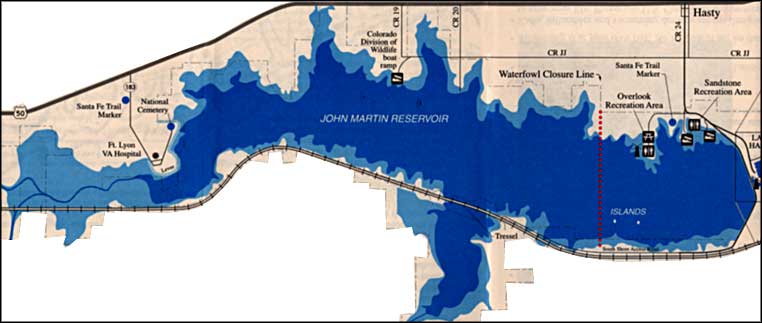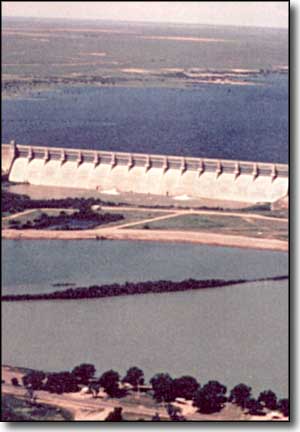 John Martin Reservoir is part of a comprehensive plan for flood damage reduction and water resources management in the Arkansas River Basin. The dam is 2.6 miles long and rises 118 feet above the stream bed with a capacity to hold 618,600 acre feet of water.
Fishing at John Martin Reservoir State Park and Lake Hasty can be excellent for walleye, sauger, wiper, largemouth and smallmouth bass, crappie, channel catfish, and bream. Lake Hasty is also stocked with rainbow and cutthroat trout each spring and fall.
The reservoir is open to all kinds of water sports including windsurfing, waterskiing and personal watercraft. Lake Hasty is only open to small watercraft that do not use gas motors - electric motors are permitted.
Picnic facilities are available at the Overlook and Lake Hasty Recreation Area. Electric and non-electric camping sites are also available at the Lake Hasty Recreation Area.
The Red Shin Hiking Trail is a 4.5 mile trail starting near the Stilling Basin and offers many nature viewing opportunities in a variety of habitats. Bring your binoculars and camera. The Santa Fe Slough on the east and west sides of the Dam Road also provides excellent opportunities to view waterfowl in their natural habitat. The west side of the dam also has a wildlife viewing blind available.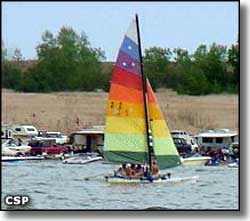 When boating on the reservoir stay at least 300 feet away from the dam. When winds of 15-20 mph are forecast or blowing, boaters are cautioned to stay out of open water. Always watch for submerged objects that may be close to the surface such as stumps, logs and rocks. Swimming is at your own risk, there are no lifeguards on duty. Never swim alone and children should only swim with adult supervision. Swim and wade only where you are familiar with the water depth and bottom. Diving is not permitted.
Waterfowl and small game hunting is permitted on project lands west of the waterfowl closure line during hunting season, as shown on the map. The reservoir is closed to all public activity east of the waterfowl closure line during the migratory waterfowl season, beginning November 1. Hunting is not permitted within a quarter mile of the boundary of recreation and administrative areas managed by the US Army Corps of Engineers.
Pets are welcome but must be leashed. Campground limit is 14 days. Confine fires to grills or established pits only. Loaded firearms, ammunition, explosives of any kind, bows and arrows, etc., are prohibited, unless they are being used for hunting in accordance with applicable regulations. Drive and park vehicles only on developed roads and parking areas. The nearest fuel is at Las Animas (about 15 miles to the west) or at Lamar (about 20 miles to the east).
John Martin Reservoir State Park

Map and lower right photo courtesy of Colorado Parks and Wildlife
Photo of John Martin Dam courtesy of the Bureau of Reclamation