Castlewood Canyon State Park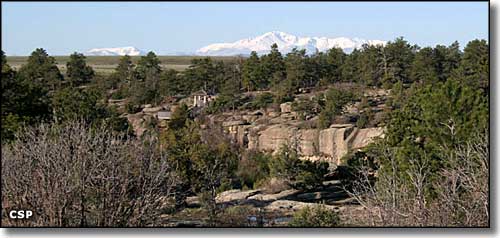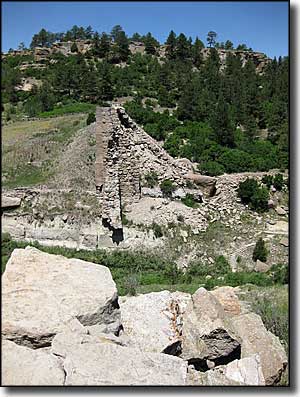 On August 3, 1933, the Castlewood Dam on Cherry Creek burst, sending a 15-foot wall of water flooding down through the canyon and into the streets of Denver. You can still see remnants of the ill-fated dam and the historic homestead if you go for a hike in Castlewood Canyon State Park. There are several hiking trails through this section of the ecologically unique Black Forest ranging from an easy 1/2 mile up to a moderate 4 miles. These trails wind along through the canyon beside Cherry Creek and up onto the rim past some great views of Pikes Peak and the Front Range, and past the natural Pikes Peak Amphitheatre and the Bridge Canyon Overlook gazebo. Along the way there is also access to some great technical rock climbing.
Castlewood Canyon State Park encompasses 2,303 acres with elevations ranging from about 6,200' to about 6,600', and offers picnic areas near both entrances, but this state park is for day use only: the gates are locked promptly at sunset.
The Canyon View Nature Trail is universally accessible, as are most facilities on the east side of the park: 12 miles of trails, picnic areas, the group picnic areas and the flush toilets. Facilities on the west side of the park include parking areas, 20 picnic tables and 1 pit toilet. There is no parking allowed at or near the ruins of the dam.
Castlewood Canyon State Parks Rules & Regulations
Cook stoves and self-contained grills are allowed but campfires/ground fires are not.
Vehicles are allowed only on designated roadways and parking areas.
Keep pets under control and on a leash of 6 feet or less.
Firearms are not allowed (no hunting).
No camping.
Collecting timber, vegetation or artifacts is not allowed.
State Law: Only 3.2% beer is allowed.
When hiking, stay on designated trails.
When mountain biking, stay on roads and designated biking trails.
No horseback riding allowed on trails.
When rock climbing, installation of new bolts and protection is not allowed.
For rock climbing, use only designated trails for access.
Castlewood Canyon State Park
2989 South State Highway 83

,

Franktown

,

CO

80116
303-688-5242
Upper photo of Castlewood Canyon State Park courtesy of Colorado Parks and Wildlife
Upper left photo courtesy of Wikipedia userid Zenhaus,
CCA-by-SA 3.0 License