Virgin Islands National Park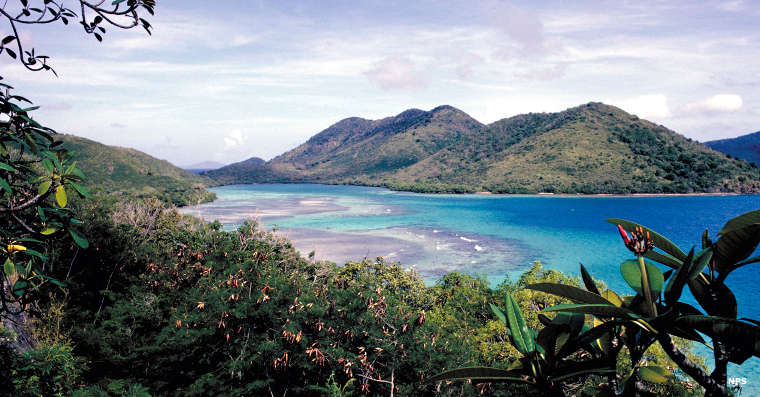 Typical view in Virgin Islands National Park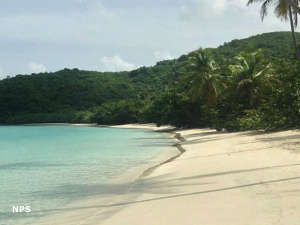 Maho Bay Beach
Virgin Islands National Park is a 14,737-acre property that encompasses about 60% of the island of St. John and nearly all of Hassel Island (just outside the Charlotte Amalie harbor). The St. John section of the park is basically a gift from Laurance Rockefeller to the people of the United States, although when he transferred the property he kept an area around Caneel Bay where he'd built a resort that is still in operation. The Hassel Island property was purchased by the US Government for inclusion in Virgin Islands National Park. There are a few private residences on the island but the majority of the land is part of the park.
The park sees more than 500,000 visitors every year and that has had a negative impact on the coral reefs in the area as they see chronic overuse and abuse from all the people following the underwater trails. It is that level of abuse which prompted President Bill Clinton to create the Virgin Islands Coral Reef National Monument to add some protection to submerged areas beyond the boundaries of the park.
Virgin Islands National Park offers more than 20 hiking trails, most between 0.5 and 3 miles in length. Some climb the mountain peaks, some travel through dense rainforest, some lead to beaches and protected coves. Among those beaches, the park's Trunk Bay has consistently been rated among the world's top ten beaches since those lists were first compiled. Trunk Bay is also the only part of the park where entry fees are required. Also found in the park are the ruins of a 300-year-old Danish sugar plantation.
The primary features of Virgin Islands National park are the reefs, the beaches and the subtropical forest. No back-country or beach camping is allowed in the park. There is a campground at Cinnamon Bay that offers tent camping only. There is an "eco-tourism resort" on Maho Bay and there is also the high-end resort at Caneel Bay.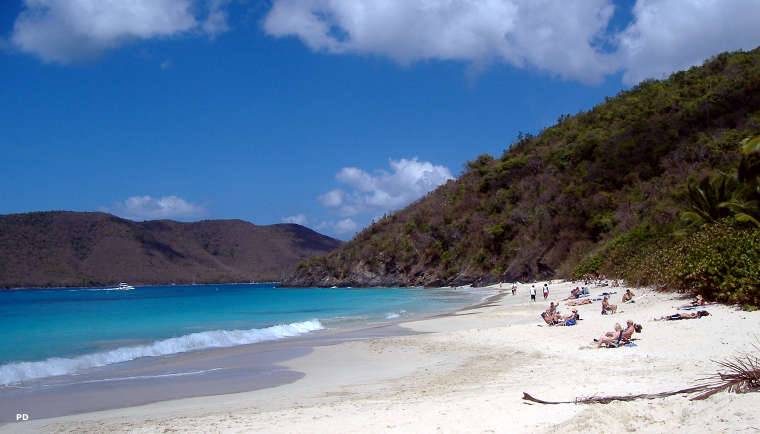 On Cinnamon Bay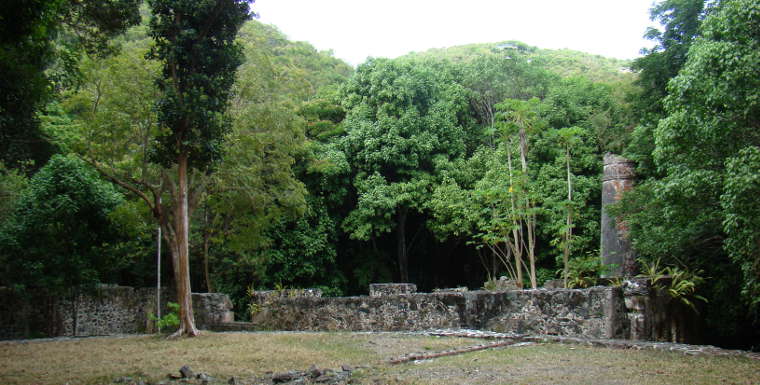 Ruins of a Danish sugar plantation near Cinnamon Bay
Virgin Islands National Park
National Park Service
2100 Church Street, #100

,

Christiansted

,

VI

00820
340-773-1460
Lower photo is in the public domain
Bottom photo courtesy of Sydney and Russell Poore,
CCA-by-SA 4.0 License
Other photos and maps courtesy of the National Park Service