Buck Island National Wildlife Refuge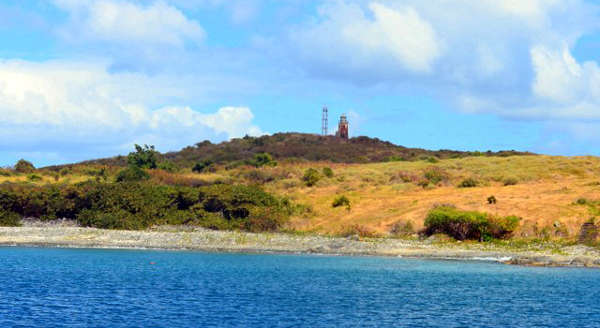 The historic lighthouse at Buck Island National Wildlife Refuge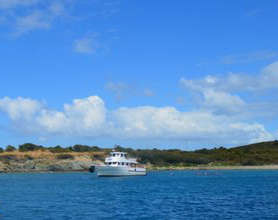 Buck Island National Wildlife Refuge is a 45-acre property of thorny scrub and grassland surrounded by spectacular coral reefs. The island is located about three miles south of St. Thomas and is not part of the Buck Island Reef National Monument that is off the northeast shore of St. Croix.
Buck Island National Wildlife Refuge was designated in 1969 as the US Navy began transferring title to their part of Buck Island to the US Fish & Wildlife Service. The US Coast Guard transferred some of their land in 1981 but held onto enough to dock a ship and tend to the lighthouse on the island. Then the title to even that was transferred to the USFWS in 2004.
The US Fish & Wildlife Service service maintains the island to support the safe passage of migratory birds. The island also serves as a nesting and feeding area for endangered green sea turtles. Human visitors find birds in all seasons but many visitors come to visit the turtles and others to visit the wreck of the Cartanza Senora, a 190-foot World War II-era cargo vessel that ended its days being sunk in St. Thomas harbor with a hold full of questionable substances, sometime in the 1970's. The ship was temporarily refloated and moved to the Buck Island area for recreational diving purposes. Then Hurricane Hugo passed through and moved the wreck into Shipwreck Cove, much closer to the island.
The lighthouse is closed to the public but most of the rest of the island is open every day, from sunrise to sunset. Camping, campfires, firearms, pets, horses, littering, removing artifacts, etc. are all forbidden activities. And stay out of posted areas.
Buck Island National Wildlife Refuge
US Fish & Wildlife Service