Kodiak National Wildlife Refuge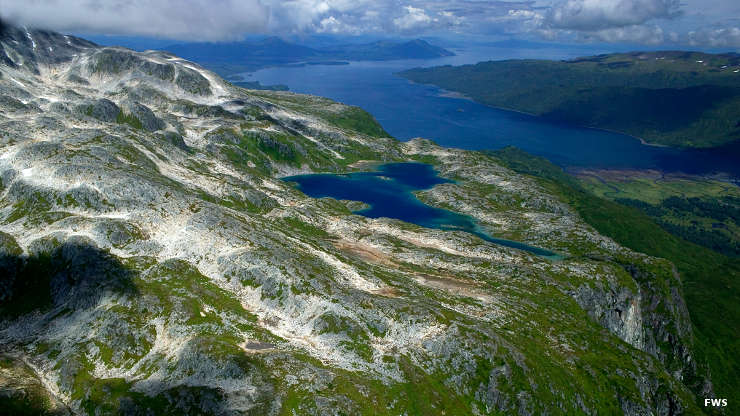 Kodiak Island landscape, Kodiak National Wildlife Refuge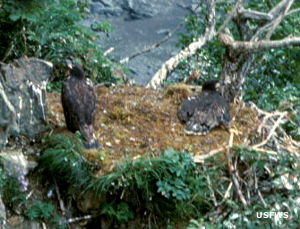 Kodiak National Wildlife Refuge is a 1,990,418-acre property in the Kodiak Archipelago of southwestern Alaska. About 250 species of migratory birds use the property for feeding, nesting and raising their young but all five North American species of Pacific Ocean salmon (chum, Chinook, pink sockeye, steelhead and coho) find spawning grounds in the rivers and streams of this property. Estimates say some 65% of the salmon fishery in the Gulf of Alaska is spawned at Kodiak National Wildlife Refuge.
Sitka black-tailed deer, snowshoe hare, beaver, Roosevelt elk, reindeer, red squirrel, pine marten and mountain goat are all species introduced to this area between 1920 and 1960, and all are now being hunted and trapped: some of these introduced species can have a nasty effect on the quality of the native wildlife and fish habitats. There are only six native mammalian species: red fox, ermine, little brown bat, tundra vole, river otter and the famous Kodiak brown bear, all of which are protected (well, there is some trapping of ermine and otter going on). There are estimated to be at least 600 nesting pairs of bald eagles and more than 2,300 Kodiak brown bears taking up residence on Kodiak NWR.
The landscape is a collection of rugged mountains (some rising up to 4,400 feet from the ocean waters), glacier-carved valleys, rivers, lakes, bogs, marshes and eight hundred of miles of shoreline accented with deep fjords. At no place on the refuge can you be more than 15 miles from the "beach." There are seven major river drainages, eleven large lakes and hundreds of smaller streams and tributaries.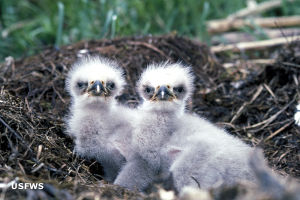 Bald eagle chicks
This being southern Alaska, the climate is relatively mild and rainy. The lower elevations of the refuge tend to be forested with dense stands of Sitka spruce. The higher and drier areas are usually beautiful grasslands. The very high areas contain several small glaciers. During the last ice age, the southwestern portion of Kodiak NWR was ice-free and some of the hardier, pre-glacier species of plants and animals survived here. This area, known as the "Refugium," is a zone of rolling mountains and pothole-filled wet tundra. Once you get above the wet tundra, you'll be fighting your way through thickets of crowberry and other heath-type vegetation.
Access is usually by plane or boat. There are no roads to the property and certainly none on it. Kodiak Island itself is served regularly by ferries of the Alaska Marine Highway System.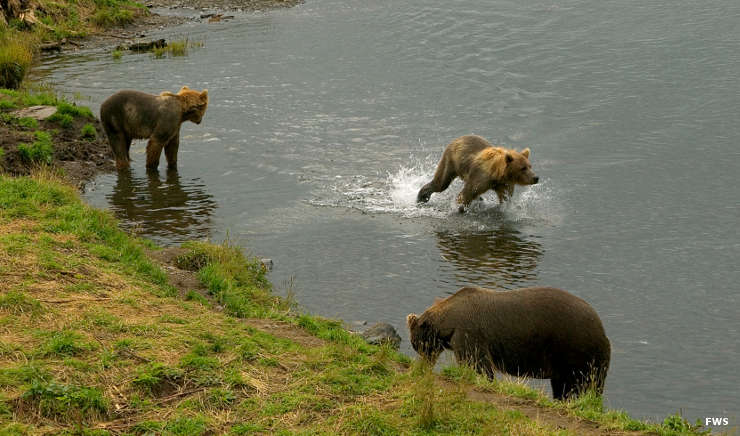 Kodiak bears in the water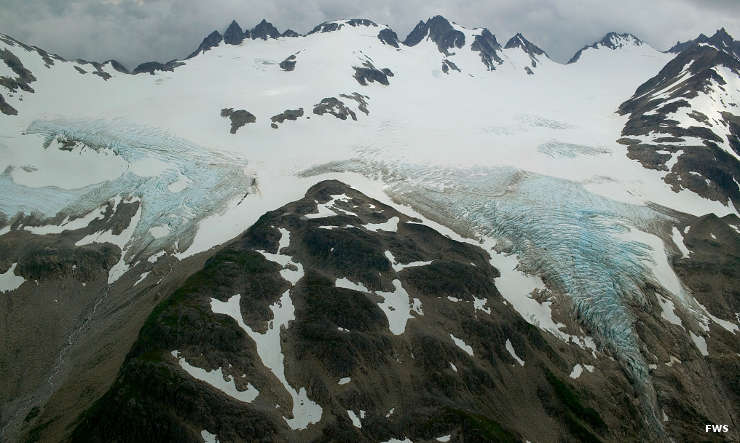 Snow-capped peaks on Kodiak National Wildlife Refuge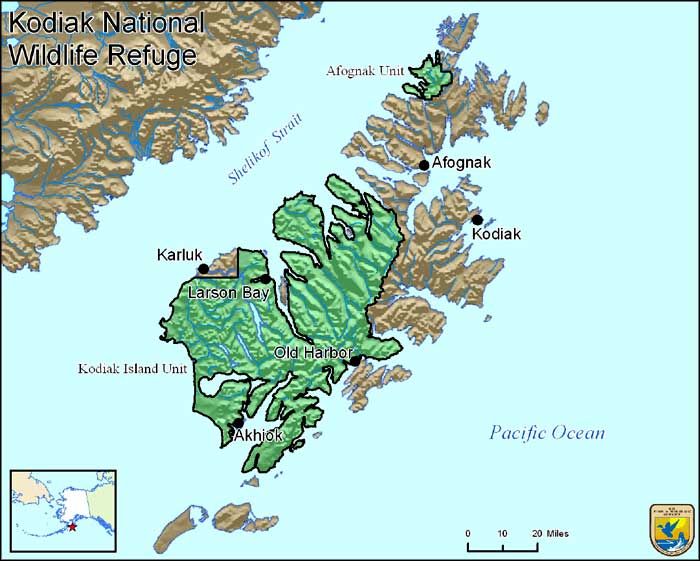 Kodiak National Wildlife Refuge
US Fish & Wildlife Service

Photo of bald eagle chicks courtesy of Dave Menke, US Fish & Wildlife Service
Map and other photos courtesy of the US Fish & Wildlife Service