Kanuti National Wildlife Refuge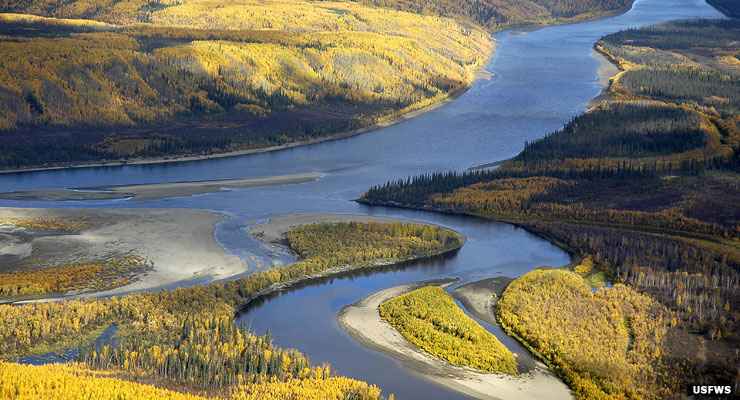 Aerial view of the Kanuti River above the Alatna River in the fall, Kanuti National Wildlife Refuge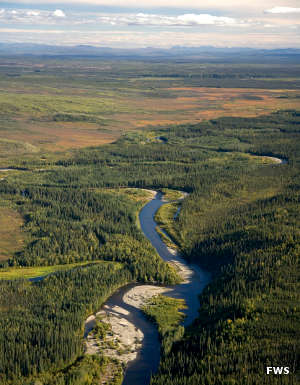 The 1.637-million-acre Kanuti National Wildlife Refuge lies in central Alaska along the Arctic Circle. This is the heart of a huge boreal ecosystem, dominated by black spruce in the wetter areas and white spruce, poplar and white birch in the drier areas. Summers are short and hot with plenty of thunderstorms generating enough lightning strikes to ensure that the countryside gets properly burned every few years (this is part of what's necessary to sustain a healthy forest and wildlife balance).
Many areas of Kanuti NWR are too wet for foot travel, but the drier areas do support black bear, brown bear, wolverine, moose, muskrat, beaver, mink, pine marten and several gray wolf packs. The Western Arctic and Ray Mountain Caribou Herds sometimes find winter refuge on the property, too.
Kanuti National Wildlife Refuge is probably the furthest inland site where Pacific salmon and sheefish go to spawn. For the ocean-going fish, it's more than 1,000 miles just to get to the Koyukuk River confluence with the Yukon... and the Kanuti River at the heart of Kanuti NWR is another couple hundred miles up the Koyukuk. But you'll also find northern pike, Dolly Varden, rainbow trout and arctic grayling in the waters here.
About 130 species of migratory wetland birds use Kanuti NWR for feeding, nesting and raising their young in the summer. It's not just the heat that contributes to the rise in bird populations, it's all those tasty, protein-rich flying, blood-sucking insects, too... hint, hint.
Most of the area sits on permafrost and is very poorly drained. There are no designated or maintained trails, campsites or public use cabins on the property. What you will find, though, are many private property sites scattered through the area... and these are places to stay out of if you don't have explicit permission.
In a belt from Caribou Mountain to the Ray Mountains (just beyond the refuge boundaries), there is a series of five hot springs rising to the surface. The Alaska Division of Geologic and Geophysical Surveys has classified a 9,000-square-mile area around those hot springs (including lands in the southwestern portion of Kanuti NWR) as "favorable for the discovery of shallow (less than 3,333-feet deep) thermal waters." These waters are too cold for power generation, too hot for comfortable direct human use, but just right for space heating, aquaculture and greenhouse uses. As these hot springs derive their heat from deep fractures in the Hodzana Highlands granite below, they also tend to be somewhat sulphurous with dissolved solids reaching 30 mg/l and temperatures up to 150°F. If you want to sit in those hot mineral waters, you'll probably need to build your own rock tub a bit downstream of the main springs vent and channel some cooler water into "your" tub.
Most folks arrive in Bettles from Fairbanks, then charter either small aircraft or boats to travel to the refuge. You can walk, too, but it's really not recommended. In winter, the refuge is accessible from the Dalton Highway via dog sled or skis. Snow machine access is also allowed as long as you are out there to hunt or trap.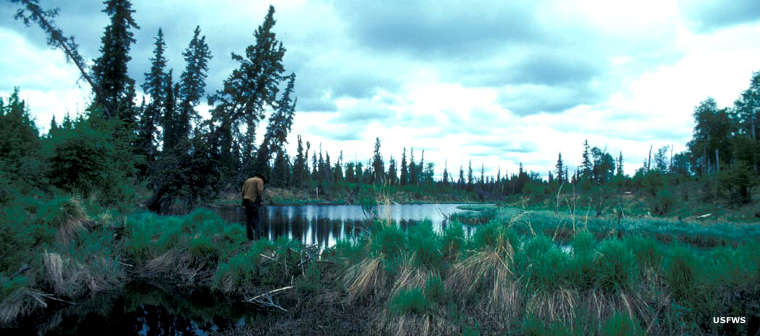 Beaver dam and pond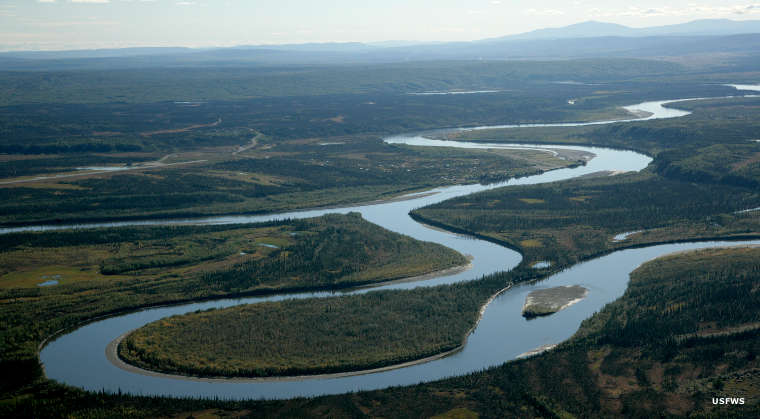 The Kanuti River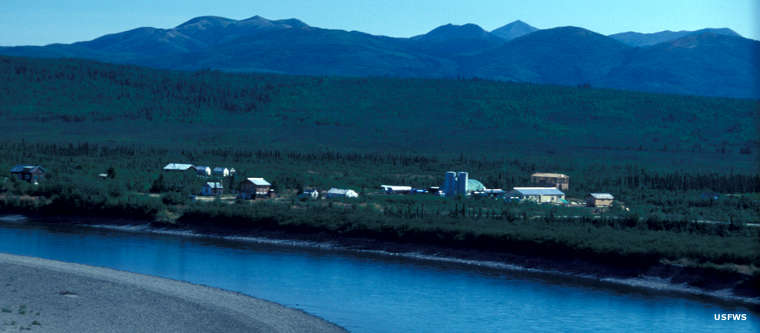 Bettles, on the Koyukuk River, just north of Kanuti National Wildlife Refuge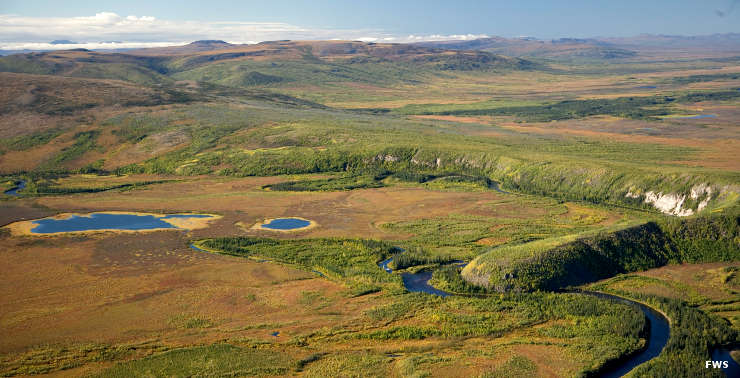 An aerial view of Kanuti National Wildlife Refuge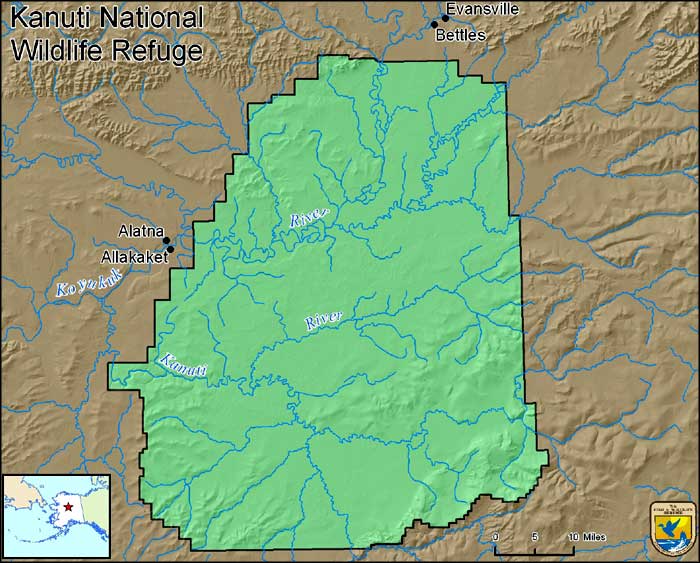 Kanuti National Wildlife Refuge
US Fish & Wildlife Service

Photo of Kanuti River courtesy of Bill Raften, US Fish & Wildlife Service
Photo of the Alatna River courtesy of Steve Hillebrand, US Fish & Wildlife Service
Map and other photos of Kanuti NWR courtesy of the US Fish & Wildlife Service