Dalton Highway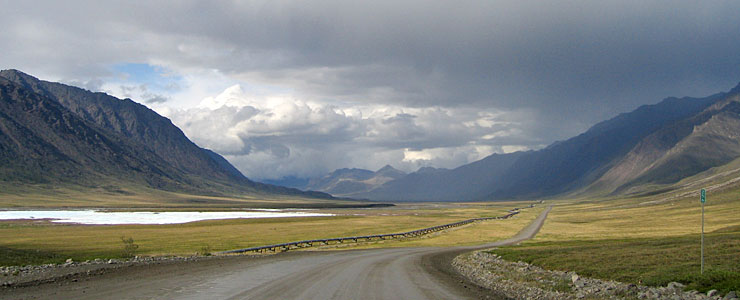 View around Mile 256 on the Dalton Highway, north of the Continental Divide in the Brooks Range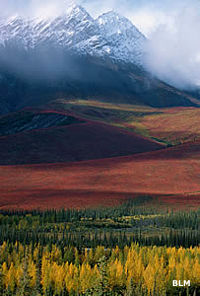 Fall along the Dalton
The Dalton Highway is a 414-mile route that connects Deadhorse (near the Arctic Coast) with the Elliot Highway at Livengood, north of Fairbanks. The route was built in 1974 as a supply road to support construction of the Trans-Alaska Pipeline and parallels the pipeline for most of its length. This is a very remote road, one only for the healthy and hale of heart: there are fuel and supplies at either end and at one place in the middle. There's virtually nothing in between. Because of what the road was originally built for, it sees pretty heavy traffic all year round, although the number of semis on the road in winter is half again what it is in summer. The road requires extreme caution of all drivers, and driving with your headlights on at all times is the law.
The road hits its highest point at Atigun Pass (4,643 feet - highest year-round pass in Alaska and prone to avalanches when there's snow on the ground), crossing the Continental Divide in the Brooks Range. The first 80 miles or so out of Fairbanks is paved, then it's well-maintained gravel the rest of the way. Be prepared for steep sections (up to 12% grades) all through the route. You'll also want to be prepared for incredible scenery and abundant wildlife: in many areas there are more moose on the road than vehicles. If it's snowing out, you might be out here all alone. If it's snowing and windy, the drifts can pile up quick. And the snow often begins in August...
If you're up for some back country adventure, at the Yukon River bridge there's a boat launch on the river. The boundary of Yukon Flats National Wildlife Refuge is about 5 miles upstream. Gates of the Arctic National Park parallels the road on the west most of the way from Coldfoot to Atigun Pass.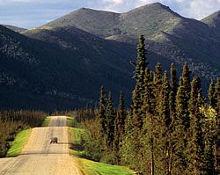 A straight-through drive of the Dalton will take 13 to 15 hours, but you won't want to be in a hurry. If there's no snow on the ground, you'll want lots of industrial strength bug spray. Between the Yukon River and the north side of the Brooks Range, the BLM maintains a series of rest areas, campgrounds and interpretive panels and kiosks.
If you've ever watched Ice Road Truckers on the History Channel, the Dalton Highway was a featured road for several seasons (2009 through 2012).
The highway is named after James Dalton, an expert in Arctic engineering who supervised construction of the old Distant Early Warning Line and served as a consultant in the early days of oil exploration in northern Alaska.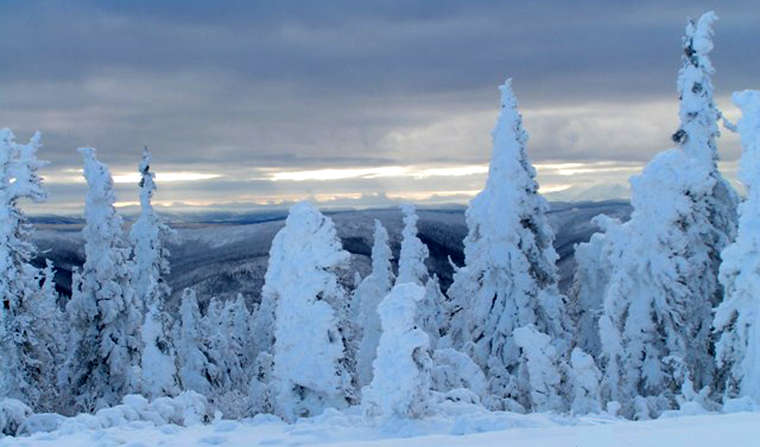 An early snow along the Dalton Highway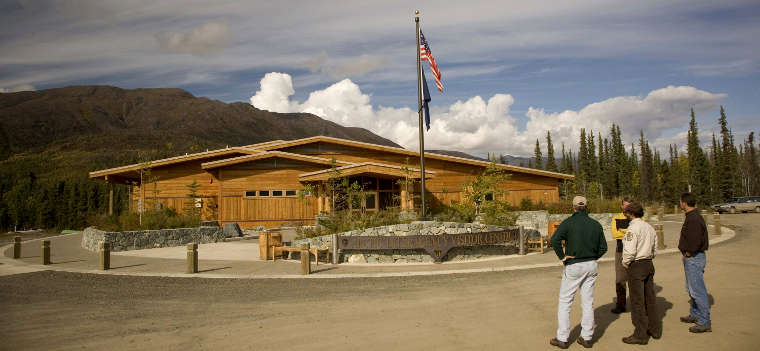 The Arctic Interagency Visitor Center in Coldfoot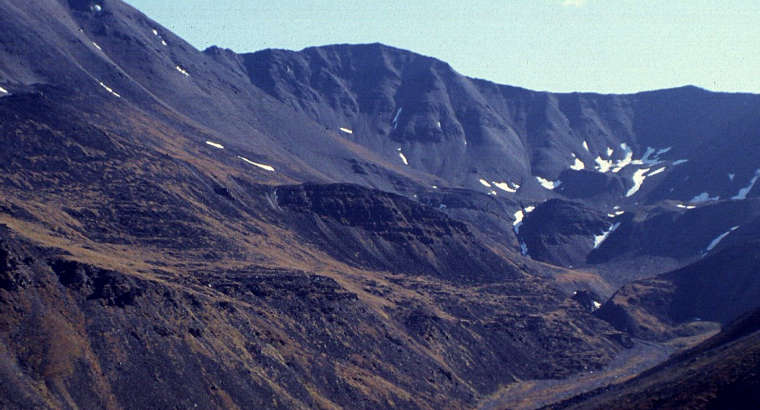 Atigun Pass in the Brooks Range


Photo from mile 256 on the Dalton Highway courtesy of Micah Bochart
Photo of fall foliage in the Brooks Range courtesy of Dennis R. Green, Bureau of Land Management
Other small photo and map courtesy of the Bureau of Land Management
Photo of snow along the Dalton Highway courtesy of Jim Akaran, US Fish & Wildlife Service
Photo of the Arctic Interagency Visitor Center courtesy of Steve Hillebrand, US Fish & Wildlife Service
Photo of Atigun Pass courtesy of the Bureau of Land Management