Chilikadrotna Wild & Scenic River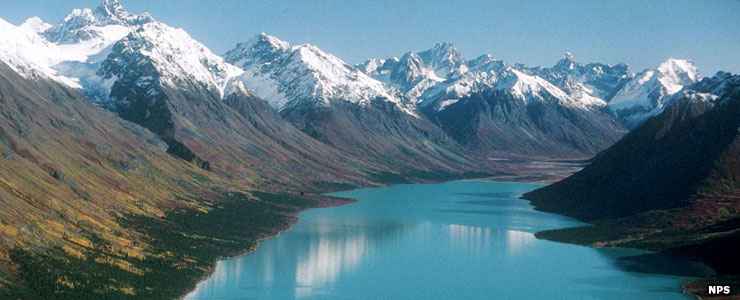 Source of the Chilikadrotna Wild & Scenic River: Upper Twin Lake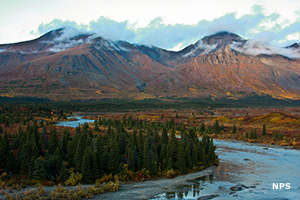 The Chilikadrotna River
The stretch of the Chilikadrotna that is designated Wild & Scenic River is that 11 mile stretch of river within Lake Clark National Park. The headwaters of the river begin above Upper Twin Lake and flow southwest to Lower Twin Lake, then across the park. The headwaters are in the Chigmit Mountains, a sub-range of the Alaska-Aleutian Mountains, the river itself flows through and out of the foothills of the Chigmits. 44 miles west of the park boundary the Chilikadrotna empties into the Mulchatna River.
Rafters love the Chilikadrotna for its long stretches of whitewater, the world-class fishing and the never-ending mountain vistas. Most of the river is rated Class II but there is a 5-mile stretch below the confluence of the Little Mulchatna that is rated Class III. There are also areas rated Class I. Dangers along the river include logjams, swift currents, a narrow winding course and overhanging vegetation. The river is essentially ice-free from June through September. Most folks get to the outlet of Lower Twin Lake by float plane, then spend the next 5-7 days floating down the Chilikadrotna to the Mulchatna and down that at least another 20 miles to the first possible float plane pick up point at the confluence of Dummy Creek. Longer trips are possible.
Fish in the river include Arctic grayling, silver salmon, lake trout, rainbow trout and char. However, this top-notch fishing river is not for inexperienced boaters. There are no developed campsites, no trails and no cell phone service. Weather can be harsh and the countryside is rugged and remote. Depending on the weather, the river currents shift regularly and large sand and gravel bars come and go with the current...

Upper photo courtesy of Jeanette Mills, NPS
Upper left photo courtesy of Kevyn Jalone, NPS