Lake Jackson RV Park at Florala

Lake Jackson at Florala State Park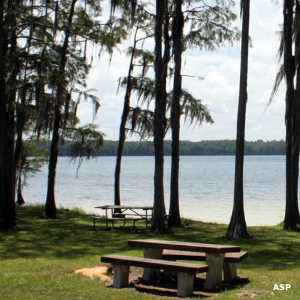 The City of Florala is famous for hosting the world's oldest Masonic Celebration, a week-long event that happens every year in the last full week of June. Usual events include street dances, beauty contests, horseshoe tournaments, bass fishing tournaments, parades, antique car shows, a carnival with games for children, fireworks over the lake and a 5K alligator trot. On the last Saturday in June, Florala State Park hosts the Florala Arts & Crafts Show. July sees the World's Domino Tournament happening nearby in Andalusia, Alabama. The nearby city of Opp hosts the Rattlesnake Rodeo every year in March.
Florala State Park is a 40-acre property on the shore of 500-acre Lake Jackson in southeastern Alabama. And I don't know if Florala State Park has been demoted or what but it's name these days appears to be Lake Jackson RV Park at Florala. That said, they haven't changed all the signs yet.
Lake Jackson is one of the clearest and cleanest lakes in Alabama, which makes for excellent fishing, boating, swimming and water-skiing. To support the water activities, Florala State Park has a boat ramp and fishing piers. The park also offers picnicking, paddleboat rentals, a full-service community building and a modern lakeside campground.
The park also offers the Rodney J. Evans Conference Center with two business meeting rooms (one with more than 6,200 square feet of space, the other with 400 squre feet) for rent. The Conference Center also has a full service kitchen area, available with the large conference room. Prices for the big room/building: $100 per hour, Friday, Saturday and Sunday, 3 hour minimum; $75 per hour, Monday through Thursday, 2 hour minimum. The small meeting room costs $150 per day or $75 for 4 hours. There is also an amphitheater outside with 350 seats and a 20' x 30' stage. That rents for $100 per day.
The picnic area offers individual picnic tables with several pavilions for rent ($30-$45 for the day), all close to a 300-foot fishing pier in the day use area. Between the picnic area and campground is a playground area with swings and slides. Next to the community building is a paved basketball court. Also in the day use area is a paved pedestrian/bicycle trail that runs from the campground area to the Old Depot and City Wetlands Park (an elevated platform that meanders under a typical wetland canopy) in the city of Florala, about 1.4 miles in length.
The Florala State Park campground offers 28 campsites, each with its own picnic table and grill. Each site also has 50 amp electrical service, water, sewer, satellite TV, and wireless internet. You'll also find a coin-operated laundry in the modern bathhouse in the heart of the campground, close to the boat launch. The campground also has its own picnic pavilion available first come, first served, and free to registered campers.
It doesn't matter what prices I quote here, you know it's going to be more when you get there.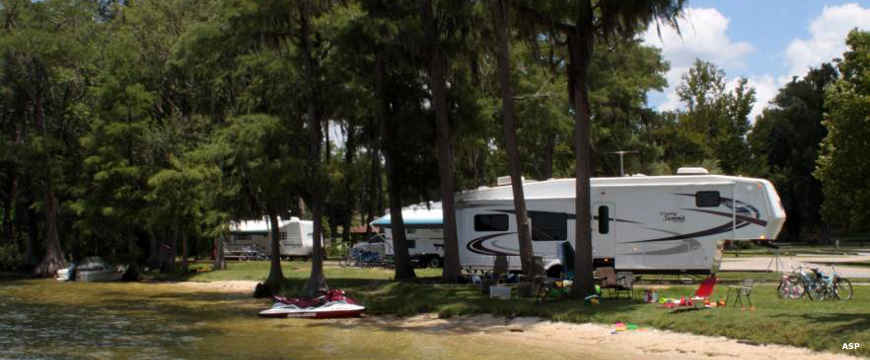 The campground at Lake Jackson RV park at Florala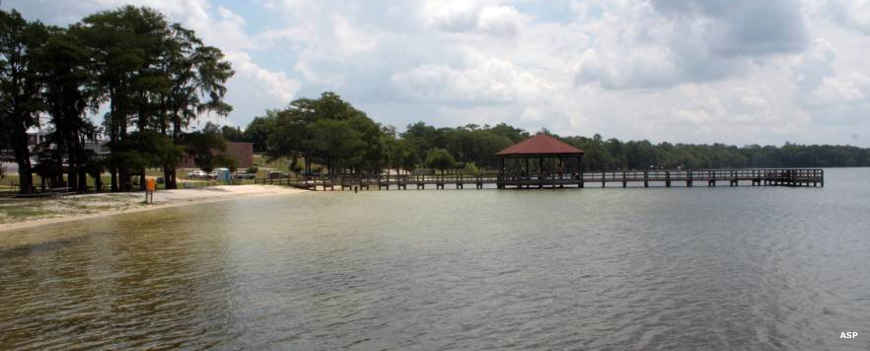 The park fishing pier
Lake Jackson RV Park at Florala
Upper photo courtesy of Skye Marthaler,
CCA-by-SA 4.0 License
Other photos courtesy of the Alabama Department of Conservation and Natural Resources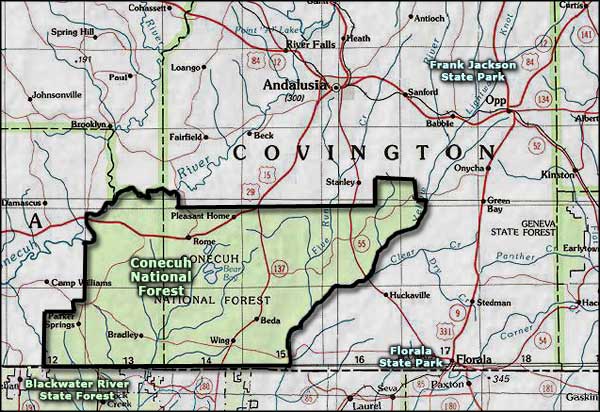 Related Pages
Area map courtesy of National Geographic Topo!