Choctaw National Wildlife Refuge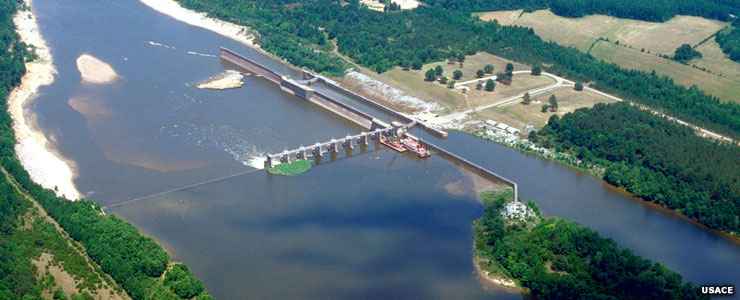 Coffeeville Lock and Dam on the Tombigbee River near Choctaw National Wildlife Refuge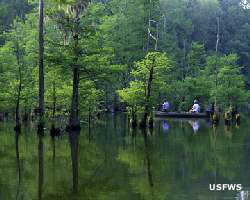 The 4,218 acres of Choctaw National Wildlife Refuge are located along the Tombigbee River in southwestern Alabama. The property was established in 1964 as an overlay on land that was acquired as part of the Coffeeville Lock and Dam Project of the US Army Corps of Engineers. Completion of the dam caused the Tombigbee River to rise 13 feet in this area, flooding some 2,000 acres and creating excellent habitat for wintering waterfowl.
Choctaw National Wildlife Refuge presently consists of 151 acres of croplands and moist soil units, 2,265 acres of bottomland hardwood forest and 1,802 acres of miscellaneous sloughs, lakes and creeks. Because the refuge is essentially trisected by Turkey and Okatuppa Creeks, the majority of the property is only accessible by boat. And one of the joys of this location in the heart of the Tombigbee River floodplain is that the entire property goes under water every winter for several weeks.
The primary mission of Choctaw National Wildlife Refuge is to provide wintering habitat for migratory waterfowl, protect American alligators and provide nesting and brood habitat for wood ducks. The refuge offers artificial nest boxes for the wood ducks in particular and these 400 nest boxes produce up to 2,500 birds every year. The wintering waterfowl population often exceeds 10,000. There's even one nesting pair of bald eagles every year. Summer months see an influx of wood storks, feeding and resting on the moist soil units and in the back-water sloughs. Other wildlife on the property includes gray squirrel, raccoon, wild turkey, opossum, white-tailed deer, beaver and American alligator.
A lot of folks visit Choctaw NWR for the fishing: white perch, catfish, bass and bream are quite abundant in the lakes and creeks. For the fisherfolks, Choctaw offers a boat ramp and a handicapped fishing pier. Boaters need to be aware that a lot of the water is shallow and underlain with old tree stumps and miscellaneous submerged debris. Hunting is also allowed, in season of course. The usual targets: feral hogs, white-tailed deer, rabbits, squirrels and raccoons.
For hikers there's a 3/4 mile trail (one way) with a trailhead across the road from the boat ramp. It's an interpretive trail with signs along the route and it ends at an observation platform overlooking one of the moist soil units. Camping is not allowed on the refuge but there is a primitive (Corps of Engineers) campground located at Lenoir Landing, about 1/2 mile north of the refuge office. Swimming and campfires aren't allowed on the property either.
Choctaw National Wildlife Refuge is about 20 miles to the northwest of Coffeeville, Alabama. To get there: on the west side of the Tombigbee River on US Highway 84, go north on County Road 21 about 4 miles to Barrytown. At Barrytown turn and go east on County Road 14 to Womack Hill, then turn right to the refuge entrance. The route is well-signed all the way from US Highway 84. Because of the numbers of wintering waterfowl and water conditions on the Refuge, public access to the waterfowl sanctuary area is allowed only from March 1 through November 30. Other than that, Choctaw National Wildlife Refuge is open daily from dawn to dusk. The boat ramp is open 24 hours a day. The refuge office is open from 7:30 am to 4 pm, Monday through Friday (except for Federal holidays).
The Cypress Tupelo Research Natural Area is a 35-acre research facility located within the boundaries of Choctaw National Wildlife Refuge.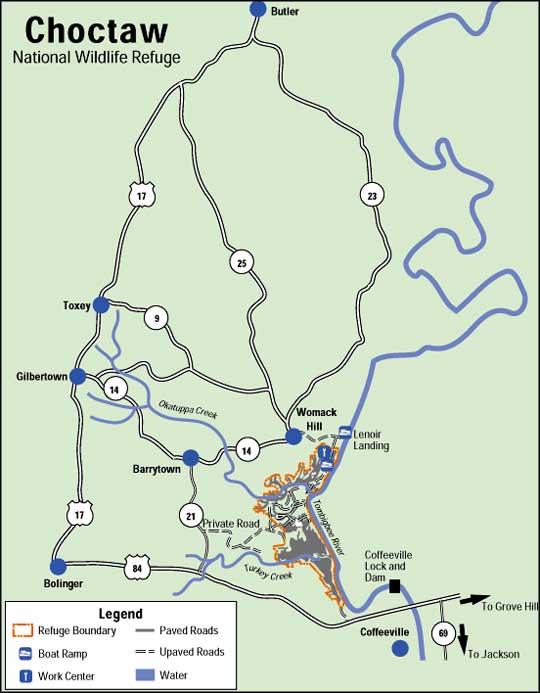 Choctaw National Wildlife Refuge
US Fish & Wildlife Service
Photo of Coffeeville Lock and Dam courtesy of the US Army Corps of Engineers
Other photo and map courtesy of the US Fish & Wildlife Service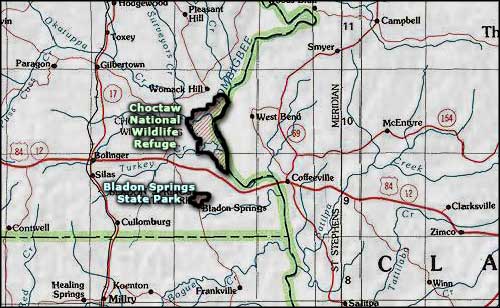 Related Pages
Area map courtesy of National Geographic Topo!