Bladon Springs State Park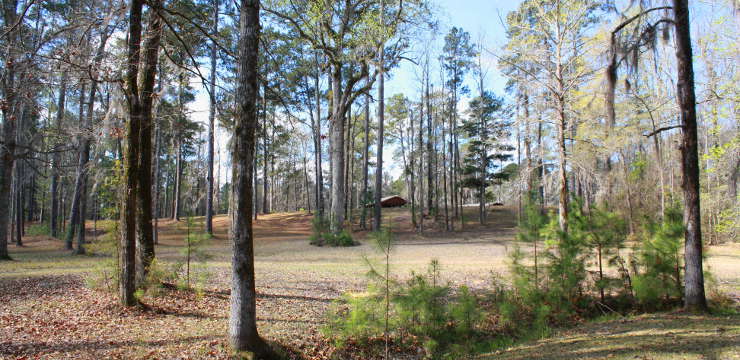 Site of the former Bladon Springs Hotel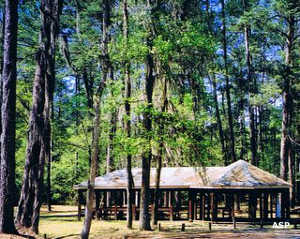 Bladon Springs State Park is a 357-acre property in southwestern Alabama. The property was first patented by John Bladon (hence the name). The park is centered around four mineral springs that was first opened as a health spa in 1838 by James Conner. In 1845, a geologist surveyed the mineral springs and found them to contain magnesium, calcium, iron and sulfur. By that time, folks were coming from all over the United States to partake of their "curative" powers. Small cottages were built all around the property, enough to accommodate up to 100 guests.
Business was so good that in 1846, a Greek Revival-style mansion large enough to accommodate two hundred people was built in 1846. The hotel contained a bowling alley, ballroom, billiard room, hotel bar and even a skating rink. A latticed pavilion was built over the principal spring and bath houses, croquet grounds and a large latticed pergola were added. A small town grew up around the hotel and spa, filled with summer residences and cottages for the spa employees.
Bladon Springs was known as the "Saratoga of the South" and stayed open throughout the Civil War (on a limited basis). Business returned to pre-war levels around 1870 and stayed good until the turn of the century when the mineral spring fad finally wore off. The hotel and spa fell on hard times and eventually closed completely in the early 1900's. The empty hotel was used by logging crews and others as sleeping quarters until the state bought the property in 1934. The state converted the hotel into apartments, then the building burned down in 1938. By 1960 only the latticed pavilion over the main spring was still standing, and that's gone now, too.
Today, the mineral springs are open and the park offers a modern campground plus a day-use area featuring picnic tables, grills and shelters, available on a first-come, first-served basis. There are three group picnic pavilions available for $25 per day - make reservations through the park office (and prices are subject to change). The campground offers ten campsites, each with 30-amp power, water and sewer connections and a picnic table and grill. There are central restrooms available but no shower facilities.
Day-use hours are from 7 am to sunset. Bladon Springs State Park is located about one mile north of the town of Bladon Springs.
Bladon Springs State Park
Upper photo courtesy of Jeff Reed,
CCA-by-SA 3.0 License
Upper left photo courtesy of Alabama State Parks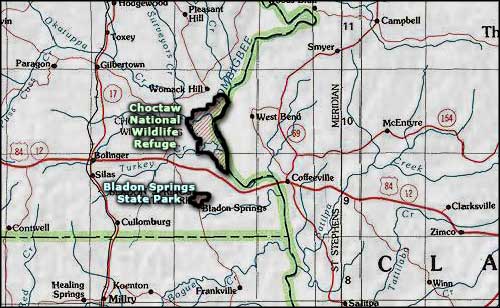 Related Pages
Area map courtesy of National Geographic Topo!