Wet Beaver Wilderness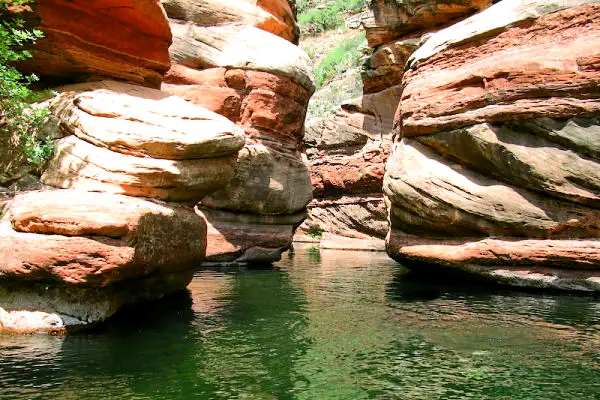 In the canyon bottom of Wet Beaver Wilderness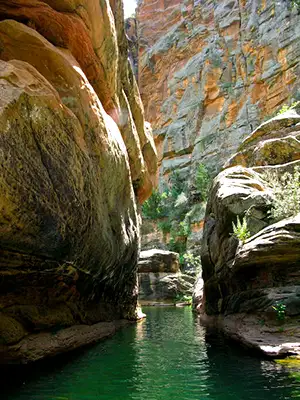 Wet Beaver Wilderness is a 6,155-acre property along the edge of the Mogollon Rim in Coconino National Forest. The wilderness area is essentially everything below a certain elevation in the canyon, so access to the canyon rim is possible in many places but there are only a couple places where hiking trails make their way down the steep slopes to the canyon bottom. The canyon is a steep, narrow cut through layers of Supai sandstone and shale at the edge of the Colorado Plateau.
The eastern end of Wet Beaver Wilderness is a narrow, deep canyon. The western end opens out through a series of red cliffs and drops into the valley of the Verde River. From one end to the other is about 12 miles and anyone who wants to "hike" the route needs to be prepared to spend significant amounts of time swimming across long, deep pools of water in a dozen places as the canyon walls drop straight into the water. In that 12-mile distance, the creek bed drops about 3,200 feet.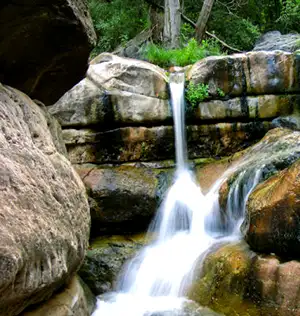 The canyon bottom is a long riparian corridor filled with alders, sycamores and cottonwoods. Just up a bit is the pinion-juniper woodland and at the top of the canyon you'll find a forest of Ponderosa pine and Gambel oak. Large wildlife in the canyon includes elk, mule deer, mountain lion, black bear, bobcat, coyote and the usual assortment of reptiles, amphibians, fish and birds.
Two major trails offer access to Wet Beaver Wilderness. The 9.5-mile Apache Maid trail crosses the plateau to the north of Wet Beaver Creek and drops into the wilderness at the western end near Casner Butte. The 10.8-mile Bell Trail descends to the west from the Forest Service road at Five-Mile Pass and crosses Roundup Basin to descend a long ridge into the wilderness a couple miles upstream of the western entrance.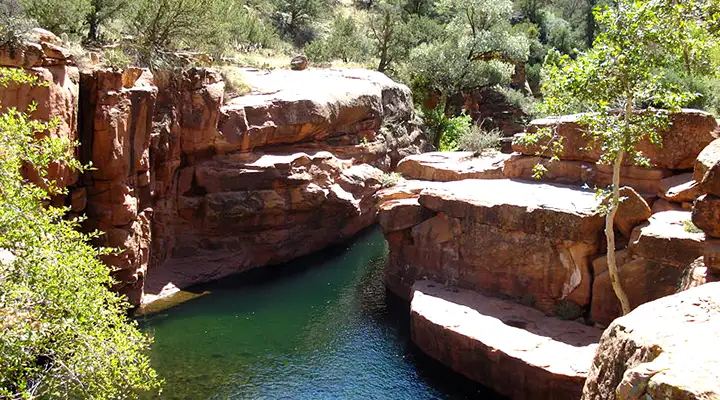 Wet Beaver Creek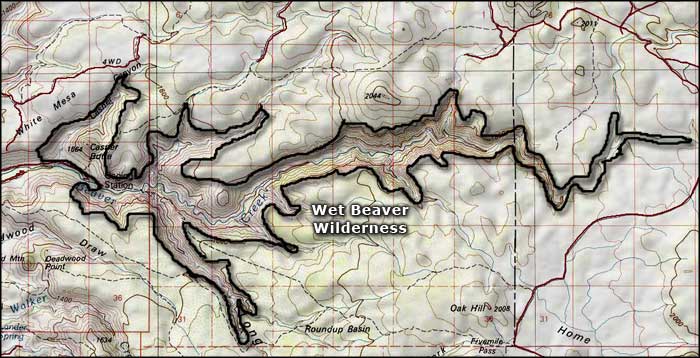 Wet Beaver Wilderness
Coconino National Forest -

US Forest Service
1824 South Thompson Street

,

Flagstaff

,

AZ

86001
928-527-3600

The lower photo of Wet Beaver Wilderness is courtesy of Wikipedia userid Smiles1479
Other photos courtesy of the US Forest Service
Map courtesy of National Geographic Topo!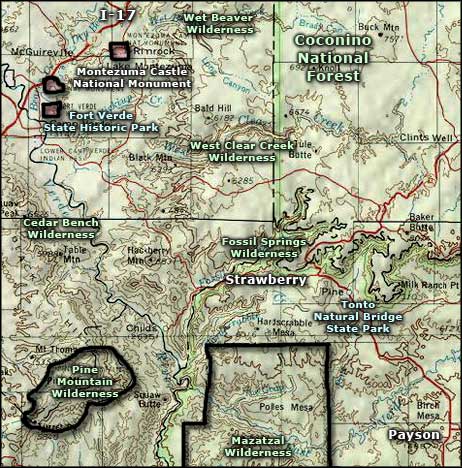 Related Pages
Map courtesy of National Geographic Topo!