Pine Mountain Wilderness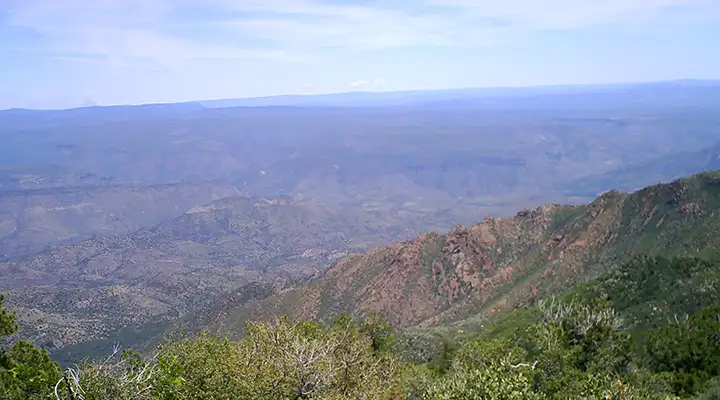 The Verde River Valley from Pine Mountain Wilderness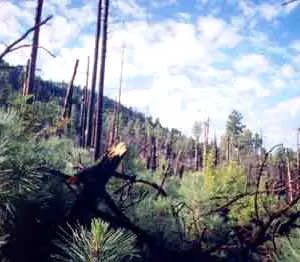 Pine Mountain Wilderness is a 29,100-acre property that sits high on the Verde Rim, straddling the forest boundary between the Tonto and Prescott National Forests. The eastern 2/3 of the wilderness is extremely rugged, a heavily eroded cliff face dropping to the Verde River.
The upper part of Pine Mountain Wilderness is clothed in big pines, the lower areas in chaparral and desert shrubberies. Pine Mountain is surrounded by deep canyons and hot, dry mesas. The Verde River Rim is high enough to give you some great views out over the Arizona desert from beneath tall Ponderosa pines and Douglas firs.
The Forest Service says there are six maintained trails (for a total of 37 miles) in Pine Mountain Wilderness. Most of them are west of Pine Mountain ridge where the topography of the land isn't so radical. The Nelson Trail enters the wilderness from the north and traverses about 8.2 miles of chaparral to reach the Verde Rim Trail. The Verde Rim Trail then runs about 5.3 miles along the Verde Rim (of course) and runs into the Cedar Bench Wilderness. The Nelson Trail also gives you access to the Pine Mountain Trail, which runs 1.2 miles to the top of the mountain. One problem with these trails is they are hard to distinguish from cow paths, and there are more cow paths (and cow pies) in Pine Mountain Wilderness than there are hiking trails.
Across the Verde River (Arizona's first Wild and Scenic River) to the east is Mazatzal Wilderness, to the north is Cedar Bench Wilderness.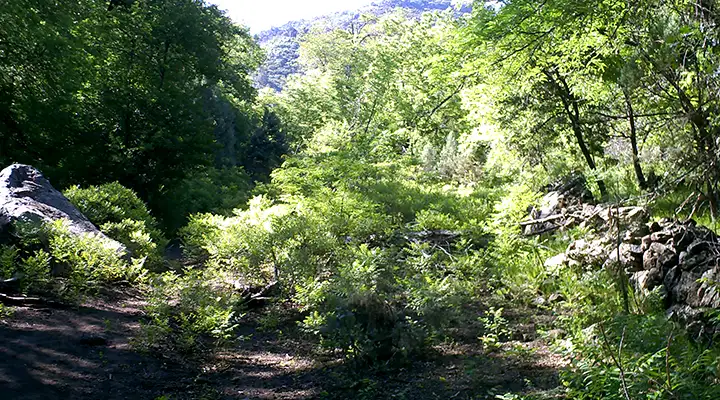 A trail in Pine Mountain Wilderness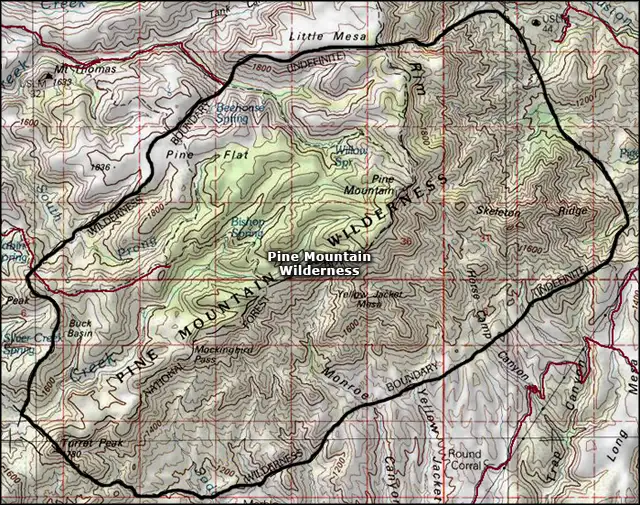 Pine Mountain Wilderness
Prescott National Forest -

US Forest Service
Larger photos of Pine Mountain Wilderness courtesy of Tony Padegimas
Upper left photo courtesy of the US Forest Service
Map courtesy of National Geographic Topo!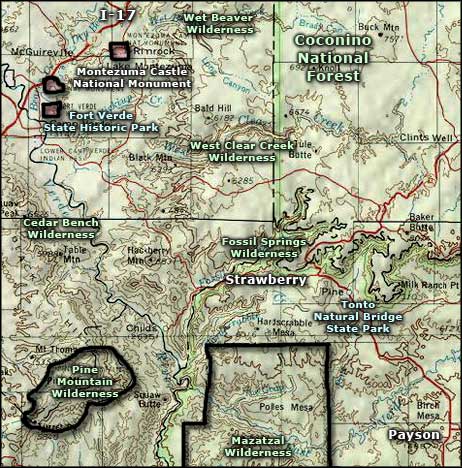 Related Pages
Map courtesy of National Geographic Topo!