Tonto Natural Bridge State Park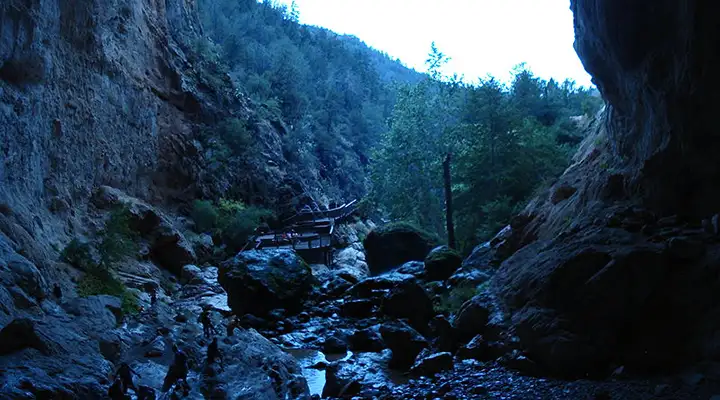 Looking out from beneath Tonto Natural Bridge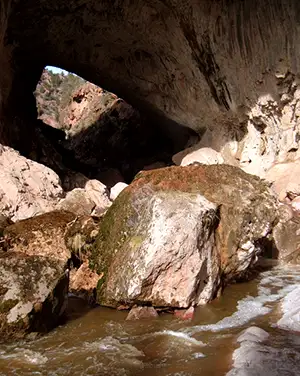 Tonto Natural Bridge was discovered by a prospector named David Gowan in 1877 as he was being chased by Apaches. He hid out in a cave under the bridge for 2 nights and 3 days before venturing out to see just what he'd found. Tonto Natural Bridge is the largest natural travertine bridge in the world. The Bridge is 183 feet high over a 400-foot long tunnel that reaches 150 feet wide at its widest point. Gowan claimed the site by squatter's rights.
22 years later, he persuaded his nephew, David Gowan Goodfellow, to bring his family over from Scotland and settle the land with him. It took them a week to get to the bridge from Flagstaff, then they had to lower their possessions into the valley using burros attached to the 500-foot long ropes. Today, there are several good hiking trails that make their way down the 500-foot slopes into the Pine Valley and along Pine Creek to allow visitors to see and explore the natural bridge area.
Tonto Natural Bridge State Park is 10 miles north of Payson, off State Route 87. Hours (Memorial Day to Labor Day): 8:00 AM to 7:00 PM, April, September and October: 8:00 AM to 6:00 PM, and November to March: 9:00 AM to 5:00 PM, every day except Christmas.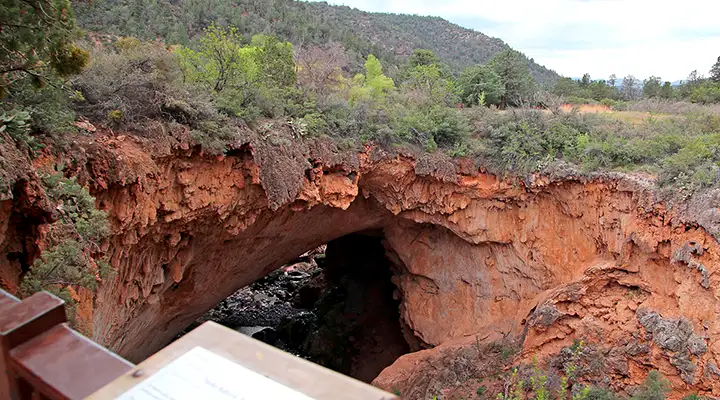 Tonto Natural Bridge
Tonto Natural Bridge State Park
Upper photo courtesy of Wikipedia userid Smiles1479,
CCA-by-SA 3.0 License
Lower photo courtesy of Arizona State Parks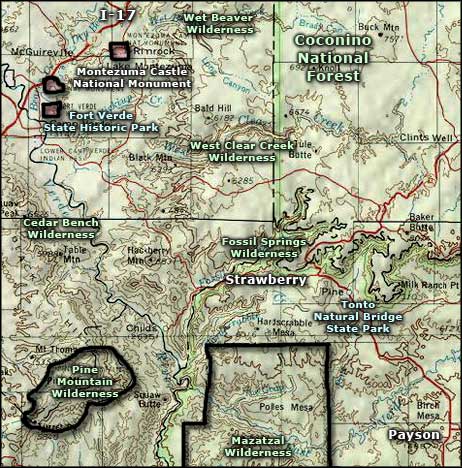 Related Pages
Map courtesy of National Geographic Topo!