San Pedro Riparian National Conservation Area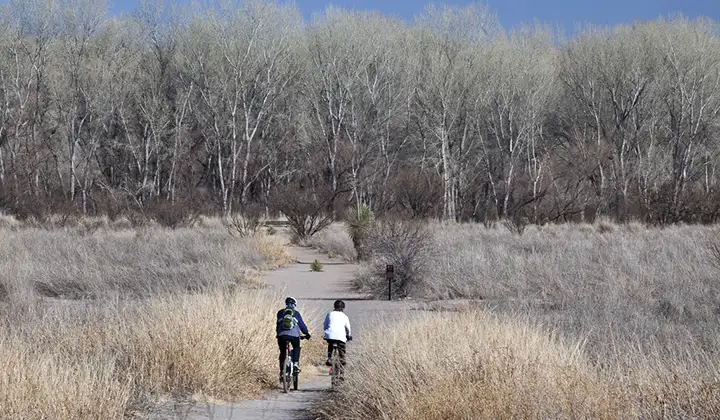 Biking a trail in San Pedro Riparian National Conservation Area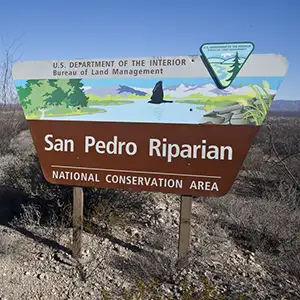 The San Pedro Riparian National Conservation Area contains almost 57,000 acres of land in a corridor along the San Pedro River stretching from the International Boundary north to St. David, Arizona. That's a 40-mile stretch of river meandering back and forth through the Chihuahuan and Sonoran Desert landscape.
There are 84 species of mammals that call this area home, along with 41 species of reptiles and amphibians, 14 species of fish and more than 100 species of native birds. Another 250 species of migratory birds pass through this area every spring and fall, stopping to rest, relax and get some lunch. Along the river you can also find several archaeological sites that indicate this area was inhabited by humans as much as 13,000 years ago.
Most folks come to San Pedro Riparian National Conservation Area for the spring and fall bird-watching. Summer is just plain too hot and summer and winter bring the rainy seasons, times when the San Pedro River often floods.
To get there: Go east from Sierra Vista on Fry Boulevard (Arizona Highway 90) for six miles to San Pedro House, the primary contact station for visitors. There are several other access points, too, all indicated on the map below. You'll find parking, trail heads and interpretive kiosks at Murray Springs, Fairbank, Land Corral, San Pedro House, Millville, Terrenante and Hereford Bridge. There is also parking and trail heads available at Lehner, Escapule, Charleston Road and Palominas.
At Terranante is the site of the Spanish Presidio Santa Cruz de Terranante, the northernmost Spanish-built military fort in Arizona. Near Murray Springs is a Clovis site: the Clovis people were making obsidian spearpoints as long ago as 13,000 years. Fairbank is an old mining town, now abandoned but still partially standing.
Day use of San Pedro Riparian National Conservation Area is free but overnight campers need to have a permit. You can camp in any one location only for seven days, then you need to move. Campfires are allowed only in designated sites.
San Pedro Riparian National Conservation Area is located in that corridor along the Mexican border that sees a lot of illegal aliens and miscellaneous other illegal activities. You are advised to be very careful in everything you do and report any suspicious activities to local law enforcement or the BLM.
San Pedro Riparian National Conservation Area
Bureau of Land Management

- Gila District Office
1763 Paseo San Luis

,

Sierra Vista

,

AZ

85635-4611
520-439-6400

Photos and maps courtesy of the Bureau of Land Management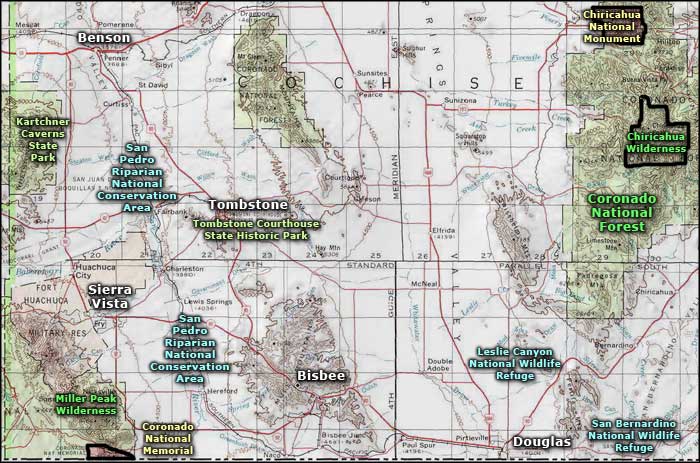 Related Pages
Map courtesy of National Geographic Topo!