Coronado National Memorial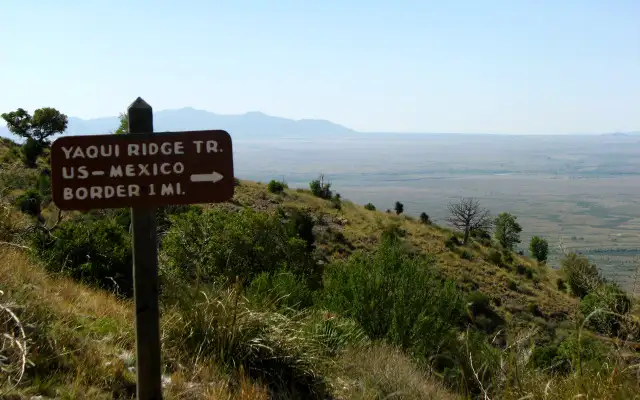 On Yaqui Ridge Trail at Coronado National Memorial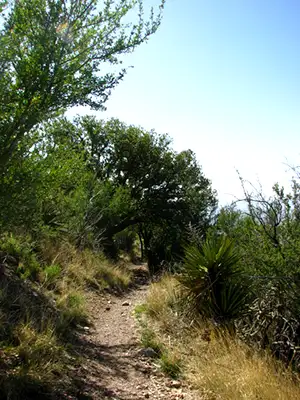 Coronado National Memorial was established not to preserve any tangible artifacts or evidence of the 1540-1542 expedition of Francisco Vasquez de Coronado but to offer visitors a site to reflect on the meaning and impact that expedition had on the early development of both the United States and Mexico. As the records are sketchy, it is believed that the Coronado Expedition crossed into what is now the United States traveling along the San Pedro River. The site of Coronado National Memorial offers panoramic views of the US-Mexico border and also looks down on the valley of the San Pedro. One of the goals of establishing the Coronado National Memorial in this place was to strengthen bi-national friendship and strengthen the geographical and cultural bonds that tie the two countries together.
Coronado National Memorial offers several hiking trails and a large picnic area near the visitor center. Some folks like to make the drive to the top of Montezuma Pass and take in the expansive view. Montezuma Pass is also where you'll find the southern terminus of the Arizona Trail, a hiking trail that crosses Arizona north-south. Some folks like to take the hike to and explore Coronado Cave. The cave is about 600 feet long, 70 feet wide and 20 feet high. There are several passages and crawl ways in it but nothing extensive enough to require tour guides, etc. It's suggested that visitors to the cave bring water, good hiking shoes and at least one flashlight per person (candles, flares and lanterns are specifically not allowed in the cave). Legend has it that Geronimo's people hid out in the cave back in the 1880's when the US Army was in hot pursuit of them.
To get there: take Arizona Highway 92 south from Sierra Vista for about 20 miles to South Coronado Memorial Drive. From Bisbee you can take the same highway west to the same place. Once on South Coronado Memorial Drive, go west five miles to the Visitor Center.
Coronado National Memorial is open year round from sunrise to sunset. The Visitor Center hours are from 8 am to 4 pm daily except for Thanksgiving and Christmas Days. There are no entrance fees involved. Coronado National memorial is a day-use only park. If you want to camp nearby, check out the sites in Coronado National Forest, just remember that this is right on the Mexican border and that alone can be a problem.
Coronado National Memorial
4101 East Montezuma Canyon Road

,

Hereford

,

AZ

85615
520-366-5515

Photos and maps courtesy of the National Park Service