Leslie Canyon National Wildlife Refuge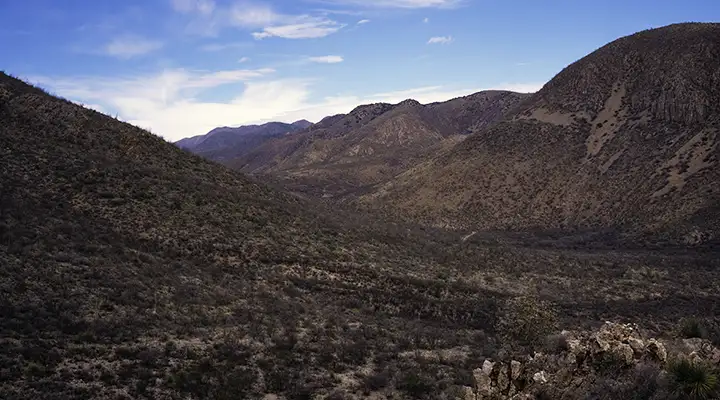 Leslie Canyon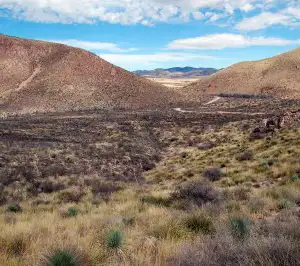 About 16 miles north of Douglas, Arizona, you'll find the 2,770 acres of Leslie Canyon National Wildlife Refuge. Most of the property is a canyon area with Leslie Creek running down the middle (think lush riparian area lined with velvet ash, cottonwoods and willows). What earned the National Wildlife Refuge designation is the presence of several endangered species of fish and plants: the Yaqui longfin dace, the Yaqui chub, the Yaqui topminnow and the rare Huachuca water umbel.
This is relatively rough mountain terrain, mostly covered with a mix of desert grasses and Chihuahuan desert shrubs. The San Bernardino Valley used to be a luxuriant grassland with many springs, creeks and wetlands but "modern" farming and livestock-raising practices lowered the water table and many areas went dry. That allowed imported and invasive plant species to move in and take over, which further reduced the ability of local native species to survive. Fish & Wildlife is now working to reverse that process by restoring the wetlands, the ponds, the streams and the springs to what they were before the Europeans arrived in the New World.
Leslie Canyon National Wildlife Refuge doesn't get the high visitor counts that bigger NWR's often see, so it's a nice place to get away from it all and enjoy some solitude. Birders like the place because of the more than 270 species of birds who frequent the area in different seasons. Wildlife photographers like it because there's no people in the way. But this is a good place to see a Lucy's warbler, summer tanager, yellow-breasted chat, varied bunting, black-capped gnatcatcher, Bell's vireo or a violet-crowned or broad-billed hummingbird. There are also white-tailed deer, coatimundi and Cockrum's shrew on the property. There are also a number of lizards and other reptiles but you'll want to watch out for the rattlesnakes mixed in.
There's 1.5 miles of moderate-to-difficult hiking trail available, all to the north of Leslie Canyon Road. All areas south of Leslie Canyon Road are closed to the public (that's probably where the endangered fish hang out). There's no hunting, fishing or camping allowed on the property.
To get to Leslie Canyon National Wildlife Refuge: take US Highway 191 north out of Douglas to about a quarter mile past mile post 11. You'll come to the paved Leslie Canyon Road there. Turn east and go about 1 mile to the refuge offices.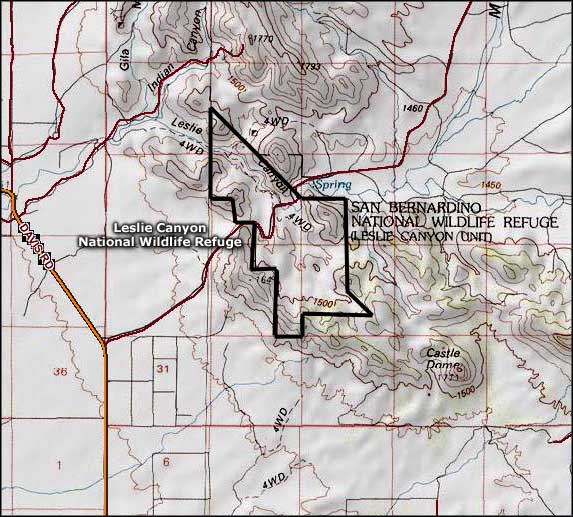 Leslie Canyon National Wildlife Refuge

Photos courtesy of the US Fish & Wildlife Service
Map courtesy of National Geographic Topo!