Patagonia-Sonoita Scenic Road
Patagonia Lake State Park
The Patagonia-Sonoita Scenic Road is a 52.5-mile route following Arizona Highways 82 and 83 through the Santa Cruz River Basin. The northern end of the route is at the Mountain View exit from Interstate 10, the southern end in Nogales near the Mexican border. In between is a beautiful drive across the desert floor between "sky island" mountain ranges, some of which rise more than 7,000 feet above the road. In some areas the road is in deep canyon, in some areas rolling hills, in some areas semi-arid valleys with expansive views. But as beautiful as the views may be, a lot of folks drive the Patagonia-Sonoita Scenic Road in the spring and fall with their binoculars and cameras in hand: this area sees more than 300 species of birds during the semi-annual migration seasons.
For many years before the Europeans arrived in the New World, the Santa Cruz River Basin saw many Hohokam traders passing through as this somewhat wetter area than the Sonoran Desert to the east and west made for easier traveling. After the Spanish did arrive, Father Francisco Eusebio Kino came into this area to establish several of his missions. One of them, San Xavier del Bac, is still operating as a church with regular services.
A long stretch of the route parallels the western boundary of Las Cienegas National Conservation Area, a zone of rolling hills, grasslands and wetlands that more than 150 species of birds like to call "home." Most of that property is still a "working ranch" but folks are allowed to visit, hike and enjoy the wildlife. This is also an area where you might see large herds of pronghorns hanging out near the road.
A few miles east of Sonoita is where you'll find a large part of Arizona's fledgling wine industry. About a dozen wineries are taking advantage of the altitude (up to 4,700') and the micro-climate produced there to develop some excellent products.
Outside of Patagonia are Patagonia Lake State Park and the Sonoita Creek Preserve. Patagonia Lake is man-made and makes for a great place to enjoy the water in the heart of this otherwise semi-arid countryside. Sonoita Creek Preserve is jointly managed by the State and The Nature Conservancy to preserve a large area of riparian habitat with more than 300 bird species documented as using the area. In and around the water you'll also find several species of endangered frogs and toads and at least one species of endangered fish. Among the migratory birds there are many species that are native to South America but this is where they come when it's winter down there.
Southeast of Patagonia Lake are the Patagonia Mountains, another area favored by the wine makers as a result of the climate and elevation for producing high-quality grapes.
Other nearby sights and sites: Fort Crittenden (from Indian War days), Mt. Wrightson Wilderness, Tumacacori National Historic Park, Tubac Presidio State Historic Park, San Rafael Ranch State Park.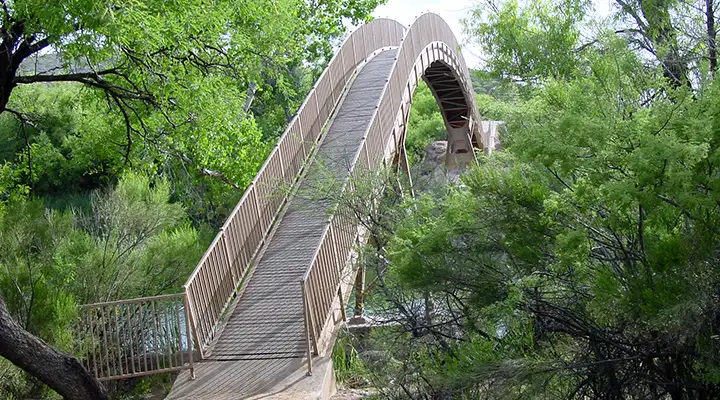 The foot bridge across Patagonia Lake
Patagonia-Sonoita Scenic Road

Photos courtesy of Georgia Dale Griffiths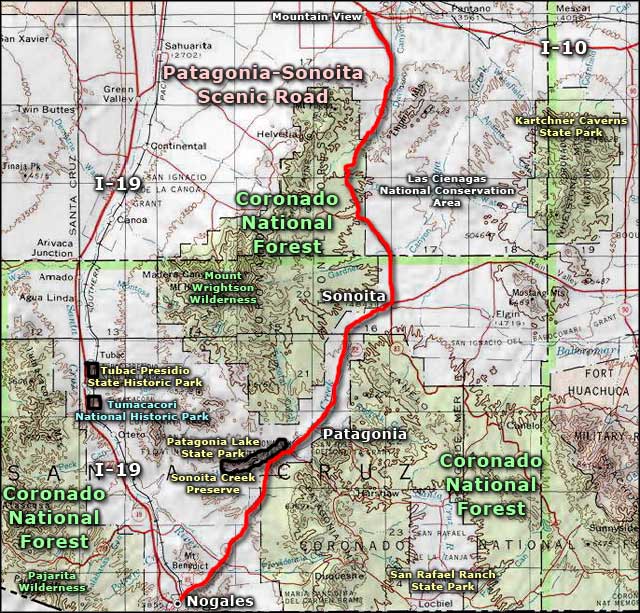 Related Pages
Map courtesy of National Geographic Topo!