Medicine Bow National Forest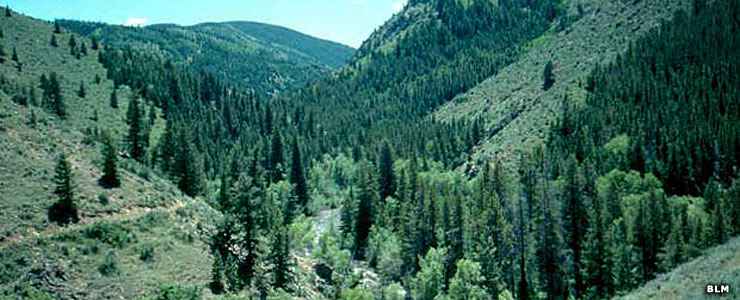 Encampment River on Medicine Bow National Forest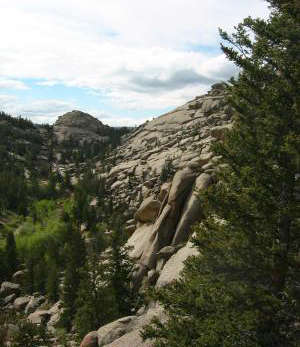 Medicine Bow National Forest is 1,096,891 acres of some of the most beautiful countryside on Earth. Located in southern and central Wyoming, Medicine Bow National Forest contains portions of the Medicine Bow, Sierra Madre and Laramie Mountains. Elevations vary from about 5,500' to the summit of Medicine Bow Peak at 12,013'. The climate here ranges from windy, semi-arid in the lower reaches of the forest to cold and humid at the higher elevations. This is an area where it can snow on any day of the year. This area also regularly experiences high winds. This is also a landscape with great recreational opportunities.
The name "Medicine Bow" is translated from several Native American tongues. Tribes would come to these mountains in search of large pieces of mountain mahogany because the wood was excellent for making bows from. At the same time, they would perform sacred rituals (good medicine) to cure diseases among their people.
Wilderness Areas on Medicine Bow National Forest
That part of the forest north of Interstate 80 contains the Vedauwoo outcrops. The Vedauwoo outcrops are composed of 1.4-billion-year-old Sherman Granite. This granite is very hard and doesn't erode nearly as easily as the formations that once overlaid the granite. The granite became exposed during the uplift of the Laramie Mountains about 65 million years ago (during the Laramide Orogeny). The Vedauwoos are very popular with rock climbers and picnickers. Access to the property is free but there are fees associated with parking and camping. At the main parking area is a kiosk with information, including a notice that the area was used as a military testing ground up until 1961... So if you come across any unexploded ordnance in your explorations, don't disturb it, report it to the authorities.
The Snowy Range (south on Interstate 80) is heavily forested and contains many good fishing lakes and streams. It also earns that name (Snowy Range) every winter. The Snowy Range is crossed east/west by the Snowy Range Scenic Byway, a paved road that is usually closed in winter due to heavy snowfall. On the eastern side of the range is the Snowy Range Ski Area. There are local ranger offices in Saratoga and Laramie.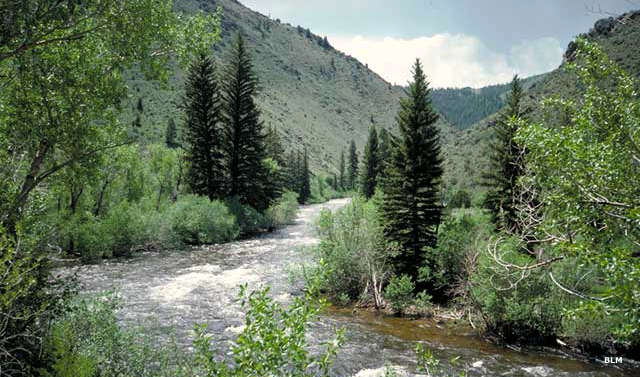 Medicine Bow National Forest
US Forest Service
Larger photos courtesy of the Bureau of Land Management
Smaller photo courtesy of Wikipedia userid Jerith,
CCA-by-SA 3.0 License