Bighorn Scenic Byway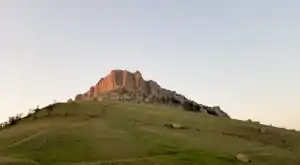 Last stop before coming down the east side of the Bighorn Mountains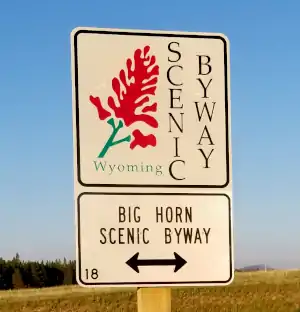 At Burgess Junction
The Bighorn Scenic Byway is a 57-mile route that spans Bighorn National Forest in the Bighorn Mountains. The byway follows US Highway 14 as it travels between Shell and Dayton, Wyoming. The route is paved all the way but isn't always open year-round. Most activities along the byway are available from May to September.
Just inside the forest in Shell Canyon is a turnoff that takes you to Shell Falls. There's an overlook there as well as a short interpretive trail. Back on the main road, you'll find the road twists and turns as it works its way up the western slopes of the Bighorns. Eventually, though, it will level out in the area of the old ski slopes at Antelope Butte. From there, the Bighorn Scenic Byway turns north and crosses the crest of the mountains at Granite Pass. To the south of Granite Pass is Cloud Peak Wilderness.
There's a road junction at Burgess Junction, and a US Forest Service visitor center with exhibits, maps, information, another interpretive trail and a theater with videos of the forest, the mountains and the history and culture of the Native Americans who inhabited this area for many years before the Anglo-Americans arrived. Also at Burgess Junction is the intersection with the Medicine Wheel Passage Scenic Byway.
|
To the east, the Bighorn Scenic Byway begins the drop off the high ridges of the Bighorns and down into Sheridan Valley. The views of the valley and of Tongue River Canyon are simply spectacular.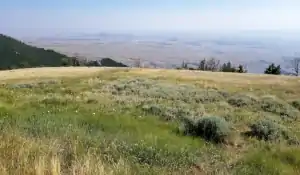 From the slope above Shell
A moose in the weeds along Plum Creek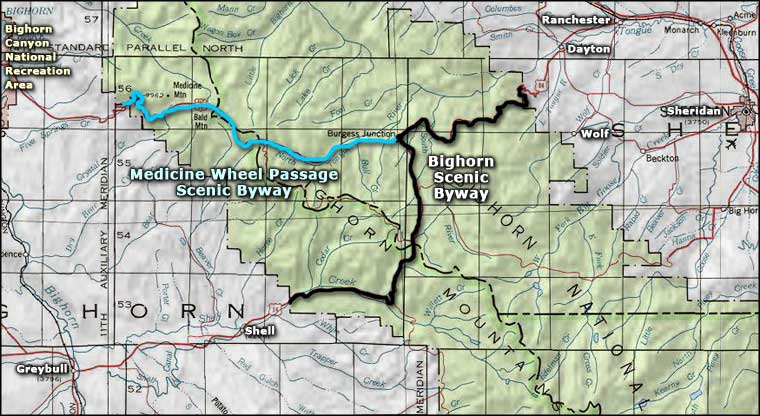 Related Pages
Map courtesy of National Geographic Topo!