New River Gorge National Park and Preserve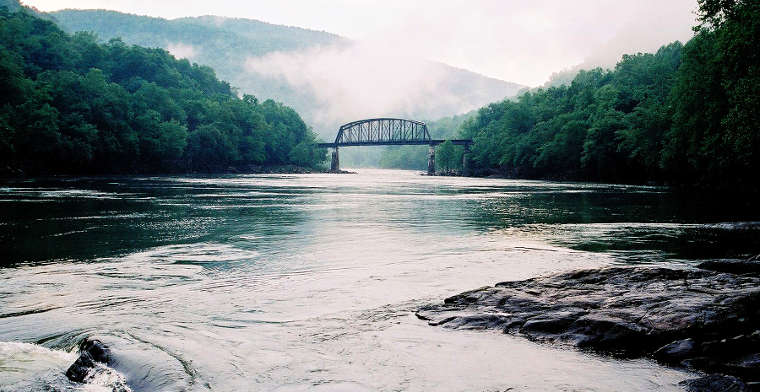 New River Gorge National River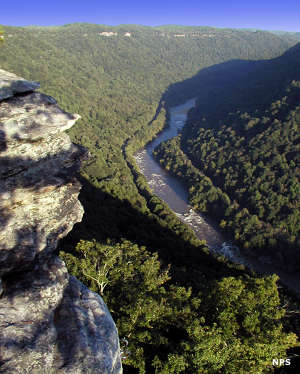 In the old days, every time a pioneer explorer crossed over the hill and found a new stream, he named it "New River." And it was the new river, until another was found just over the next hill.
In spite of the name, West Virginia's New River may be one of the oldest rivers in North America. New River is a rugged, whitewater river flowing mostly to the north through deep, steep canyons eroded into the heart of the Appalachian Mountains. New River Gorge National Park and Preserve contains more than 70,000 acres of land rich in natural and cultural history with an abundance of recreational opportunities.
250 million years ago, the African and North American tectonic plates collided, shattering and buckling the Earth's crust and pushing up the Appalachian Mountains. In those early days, a river began flowing north, draining the western slopes of the young mountains. As time went on, the river eroded its way down into the mountain rock, gathering speed and power to drive itself ever deeper into the ground. Today, what remains of that ancient Teays River is known as New River and the erosive action still continues.
Over all those years, certain unique species of plants and animals have evolved that live nowhere else on the planet. For many southern and northern species, it's in this corridor that they find their northernmost and southernmost extensions.
New River Gorge National River runs north for 53 miles from just north of Bluestone Dam to Hawks Nick Lake. In this area, the gorge depth is typically 1,000 feet from the canyon rim to the water's surface, although in spots that depth approaches 1,500 feet. Exposed in the gorge are all the physiographic provinces of the Appalachian Mountains, going back up to 225 million years. Because of the location, the gorge acts as a corridor for the north/south movement of plants and animals in the area. It is also a barrier to the east/west movement of plants and animals. The thick forest that covers everything but the rock outcroppings, emergent rocks and coal mines is of a Mixed Mesophytic type with areas of hemlock-hardwoods, oak-hickory, mixed oak, northern hardwoods, oak-maple, oak-yellow pine, cove hardwoods and floodplain and bottomland hardwoods.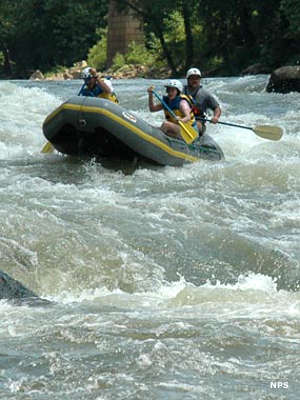 Folks come to New River Gorge to enjoy fishing, hunting, sightseeing, whitewater rafting, photography, rock climbing, primitive camping, hiking, horseback riding and mountain biking. For whitewater rafters, the river presents two faces. The upper river is mostly a string of long pools with relatively easy rapids in between (hardness up to Class III). The lower river is renowned for colossal rapids with difficulties ranging from Class III to Class V. Many of the rapids are obstructed by large boulders, necessitating a lot of paddling and maneuvering in very forceful currents, crosscurrents and hydraulics. Some rapids will try to force you into some very hazardous undercut rocks. There are several permitted concessionaires that potential river-runners might want to contact if making the trip sounds attractive to you.
Rock climbers have made New River Gorge a popular place to practice their craft. There are more than 1,400 established rock climbs, most of them on very hard sandstone cliffs that vary between 30 and 120 feet in height. This is not a place for beginners to get their feet wet: the easiest climbs are rated at 5.9, the most popular routes at 5.10-5.12. The rock tends to be highly featured and there are lots of crack and face routes available.
New River Gorge National Park and Preserve is open 24 hours a day, every day of the year. The Sandstone and Canyon Rim Visitor Centers are open from 9 am to 5 pm every day except Thanksgiving, Christmas and New Year's Days. The contact center at Thurmond Depot is open from 10 am to 5 pm every day from June 1 through August 31. The contact center at Grandview is open from noon to 5 pm every day from June 1 through August 31. There are no entrance fees charged at New River Gorge National River.
To get there: a lot of New River Gorge is stretched out between Beckley and Hico along US Highway 19. There is also access to the park from the Mossy and Sandstone exits on Interstate 64.
New River Gorge National Park and Preserve
National Park Service
Upper photo of New River Gorge courtesy of Ken Thomas
Other photos and maps courtesy of the National Park Service