Sam Houston National Forest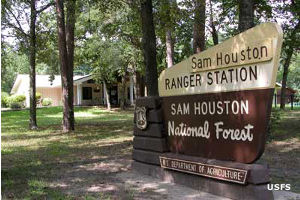 Sam Houston National Forest is a 163,045-acre property near New Waverly in East Texas. Archaeological discoveries in the area have indicated that the forest was being used by humans as much as 12,000 years ago and that use has continued to the present day. In the earliest days the humans were nomadic tribes, probably following wild game through the seasons. Actual settlements didn't happen until about 7,000 years ago. By the time the Spanish arrived in the area in the 1500's, most of the tribes spoke dialects of the Atakapan language. Primarily hunter-gatherers, some of them may have practiced some agriculture. However, the arrival of the Spanish was the beginning of the end for these tribes as they were essentially extinct by the early 19th century.
Today, the area is forested in pines and hardwoods and none of it is "old growth." There are significant numbers of white-tailed deer and wild turkey in the forest, enough to make the forest off-limits for dispersed camping purposes for those six months of the year called "hunting season."
Wilderness Areas
Little Lake Creek Wilderness
The Lone Star Hiking Trail, 27 miles of which have gained National Recreation Trail status, spends some 76 miles of its 128-mile total length in crossing sections of Sam Houston National Forest. This is a hiking and horseback riding trail only: no vehicles of any sort allowed. The trail can be hiked year round but sees most of its human traffic in winter and spring when the temperatures are bearable. Even then, the trail is never really crowded.
Deer hunting season (typically November and December) will want you to be very brightly clothed while hiking and camping is restricted to only a few developed campgrounds.
Sam Houston National Forest
US Forest Service
Photo courtesy of the US Forest Service