Sabine National Forest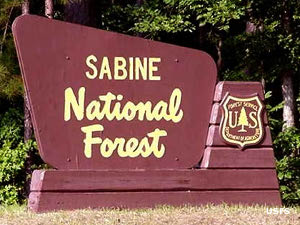 Sabine National Forest is a 160,873-acre property stretched out along the western shore of the Toledo Bend Reservoir on the Sabine River, against the Texas-Louisiana border. This is an area forest in pine-hardwood woodlands and has seen extensive logging in the past.
Among the game animals found on Sabine National Forest are white-tailed deer, squirrel, woodcock, dove, wild turkey and quail. The forest offers much-needed habitat for the threatened Bald eagle and for the endangered Red-cockaded woodpecker. Toledo Bend Reservoir is the scene of much water recreation in season with campgrounds, hiking trails and boat ramps scattered along its shore.
Wilderness Areas
Indian Mounds Wilderness

Sabine National Forest
US Forest Service
Upper right photo courtesy of the US Forest Service