Palo Alto Battlefield National Historical Park

Reenactment at Palo Alto Battlefield National Historical Park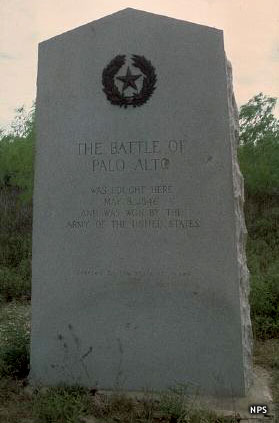 The battle fought at Palo Alto between the US Army and the Mexican Army on May 8, 1846 was the first battle in a border skirmish that soon led to the Mexican-American War of 1846-8. It was the US Army victory here that made the invasion of Mexico possible.
Palo Alto Battlefield became a designated National Historic Landmark on December 19, 1960. The property became Palo Alto Battlefield National Historic Site on November 10, 1978. On June 23, 1992, Congress authorized the park to grow to 3,357 acres but at this point (in 2014) there are only 1,039 acres owned by the National Park Service with the rest of the land in private hands. On March 30, 2009, the property became the Palo Alto Battlefield National Historical Park. At that time the Resaca de la Palma Battlefield (a 34-acre site inside the Brownsville city limits) was added to the park. The park does have a visitor center with a museum offering exhibits from the days of the battle and the history of the Mexican-American War. There is also a half-mile trail leading from the visitor center to an overlook of the battlefield with several interpretive panels along the way.
Except for Thanksgiving Day, Christmas Day and New Year's Day the Palo Alto Battlefield National Historical Park is open every day from 8 am to 4:30 pm. The park's visitor center is open daily from 8 am to 5 pm. There are no fees involved to visit or to take part in any park programs or events on the property.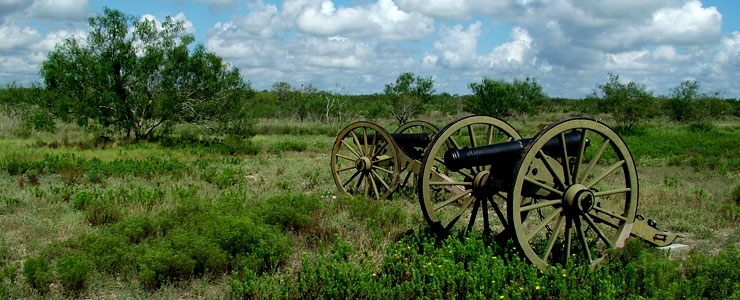 Cannons on the field at Palo Alto Battlefield
Palo Alto Battlefield National Historical Park
1623 Central Boulevard, Suite 213

,

Brownsville

,

TX

78520-8326
956-541-2785
ext. 333
Top and upper left photos courtesy of the National Park Service
Bottom photo courtesy of Steve Schmorleitz,
CCA-by-SA 3.0 License