Lake Meredith National Recreation Area

Lake Meredith National Recreation Area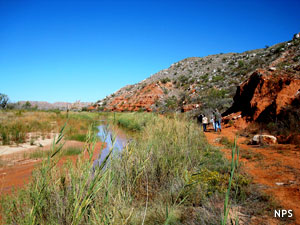 Hiking along the Canadian River
at Lake Meredith NRA
Lake Meredith National Recreation Area is a 44,978-acre property surrounding Lake Meredith, a (generally) 10,000-acre impoundment of the Canadian River about 30 miles north of Amarillo. I say "generally" because the recent drought has brought about a radical drop in the lake's water level and that has caused the number of human visitors to plummet (1.08 million visitors in 2009 to 502,457 visitors in 2012). The recreation area also (generally) offers fishing, boating, camping, swimming, hunting and hiking opportunities. When water levels were higher, visitors had access to 5 boat launch ramps and a large marina to enjoy the water. The lower water level has left most of that high and dry.
This is an area where the Canadian River has cut 200-foot-deep canyons into the high plains of the Texas Panhandle. The region has been frequented by Native Americans since the time of the Clovis Culture, as much as 13,000 years ago. Because of the extensive deposits of volcanic flint in the area, this has been a crossroads of Native American trade since before the ice sheets melted at the end of the last Ice Age. The Antelope Creek people have left the largest impact on the area as they moved in and began building large masonry structures around 900 CE. They were a mix of Plains and Puebloan influences in how they built and how they cultivated their numerous small plots of squash, beans, sunflowers and maize. Their population grew quickly after the bison moved in around 1000 CE and peaked sometime between 1350 and 1400. At the height of their tenure, there were probably more than 30,000 people in the area, more than 10,000 in the Canadian River Valley alone. Then they began migrating east and north as the climate got drier and more war-like tribes (the Apaches in particular) moved in.
While Lake Meredith National Recreation Area is open 24/7/365, the park office is usually open 8 am to 4:30 pm, Monday through Friday, closed on Saturdays, Sundays and holidays. Between Memorial Day and Labor Day the office is open on Saturdays. There are no entrance or camping fees but there are boat launch fees: $4 for one day, $10 for 3 days, $40 for the year. All vessels that require registration in the State of Texas are subject to the launch fee. Embedded in the acreage of Lake Meredith National Recreation Area is the Alibates Flint Quarries National Monument. It is strongly suggested that visitors be careful on any of the roads in the recreation area when it has been raining or snowing.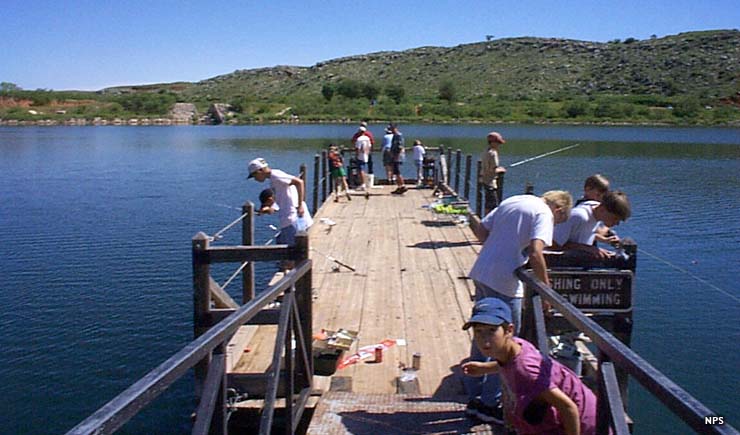 Scene during the annual Fish Fry Tournament at Lake Meredith
Lake Meredith National Recreation Area
Photos courtesy of the National Park Service