Fort Davis National Historic Site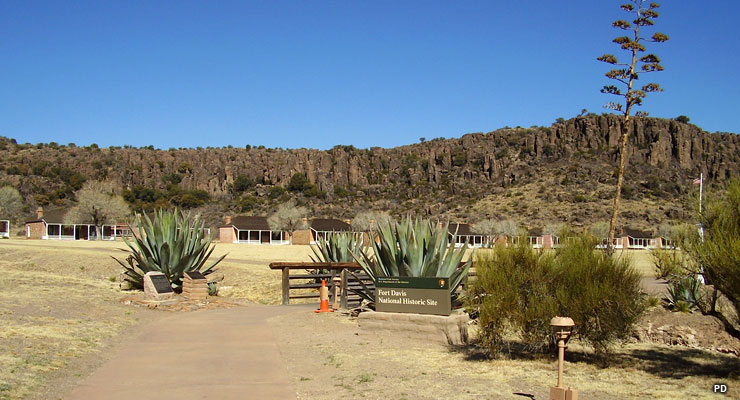 Fort Davis National Historic Site
Fort Davis National Historic Site is located in the Davis Mountains of west Texas. Protected on this 474-acre property is one of the finest examples of a southwestern United States US Army fort from the mid 1800's. The fort was first established by Brevet Major General Persifor Frazer Smith along the Limpia Creek in October 1854. Named for then-Secretary of War Jefferson Davis (same man who later became the President of the Confederate States of America), the fort was tucked into a three-sided canyon also known as Painted Comanche Camp. Sheer rock walls rose on three sides of the location, an element expected to protect the garrison from bad winter weather. Nearby were the Chihuahua and San Antonio-El Paso Trails, used by travelers and traders. Also nearby were the Mescalero Apache and the Great Comanche War Trails, used by marauding Native Americans since the early days of the Spanish invasion. The fort was evacuated at the beginning of the Civil War and was shortly taken over by troops from the Confederate States Army. That occupation didn't last very long as the Mescaleros soon nearly completely wiped out a Confederate patrol intent on stopping their raids on local ranchers. By August 1862 the Confederates were convinced of how hard it would be to hold onto the area and abandoned everything west of Fort Clark.
The Union Army returned in June 1867. The troops coming in were infantry and cavalry units of Buffalo Soldiers. One of the first things they did was rebuild the fort outside the canyon walls using limestone and adobe. The Buffalo soldiers did an excellent job of maintaining peace and quiet in the area until the fort was finally decommissioned in 1891.
Today, the Fort Davis National Historic Site contains 24 restored buildings and more than 100 ruins and foundations. Five of the restored buildings have been refurnished in authentic 1880's furnishings and decorations, making it easy for a modern visitor to envision themselves being present during the fort's prime years. Living history demonstrations are common during the summer months.
Fort Davis was designated a National Historic Landmark in 1960 and became an official unit of the National Park System in 1961.
Fort Davis National Historic Site is a day-use only park, open from 8 am to 5 pm every day except Thanksgiving Day, Christmas Day, New Year's Day and Martin Luther King, Jr. Day. Camping is also available in Fort Davis and at the adjacent Davis Mountains State Park.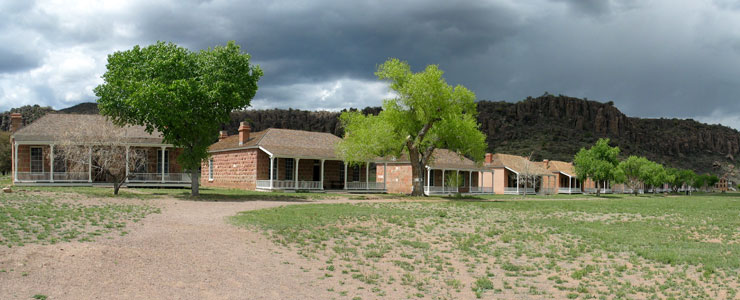 Barracks near the parade ground
Fort Davis National Historic Site