El Camino Real de los Tejas National Historic Trail

A site along El Camino Real de los Tejas National Historic Trail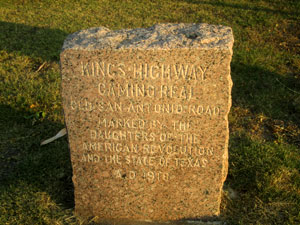 El Camino Real de los Tejas was a route that began in Mexico City and traveled north through Saltillo, Monterey and Laredo to cross the Rio Grande, then crossed Texas through San Antonio and Nacogdoches to a crossing of the Sabine River and end at Natchitoches in Louisiana. A good part of the 2,500-mile route followed in the footsteps of Native American traders who had long traveled the route between the Great Plains and the Chihuahuan Desert. El Camino Real was established to better tie the northern colonies to the Viceroyalty of New Spain in Mexico City. Today, much of the route in the US follows Texas Highway 21 and Louisiana Highway 6.
Traffic on the original trail fell off after the railroad arrived and most of the route was relegated to the history books. Interest revived in the early 1900's and in 1915, the Texas Legislature set aside $5,000 to have the route surveyed and marked. A few years later the Daughters of the American Revolution placed granite markers along the route.
Today, there is no official visitor center for El Camino Real. No official campground, not even an established motor route. The National Historic Trail designation is a relatively recent event and many areas along the route have no visitor facilities and relatively few signs to work with. There are also no user or entry fees but there may be fees collected by other governmental agencies. Nominal fees may be charged at some trail-related state, county or other local historic sites.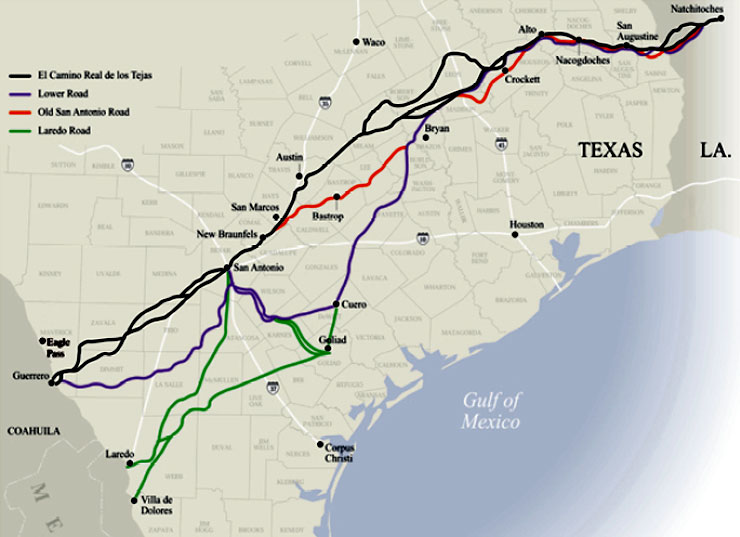 Upper left photo courtesy of Billy Hathorn,
CCA-by-SA 3.0 License
Map courtesy of the National Park Service