Big Thicket National Preserve

On a footbridge in Big Thicket National Preserve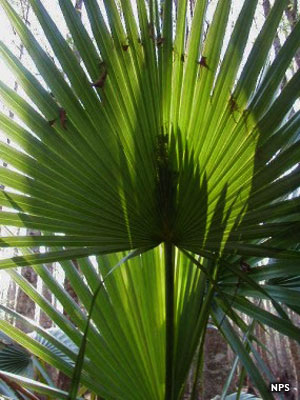 A Palmetto frond
Big Thicket National Preserve is a 106,305-acre property in eastern Texas. Big Thicket has been characterized as the "biological crossroads of North America" with more than 1,000 species of flowering plants and ferns, more than 100 species of trees and shrubs, more than 300 species of migratory and nesting birds, almost 100 species of reptiles, more than 3,000 species of insects and about 60 species of mammals. Included among the reptiles are all four groups of North American venomous snakes and alligators. The region is dominated by longleaf pine but at this point in time, all of that is second or third growth as virtually the entire area has been logged at least once. UNESCO designated Big Thicket National Preserve as an International Biosphere Reserve in 1981. In 2001 the American Bird Conservancy recognized Big Thicket National Preserve as a Globally Important Bird Area.
The Preserve was established in 1974 in an attempt to preserve and protect some of the remaining elements of what was once a dense more-than-2-million-acre forest. Big Thicket extends northward to blend into the larger Piney Woods terrestrial ecoregion (of which the thicket itself is only a small part). This is an area where several very different habitats come together, bringing a large number of diverse species together in a relatively small area. Over the course of the last Ice Age, plants and animals from many different parts of North America migrated into the area and the remains of many species of now-extinct megafauna have been found.
The National Preserve consists of nine separate land units and six water corridors. Having been sculpted by water actions in the bottom of the Western Interior Seaway during the Cretaceous Period, the flat, unremarkable landmass is crisscrossed by multiple small streams. As the surface is virtually flat, there are shallow swamps in many areas. Timber operations in the 19th and 20th centuries also affected the land and water flows in that railways were built to remove the timber and those elevated paths have served to hold back and segregate water flows on the property.
The Big Thicket Headquarters is open from 8 am to 4:30 pm Monday through Friday throughout the year, except on government holidays. The Big Thicket National Preserve Visitor Center is open from 9 am to 5 pm every day of the year. There are no entrance fees involved and while backcountry, overnight river use and hunting permits are free, they must be obtained in person at the Big Thicket Visitor Center. Hunters will also want to have a valid State of Texas hunting license on their person while hunting. There are commercial campgrounds and state park campgrounds scattered through the area but no developed campgrounds on the property. Primitive backcountry camping is allowed. One thing to keep in mind is the extreme presence of mosquitoes, chiggers and ticks during the various seasons: you'll want to have industrial strength bug repellent handy at all times.
Boating and fishing are popular activities on Village Creek and the Neches River. Village Creek is an official Texas State Paddling Trail, attracting kayakers and canoists all year round.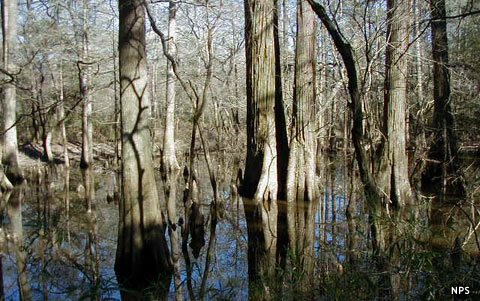 A cypress swamp in Big Thicket National Preserve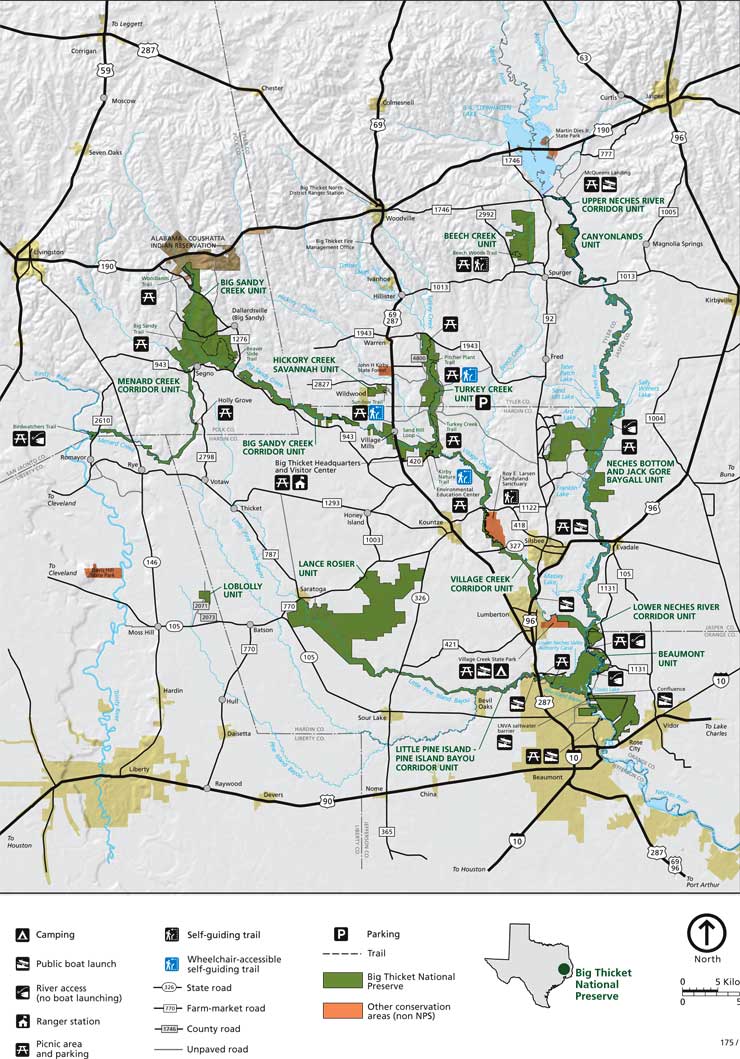 Big Thicket National Preserve area map
Big Thicket National Preserve
Photos and map courtesy of the National Park Service