Big Bend National Park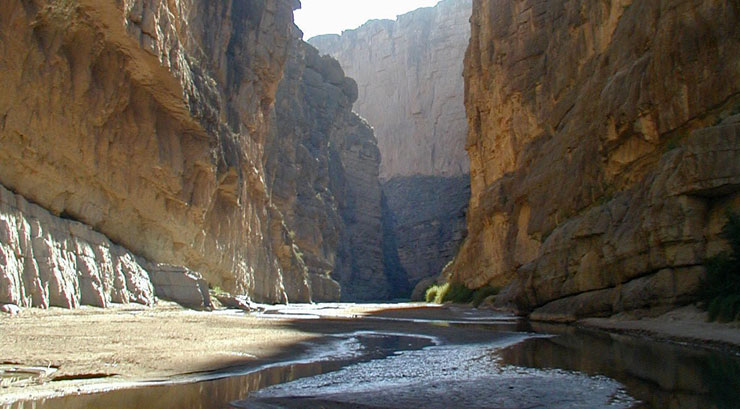 The Rio Grande at the bottom of Santa Elena Canyon in Big Bend National Park

Pine Canyon Falls
The Rio Grande has been the marker of the international border between Mexico and the United States since the Treaty of Guadalupe-Hidalgo in 1848. That line runs for about 1,000 miles along the river and about 118 miles of that is along the southern edge of Big Bend National Park. In these days of increased national security concerns, that means there is a heightened police presence along the river corridor and while boaters are allowed to float down the river freely, when they disembark on US soil they need to have good identification (like a valid US passport) in hand.
Big Bend National Park is an 801,163-acre property, the largest protected expanse of Chihuahuan desert in the United States and the largest essentially roadless area in the State of Texas. There are more than 1200 species of plants on the property, in addition to more than 450 species of birds, 75 species of mammals, 56 species of reptiles and more than 3600 species of insects. Park elevations vary from a low of about 1,800 feet along the Rio Grande to 7,832 feet on the summit of Emory Peak in the Chisos Mountains. That makes for a wide variation in moisture and temperatures in the park. It also contributes to the number of plant species that exist nowhere else on Earth.
Human habitations on the property extend about 9,000 years into the past, with multiple historic buildings and landscapes that became famous in the 1800's. However, Big Bend National Park is also one of the largest, most remote and least visited national parks in the contiguous United States. There was a time when most of the park was homesteaded and sheep, cattle and goat ranches occupied much of the area. Then prospectors discovered significant mineral deposits in the region in the late 19th and early 20th centuries. Communities sprang up around the mines but, in the way of virtually all mining camps throughout history, when the minerals petered out, the people left. There are still several ghost towns in the park in addition to the old mines, springs and hot springs.
In 1933, the State of Texas established Big Bend State Park (originally named Texas Canyons State Park). In 1935, Congress passed legislation that would allow the purchase of land to form Big Bend National Park. In 1944, the state deeded the land it owned in the area to the federal government and Big Bend National Park was officially opened to visitors on July 1, 1944.
Big Bend National Park is a long way from everywhere and comes with a shortage of services. Visitors are advised to come with full fuel tanks, extra food and all the various other gear and equipment they might need to enjoy their visit as there is not much available inside the park boundaries. there are four camp stores located near several of the visitor centers but supply and selection are very limited.
There are more than 100 miles of paved roads at Big Bend National Park with many more miles of improved dirt roads through the back country. Most of the improved dirt roads are accessible for most vehicles but some are rougher (and less maintained) than others. Road conditions also deteriorate quickly in the event of rain or snow. If you arrive in a good 4WD high-clearance vehicle, you might wish to avail yourself of the hundreds of miles of primitive dirt roads, some of which give access to old settlements and pioneer cemeteries. The primitive dirt roads tend to be rocky with areas of sand too soft to support the travel of typical city vehicles and are definitely unsafe to travel in an RV.
Park entrances are open 24/7/365 but the five visitor centers are open significantly less. The Panther Junction Visitor Center is open daily from 9 am to 5 pm but has reduced hours on Christmas Day. The Chisos Basin Visitor Center is also open daily from 8:30 am to 4 pm (but closed for lunch) and has reduced hours on Christmas Day. The Castolon Visitor Center is also closed for lunch but is only open from November through April, 10 am to 4 pm daily. The Persimmon Gap Visitor Center is open daily year round, 9 am to 4 pm (and closed for lunch). The Rio Grande Village Visitor Center is open 8:30 am to 4 pm (closed for lunch), November through April. You can see from these schedules that the busy season for Big Bend runs from November through April with six weeks in particular (Thanksgiving week, Christmas holiday season and the mid-March spring break) seeing the park's facilities stretched to their limits.
There are three developed campgrounds on the property: Chisos Basin Campground, Cottonwood Campground and Rio Grande Village Campground.
In 2012, the International Dark Sky Association recognized Big Bend National Park as one of only ten places on the planet certified for dark sky stargazing with the darkest measured skies in the contiguous 48 states. On many nights, visitors looking up can clearly see thousands of stars and bright planets and can enjoy a clear view of the band of the Milky Way.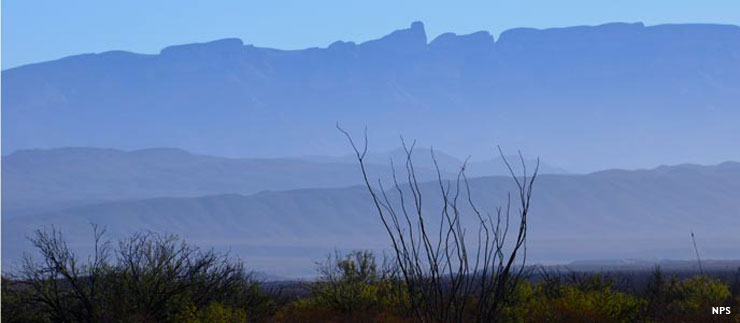 Morning light along the road to Rio Grande Village

The Chisos Basin Visitor Center
Upper photo courtesy of John Stout
Other photos and big map courtesy of the National Park Service