Croatan National Forest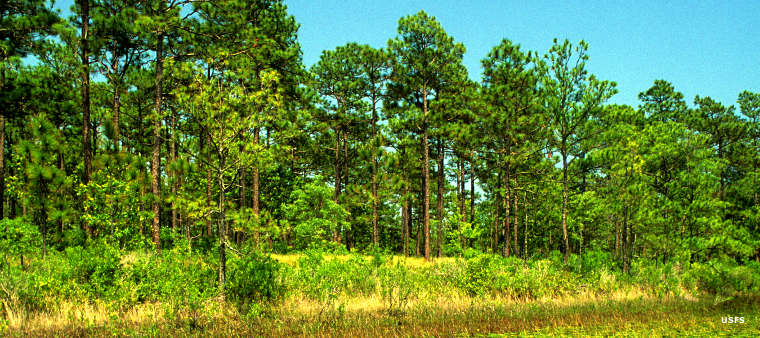 Patsy Pond, Croatan National Forest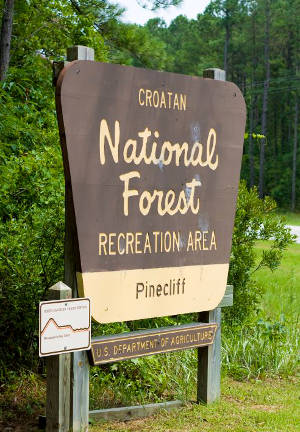 Croatan National Forest is a 159,885-acre property located along the Atlantic coast of North Carolina. The Forest is surrounded on three sides by tidal rivers and Bogue Sound. The Forest additionally offers saltwater estuaries and raised swamps called pocosins.
Croatan National Forest surrounds the Marine Corps Air Station Cherry Point. The local ranger district office is located about 10 miles south of New Bern in US Highway 70.
Wilderness Areas
Catfish Lake South Wilderness
Pocosin Wilderness
Pond Pine Wilderness
Sheep Ridge Wilderness
The forest is a mix of pine flatwoods, evergreen shrub bogs and wetlands abundant with longleaf pines and hardwoods, especially cypress in the swampier areas. Some areas are excellent habitat for the growth of carnivorous plants like Venus fly traps, sundew and pitcher plants. In some sandy areas there are dens of eastern diamondback rattlesnakes. The forest also supports black bear, deer, coyote, bobcat, bald eagle, osprey, wild turkey, wading birds, American alligator and numerous other reptiles and amphibians.
Croatan National Forest is home to the Neusiok Trail, a 20-mile river-to-river hike across hardwood ridges, cypress swamps, longleaf pine savanna and pocosin-shrub bogs, between a salt marsh on the Newport River and a sandy beach on the Neuse River. The Neusiok Trail is part of the 900-mile long Mountains to Sea National Recreation Trail that begins in Great Smoky Mountains National Park and ends on the beach in Jockey Ridge State Park.
Upper left photo courtesy of Lauren Weinhold,
CCA 2.0 License
Other photos and maps courtesy of the US Forest Service