Datil Well Recreation Area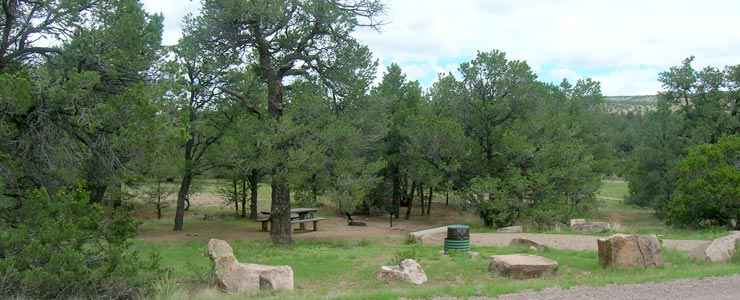 Typical campsites at Datil Well Recreation Area
The Datil Well Recreation Area is along the old Magdalena Livestock Driveway, a 120-mile-long cattle trail between Magdalena, New Mexico, and Springerville, Arizona, first established in the 1800's. There were 15 water wells along the trail and Datil Well is one of them. The Datil Well Recreation Area includes 3 miles of hiking trails in a ponderosa-pinon-juniper woodland with scenic views across the Plains of San Augustin.
As most folks who walk here can still hear the sounds of trailing longhorns, you may also come across other mammals like elk, mule deer, pronghorn, black bear, bobcat, and mountain lion.
There are 22 campsites at the Datil Well Recreation Area Campground, each with a shade shelter, picnic table, fire pit and barbecue grill. You don't need to collect firewood because firewood is provided for those who camp overnight. Restrooms and drinking water are close by.
To get there: The Datil Well Recreation Area is located 1 mile west of Datil on US 60. There is also another signed entrance to the Datil Well Recreation Area on NM 12, about 1 mile southwest of the road intersection in Datil. The campground and recreation area are open year round.
Special Rules:
> No firearms or shooting allowed.
> Trails are for foot access only. No horses, mountain bikes or motorized vehicles allowed.
Maps: BLM - Magdalena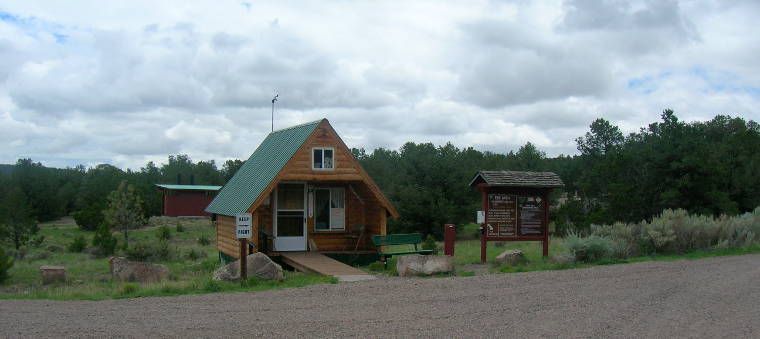 Entrance kiosk at the Datil Well Recreation Area Campground
Datil Well Receation Area and Campground
Bureau of Land Management

- Socorro Field Office