Chaco Culture National Historical Park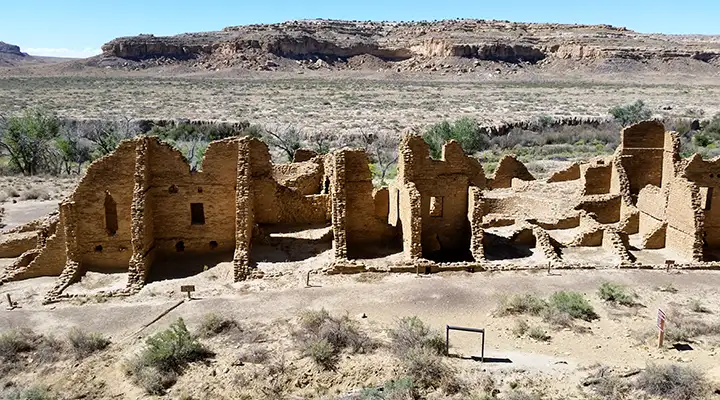 Kin Kletso at Chaco Culture National Historical Park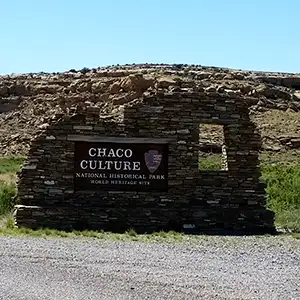 Chaco Canyon was the center of trade, religious ceremony and governmental administration for the Four Corners area from about 850 CE to about 1250 CE. These were the Ancestral Puebloans and their expression of civilization here was marked by large pre-planned masonry constructions, advanced geometries, explicit astronomical alignments, fine engineering and developed landscaping that added up to an impressive urban center of spectacular public architecture.
Looking at what remains in Chaco Canyon today, it's hard to believe an urban center the size of this one could have grown and flourished in this high desert landscape with short growing seasons and marginal rainfall. Obviously, the climate had to be significantly wetter from at least the mid 800's to about 1250 CE. Several of the Great Houses were built in the late 800's and early 900's, built to exacting astronomical orientations and architectural standards. The builders used masonry techniques unique for the time, constructing multi-storied edifices with hundreds of rooms each. Each was built to a pre-specified plan in contrast to the previously-normal method of adding extra rooms as they were needed. Some of these buildings must have taken decades to complete, some might have taken a century or more. Each structure is definitely recognizable as a representative of mature Chacoan architecture.
The landscape of the whole of Chaco Canyon was taken into account for the whole of the construction here. Communication between the Great Houses, pueblos and kivas was by line of sight. Each construction was placed explicitly among sacred mesas, shrines and mountains, surrounded by communication features, astronomical markers, water control devices and formal earthen mounds used for ceremonial purposes. This was the Ancestral Puebloan version of "Feng Shui" on a colossal scale.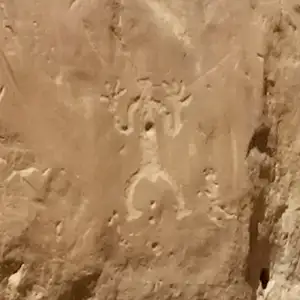 Chaco Canyon was the economic, administrative and ceremonial center of a distinctive widespread civilization. Impressive roads traveled cross country from Chaco in all directions, connecting with more than 150 other Great Houses spread around the Four Corners region. This network of roads is overgrown and eroded to the eyes of Earthbound travelers now but is still visible to anyone looking down from space. Chaco Canyon was the center of a trading network that trafficked in turquoise, macaws, sea shells, copper bells and other commodities, many items coming from thousands of miles away.
Construction in the canyon started to slow in the 1100's and ground to a halt in the early 1200's. Chaco Canyon was essentially abandoned by 1250 CE as the population had grown too large to be adequately supported in the changing climate conditions. Many of the residents had moved north to the new pueblos being built in the area of Aztec, Mesa Verde and the Chuska Mountains while others moved downstream to the pueblos along the Rio Grande. Folks slowly shifted away from the long-established Chacoan ways and their religions and spirituality evolved. Many tribes and clans in the Southwest still trace their ancestries back to Chaco. Some return regularly to carry out ceremonies to honor their ancestors in what is still a very sacred place.
The earliest known map of the area was drawn in 1776 by a Spanish cartographer named Bernardo de Miera y Pacheco. Chaco Canyon had already been abandoned for more than 500 years by then. I would imagine those early Spanish explorers were surprised to stumble on something as large and magnificent as Chaco must have looked about 240 years ago.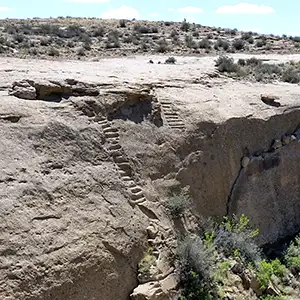 Today, most folks begin their visit to Chaco Culture National Historical Park at the Visitor Center (museum, theater, information desk, gift shop, bookstore, restrooms). From the Visitor Center, there's a 9-mile paved loop road that accesses the parking areas for six major sites in the valley (Hungo Pavi, Una Vida, Pueblo del Arroyo, Pueblo Bonito, Casa Rinconada and Chetro Ketl). There are well-marked self-guided trails from each parking area to and through each set of ruins. There are also four marked back country trails that access some of the more remote sites and features, including stairways, petroglyphs, ancient roads and spectacular valley overlooks. The trails are open from sunrise to sunset but you'll need a free back country permit before hiking and camping is not allowed in the back country: camping is allowed only at Gallo Campground.
To get there: The primary route to Chaco Culture National Historical Park is via US Highway 550. Turn south off US 550 about 3 miles southeast of the Nageezi Trading Post (at mile post 112.5) on County Road 7900. From that turnoff, there''s eight miles of pavement (CR 7900) and 13 miles of packed dirt and gravel road (CR 7950) to the Chaco Culture National Historical Park Visitor Center. A word of warning: Many of these modern GPS mapping/guide services may direct you to take other roads in the area. Many of those other roads eat typical passenger cars as a snack before breakfast. CR 7950 is maintained regularly and is the most direct route to where you want to go.
There are also roads that reach Chaco Canyon from the south: Warning! The best roads are rough to impassable, the others are beyond ridiculous, unless you happen to be driving a rock crawler and it's been dry out for days...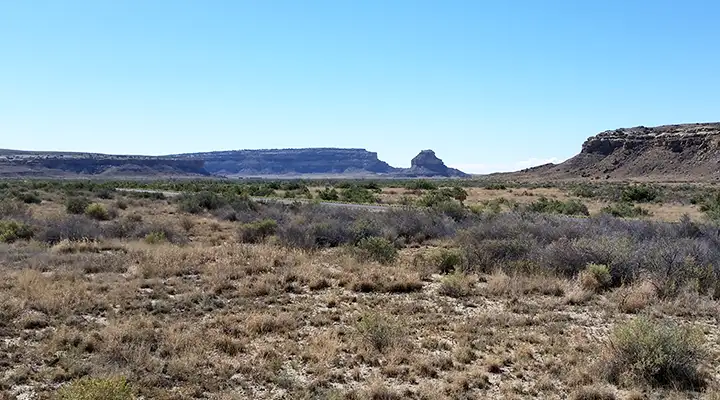 Fajada Butte in the distance, near the entrance to the park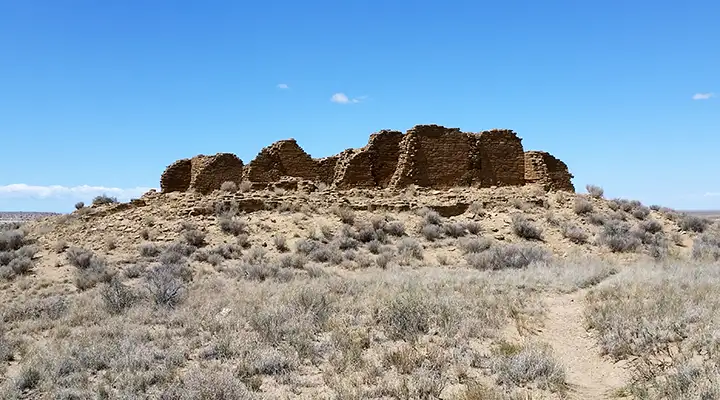 Pueblo Alto
Chetro Ketl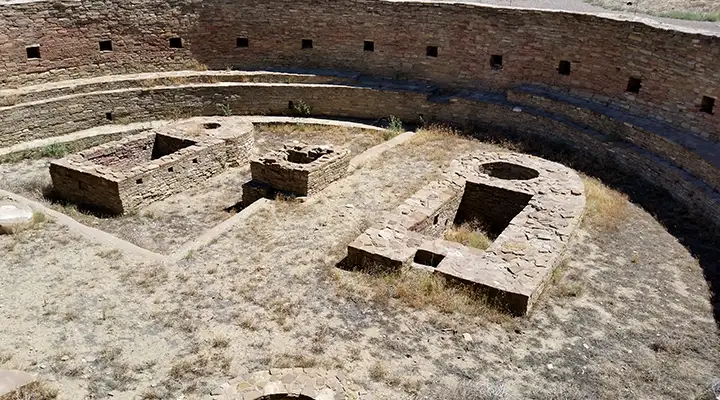 The main kiva at Chetro Ketl in Chaco Canyon
| | |
| --- | --- |
| Pueblo Bonito | 850-1150 CE |
| Una Vida | 850-1090 CE |
| Peñasco Blanco | 900-1125 CE |
| Hungo Pavi | 1000-1080 CE |
| Chetro Ketl | 1005-1110 CE |
| Pueblo Alto | 1030-1145 CE |
| Casa Rinconada | 1070-1105 CE |
| Pueblo del Arroyo | 1070-1105 CE |
| Casa Chiquita | 1100-1130 CE |
| New Alto | 1100-1130 CE |
| Kin Kletso | 1100-1130 CE |
| Wijiji | 1105-1120 CE |
| Tsin Kletzin | 1105-1120 CE |
Chetro Ketl began as a modest building, a single-story room block, probably around 1010 CE. About 100 years later the building had been expanded until the structure covered almost three acres with an estimated 500 rooms: about 225 rooms on the first floor and about 275 rooms on the second and third floors. The overall ground plan of Chetro Ketl is a D shape with the arc of the D formed by the front wall of the plaza. One of the kivas off the central plaza shows evidence of having been intentionally burned some time in the past. The central plaza itself has been artificially raised about 12 feet above the surrounding landscape, perhaps in an effort to mitigate periodic flooding from heavy runoff on the cliffs behind the site.
Some of the room blocks in Chetro Ketl preserve the ancient wall plaster and floor/roofing elements. Some rooms have painted wall murals in them, usually geometric designs in shades of red, blue and green. Floors and ceilings were built of primary beams crossed perpendicularly with willow rods followed by sequential layers of juniper bark and mud plaster. It has been estimated that to build Chetro Ketl it would have taken about 26,000 trees harvested in forests dozens of miles away. The walls are generally built in a core-and-veneer manner with roughly shaped stones set flat in a mud mortar core and carefully selected shaped stones used to make the veneer around the core. The decreasing widths of walls as they rise from the first floor to the third indicate the upper floors were planned before the first floor was built.
In excavating one of the kivas in the Chetro Ketl complex, archaeologists found four sandstone discs layered beneath the floor, separated from one another by layers of adobe. Beneath the fourth disc they found two alternating layers of adobe and lignite (low grade coal). In the center of the circle they found a suede leather bag containing powdered turquoise.
Fronting on the plaza's southern perimeter is a row of one-story rooms connecting the east and west room blocks. Each room was finished on all four walls and there were well-plastered floors laid between them. At one time the rooms were roofed but over time they filled with soil and rubble flowing down from the plaza area above. Chetro Ketl grew to become one of the largest great houses in Chaco Canyon, second only to Pueblo Bonito.
Pueblo Bonito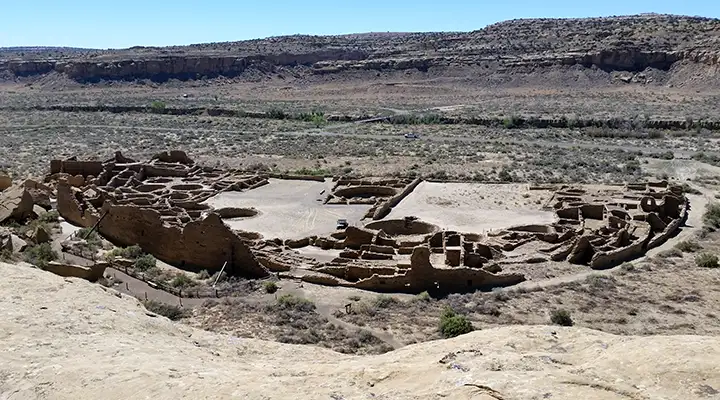 Pueblo Bonito
Pueblo Bonito was the earliest, largest and longest-in-use of the Chaco Canyon Great Houses. The name comes from Lieutenant James Simpson when he was engaged in a military mission into Navajo territory in 1849. He and his Mexican guide, Carravahal, named the abandoned structure using the Spanish for "Beautiful Town." There are also Hopi, Pueblo and Navajo names for the structure. Oral histories of the Acoma, Jemez, Rio Grande Pueblos and the Navajo indicate that Chaco Canyon was the home of the Great Gambler, an entity that came from the south, enslaved the people during their migrations and forced them to build the great constructions in Chaco Canyon before he was outwitted and driven away.
Construction at Pueblo Bonito began around 850 CE and continued for about 300 years, ceasing in the late 1100's. Pottery shards found in the complex indicate the site was still inhabited into the 1200's but not for long. Researchers today estimate the year-round population of Pueblo Bonito to be between 50 and 100 people with major influxes for seasonal and ceremonial purposes. Those same researchers estimate the entire year-round population of Chaco Canyon at its height to be between 2,000 and 6,000, based on the number of rooms with fire pits, the quantity of pottery shards found and the amount of arable land in the canyon.
Excavations during the 1920's revealed the existence of a great many room foundations linking Pueblo Bonito with Chetro Ketl through the open, vacant-looking landscape between the two. Subsurface imaging later revealed the underground existence of many more rooms, foundations and kivas in that space.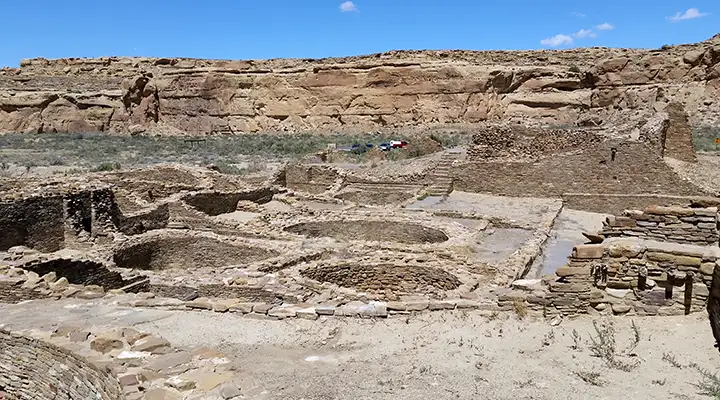 Some of the kivas at Pueblo Bonito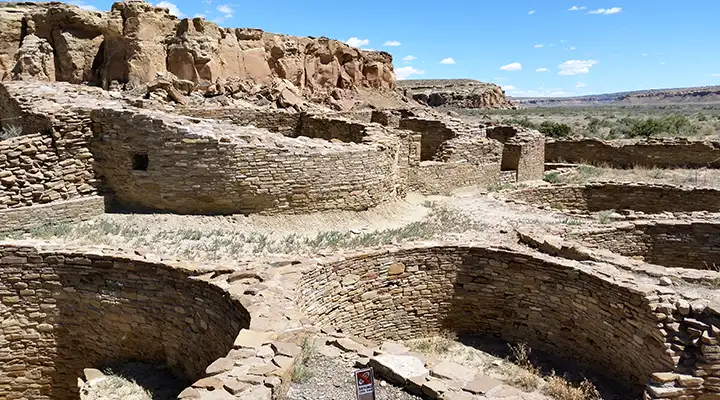 Chetro Ketl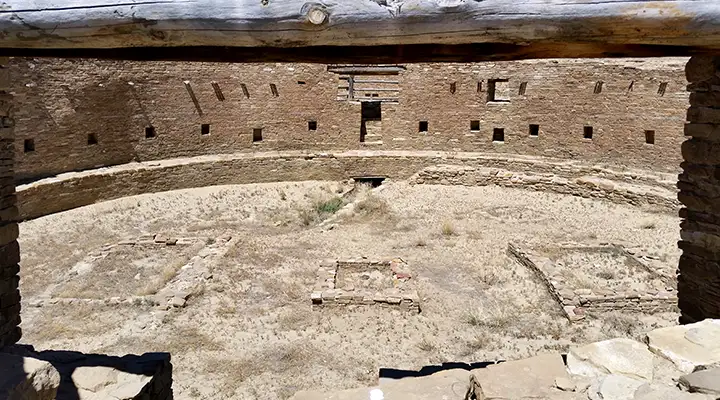 The Grand Kiva at Casa Rinconada
The park is open from sunrise to sunset every day. The visitor center is open from 8 am to 5 pm daily except Thanksgiving, Christmas Day and New Years Day. Camping at Gallo Campground is best rated as "slightly developed" (meaning: tent pads, picnic tables and fire pits or charcoal grills). There are no hookups of any kind at any of the 49 regular and 2 group sites. There is also no shade (although I do remember there being one tree that cast a bit of shade over one campsite early in the morning). The stay limit is seven days and vehicles over 35' don't fit. Bring your own firewood or charcoal, there's none available at the park and gathering firewood is not allowed. Same as there's no food, gasoline or ice available at the park. There is drinking water available at the Visitor Center, you'll find telephones there, too. There are flush toilets in the campground but no showers. Site #16 and both restrooms are universally accessible.
Chaco Culture National Historical Park was declared a UNESCO World Heritage Site on December 8, 1987, joining a select list of protected areas around the globe "whose outstanding natural and cultural resources form the common inheritance of all mankind..."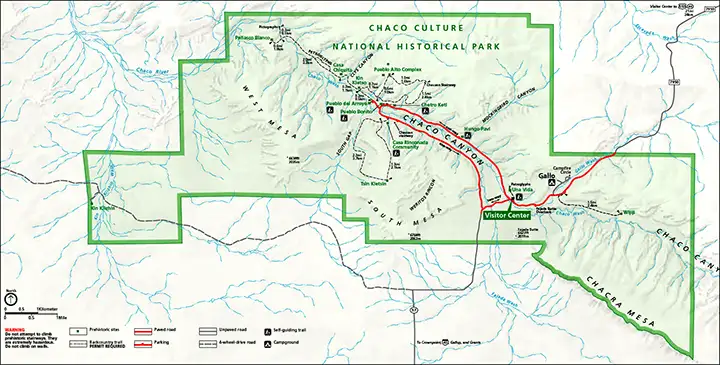 Chaco Culture National Historical Park map
Click on the map to see a larger version
Chaco Culture National Historical Park
National Park Service
Maps are courtesy of the National Park Service
Photos courtesy of TheArmchairExplorer,
CCA-by-SA 3.0 License