Supawna Meadows National Wildlife Refuge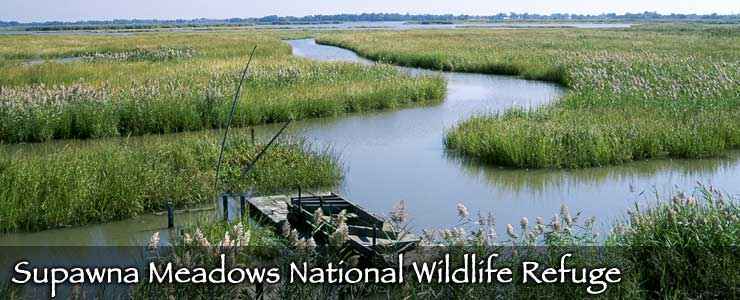 Tidal wetlands at Supawna Meadows National Wildlife Refuge
Located on the Delaware River estuary in Salem County, New Jersey, Supawna Meadows National Wildlife Refuge is a designated Wetlands of International Importance. This is a 3,000-acre property authorized to grow to 4,600 acres in an area dominated by a mix of the kind of fresh water and brackish marshes loved by mallards, northern pintails, black ducks and sandpipers. Just across the estuary is Delaware's Pea Patch Island Rookery, the largest rookery of colonial wading birds on the east coast north of Florida. The marshes at Supawna Meadows NWR provide valuable forage for those nine species of colonial-nesting wading birds, too. In walking around here you might also come across northern diamondback terrapins, muskrats, snapping turtles and river otters.
There's about 390 acres of forested wetlands and upland forests at Supawna Meadows. The Forest Habitat Trail will give you access to the woods, considered one of the finest examples of a healthy, high quality forest still existing in southern New Jersey. You'll probably see some white-tailed deer among the trees, as well as songbirds like the Baltimore oriole, Eastern Wood-pewee and wood thrush. The Refuge also contains 80 acres of grassland, 110 acres of open water and about 240 acres of wetland and upland shrub habitat. The Grassland Trail passes through the upland forest before entering the grassland area. The trail will take you to an observation platform that overlooks a finger of tidal marsh. The refuge also offers a two-mile boat trail that winds around in the tidal marsh habitat.
Supawna Meadows National Wildlife Refuge is open daily from sunrise to sunset. Pets are allowed but must be kept under control and on a short leash. This is a human foot use refuge only: no horses and no motorized or mechanized vehicles are allowed. You also don't want to be collecting or disturbing any plants, wildlife or other natural objects. Camping, campfires and feeding the wildlife are not permitted. Nor is picking any fruit or wildflowers or entering into any closed areas.
Supawna Meadows National Wildlife Refuge is located about 10 miles south of Wilmington, Delaware (about 35 miles south of Philadelphia) in Pennsville, New Jersey. From Interstate 295, get off at exit 1C to Salem County Road 551. Follow that south to the "T" intersection with New Jersey Road 49. Turn left and go east on SR 49 for about 1 mile to Lighthouse Road (should be the first road on the right). Turn right and follow the signs to the refuge entrance.
Supawna Meadows National Wildlife Refuge is administered as part of the Cape May National Wildlife Refuge Complex.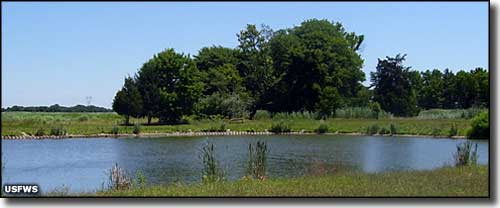 Pond, trees and wetlands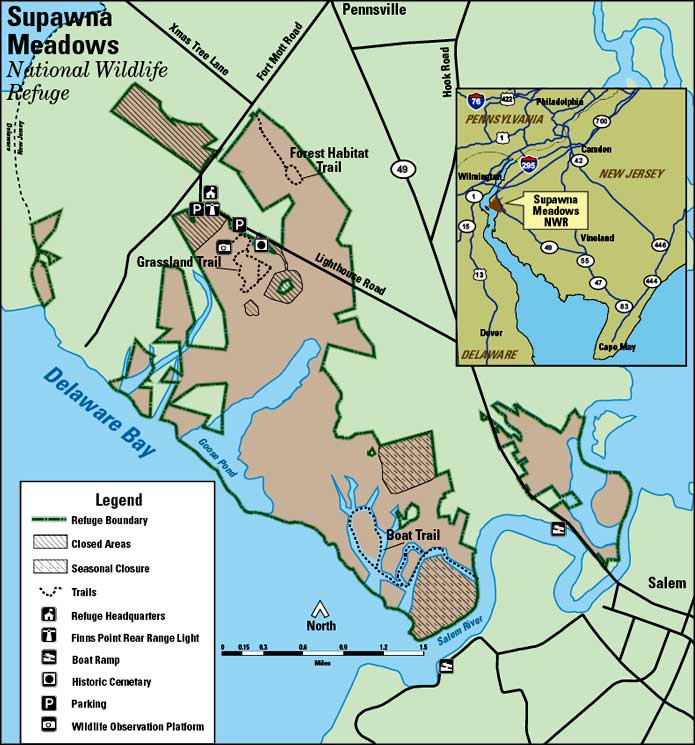 Supawna Meadows National Wildlife Refuge
US Fish & Wildlife Service
24 Kimbles Beach Road

,

Cape May Court House

,

NJ

08210
609-463-0994
Upper photo of Supawna Meadows NWR courtesy of Gene Nieminen, US Fish & Wildlife Service
Lower photo and map courtesy of the US Fish & Wildlife Service