Cape May National Wildlife Refuge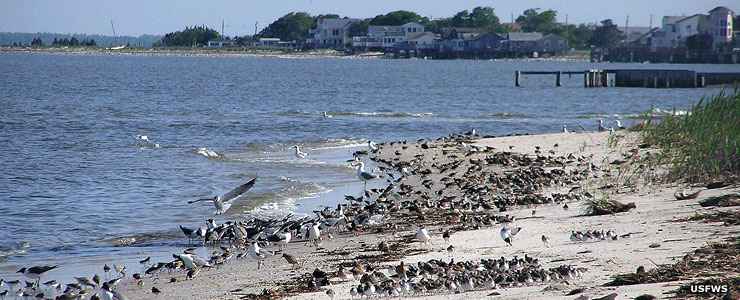 Cape May National Wildlife Refuge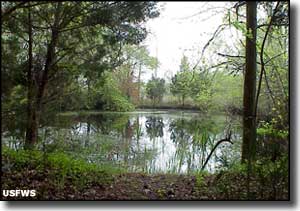 A vernal pool
Cape May National Wildlife Refuge is comprised of about 11,500 acres on New Jersey's Cape May Peninsula. This is an area of bogs, salt marshes, grasslands, maritime forest and beachfront. The location and songbird, raptor, shorebird and wading bird accommodations are such that Cape May NWR is rated as one of America's Top Ten birding hot spots.
Cape May National Wildlife Refuge is not a contiguous property: there are discrete parcels in town, out of town and along the beach. But as a whole, the property does support as many as 317 species of birds, 55 species of reptiles and amphibians, 42 species of mammals and many species of fish, shellfish and other invertebrates. And all these various animal species are counting on the US Fish & Wildlife Service to continue to allow them to hang out on property safe from developer bulldozers and asphalt paving machines.
From the south end of Cape May, it's a twelve-mile jump across Delaware Bay to the next resting area. For many of the birds that stop to rest and feed here, that's a long way between stops. So many hang out for a bit and catch their breath, some even go west and up the east coast of Delaware Bay to where it's not quite so far to the next landfall. The ruddy turnstones, sanderlings, red knots and semipalmated sandpipers arrive every spring just as horseshoe crab spawning season begins. The timing is excellent as they have lots of fresh crab eggs to feed on. Because of the value of the Delaware Bay Estuary to migrating shorebirds and wading birds, Cape May NWR was designated a Wetland of International Importance in 1992. As more and more of these migrating birds' habitat is lost to development, places like Cape May become more necessary for their survival.
Every year in the fall, large numbers of raptor species descend on the upland forest areas of Cape May NWR. The ospreys, peregrine falcons, American kestrels, northern harriers, sharp-skinned hawks and Cooper's hawks rest a bit, shop for lunch, then head northwest up the east coast of the estuary looking for a shorter crossing of that expanse of water. Year-round, though, you can find red-tailed hawks, bald eagles and several species of owls hanging out around the property.
Cape May National Wildlife Refuge offers four maintained trails for visitors: two in the Delaware Bay Division, one in the Great Cedar Swamp Division and one at the Two Mile Beach Unit. The Cedar Swamp Trail leads through a mixed pine-and-hardwood forested swamp, then an area of grassland. At the Two Mile Beach Unit is a trail that runs through the maritime forest habitat behind the dunes. About midway through the trail is a universally-accessible boardwalk that gives access to an observation platform above the salt marshes. A bit further south is another boardwalk leading to another universally accessible observation platform over the beachfront. The beach itself is closed to people from April 1 to September 30 but the trail, boardwalks and platforms are open all year. When the beach is open, they still don't allow surfing, sunbathing, swimming, pets, kite flying, picnicking or shell collecting. And often some areas are still marked as closed. Horses, camping and campfires are never allowed, not anywhere on the property.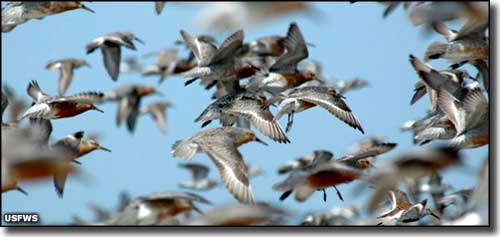 Red knot in flight at Cape May National Wildlife Refuge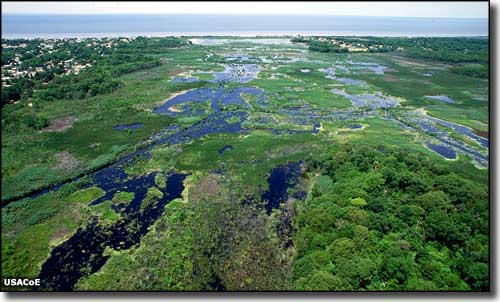 Wetlands on Cape May
Cape May National Wildlife Refuge
US Fish & Wildlife Service
24 Kimbles Beach Road

,

Cape May Court House

,

NJ

08210
609-463-0994
Photo of red knot in flight courtesy of Gregory Breese, US Fish & Wildlife Service
Photo of the vernal pond courtesy of Heidi Hanlon, US Fish & Wildlife Service
Photo of the wetlands on Cape May courtesy of the US Army Corps of Engineers
Upper photo courtesy of the US Fish & Wildlife Service