Great Bay National Wildlife Refuge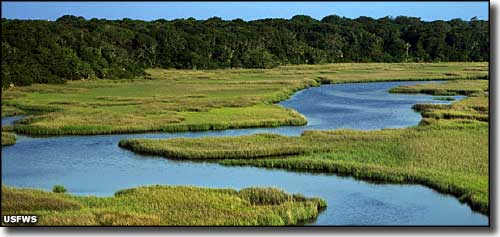 Great Bay National Wildlife Refuge
Great Bay National Wildlife Refuge is comprised of 1,116 acres along the eastern shore of Great Bay in Newington, New Hampshire. This area used to be part of Pease Air Force Base but when that facility was closed in 1991, the land was divided up among various federal and state agencies.
Great Bay National Wildlife Refuge is a mix of dry upland areas, rich wetlands, open coastal waters and tidal mud flats. This is one of the longest pieces of undeveloped shoreline in New Hampshire. Great Bay NWR sees a lot of activity from bald eagles and peregrine falcons as the landscape provides a lot of natural, free-range raptor food. Great Bay is New Hampshire's biggest winter resort catering to black ducks, but you might also see pied-billed grebe, common tern, osprey, common loon, upland sandpiper and northern harrier using the property.
The Peverly Pond and Ferry Way hiking trails are open every day from sunrise to sunset. The Peverly Pond Trail is universally accessible and offers universally accessible restrooms. The refuge also hosts seasonal deer hunts, subject to state and federal regulations. The trails are for human traffic only: bicycles and all motor vehicles are restricted to the entrance road and parking lot. Pets are not allowed. No fishing and no collecting or disturbing of plants or animals.
To get there: head for the Pease International Tradeport. Take Exit 1 off the Spaulding Turnpike (or Route 16) and get on Pease Boulevard. Go through one stoplight then turn right at the stop sign on Arboretum Drive. Follow the refuge signs for three miles to the parking lot and trail access area.
Great Bay National Wildlife Refuge is administered by Parker River National Wildlife Refuge in Massachusetts.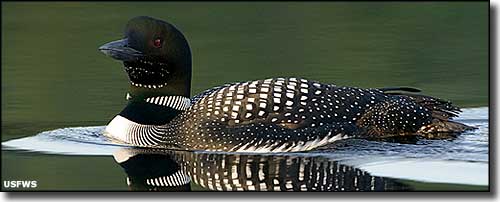 A common loon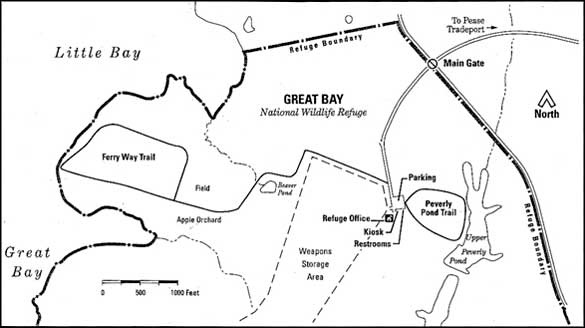 Great Bay National Wildlife Refuge
US Fish & Wildlife Service
Photo of Great Bay NWR and trail map courtesy of the US Fish & Wildlife Service
Photo of the common loon courtesy of Jim Fenton, US Fish & Wildlife Service