Parker River National Wildlife Refuge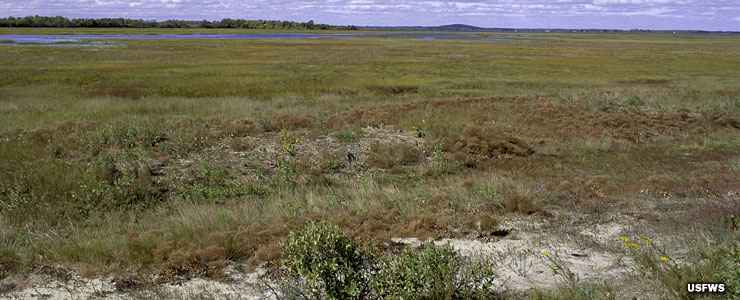 Parker River National Wildlife Refuge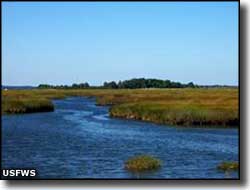 Salt marsh
Parker River National Wildlife Refuge is a 4,662-acre property of diverse wetland and upland habitats in the southern 3/4 of Plum Island. Plum Island is a barrier island off the coast of Newburyport where you'll find bog, swamp, sandy beach and dune, saltwater marsh, freshwater marsh, shrub/thicket, salt pan and creek, river and mud flat. For migratory waterfowl, this is a vital resting and nesting point along the Atlantic Flyway. More than 350 species of birds plus many species of mammals, reptiles, insects, amphibians and fish use the property. To provide undisturbed nesting and feeding habitat for the threatened piping plover and least tern, most of the beach areas are closed to all public use from April 1 until usually July 1, but some sections may not be reopened until late August.
Parker River National Wildlife Refuge is generally open to the public from sunrise to sunset every day of the year. However, human use during the warmer months sometimes leads to short closures, until the human population drops off. The earlier in the day you arrive, the better your chances of avoiding the temporary closure problem.
To get there: Get off Interstate 95 at exit 57 and go east on Route 113. Turn onto Route 1A South and go 3.5 miles to Rolfe's Lane. Go east (left) on Rolfe's Lane to the intersection with Plum Island Turnpike. Turn right (south) and go two miles to Sgt. Donald Wilkinson Bridge. Cross to Plum Island and take the first right onto Sunset Drive. The refuge entrance is 1/2 mile from there. The refuge headquarters and visitor center is located on Plum Island Turnpike just north of the Wilkinson Bridge. The visitor center and exhibits are open seven days a week from 11 am to 4 pm.
Parker River National Wildlife Refuge

Upper photo of Parker River NWR courtesy of John & Karen Hollingsworth, US Fish & Wildlife Service
Upper left photo and maps courtesy of US Fish & Wildlife Service
Lower photo of Parker River NWR courtesy of Kelly Fike, US Fish & Wildlife Service