Lamoille Canyon Scenic Byway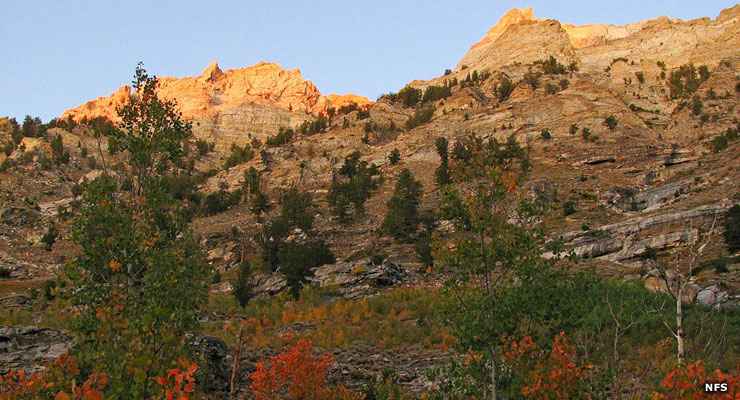 Lamoille Canyon Scenic Byway
Lamoille Canyon Scenic Byway is a beautiful drive through a glacier-carved canyon in the Ruby Mountains south of Elko. From State Route 227, 27 miles southeast of Elko, the National Forest Scenic Byway is 13.5 miles of "sky-island" traveling topping out at 8,800' below Ruby Dome (11,387'). Along the way you'll pass a few large avalanche chutes, lots of wildlife, several waterfalls and 4 interpretive panels with geological information about what you're driving through. Some folks call this valley "the Yosemite of Nevada." An ongoing danger along the route is rockfall, especially during winter and spring when the freeze-thaw cycle works its magic in breaking down the granite of the walls above. Being in Humboldt-Toiyabe National Forest, there's no snow plowing done here so, in season, portions of the road may be closed to vehicles. When that happens, the canyon is alive with snowmobiles and cross-country skiers. The Ruby Mountains are probably the wettest mountains in Nevada so this lush, verdant area can be a nice break from all that surrounding brown desert...
The Ruby Mountains are high enough and far enough north to have undergone extensive glaciation during the Ice Ages. Lamoille Canyon was carved into the solid granite of the range by those glaciers, and that's why the canyon has that classic topography and those classic rock faces rising high above. Along the drive you'll find the turnout/parking area for the northern trail head of the Ruby Crest Trail: a 40-mile hiking trail up into the finest countryside the Ruby Mountains have to offer. The trail's southern terminus is at Harrison Pass, on the Forest Service Road across the Ruby's leading to Ruby Lake National Wildlife Refuge.
In the heart of Lamoille Canyon Scenic Byway in a more open area along Lamoille Creek and surrounded by groves of aspens and cottonwoods you'll find the Thomas Canyon Campground with 40 developed campsites (no hookups) and some excellent picnic areas scattered among the natural terraces that make up the area. The fishing in Lamoille Creek is reputed to be among the best in Nevada...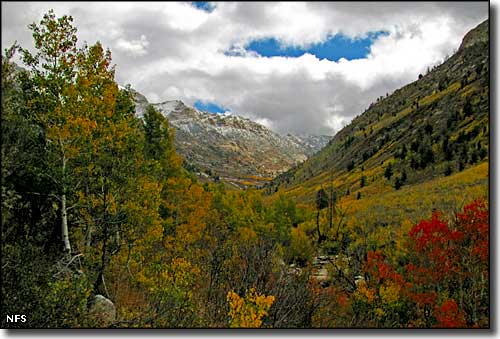 Looking into Lamoille Canyon in the fall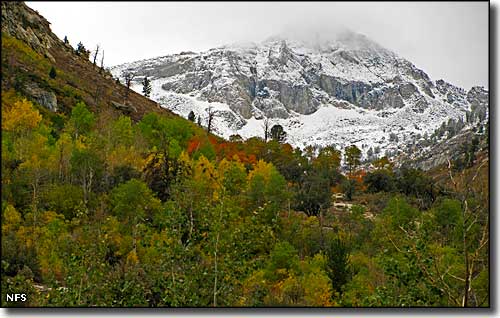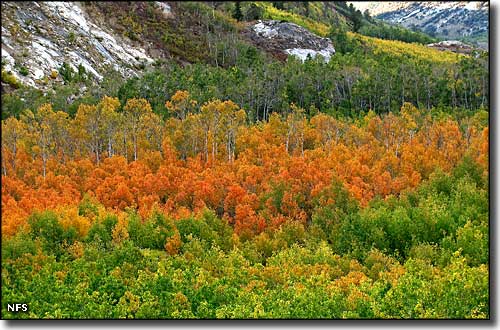 Aspens on the floor of Lamoille Canyon in the fall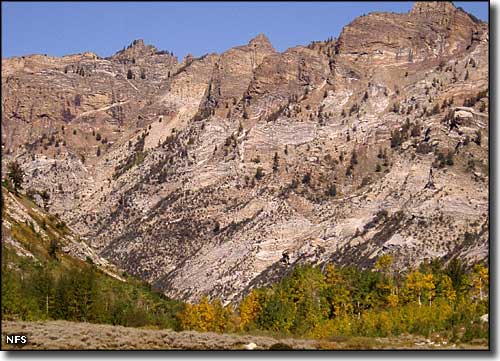 The wall of Lamoille Canyon
Photos of Lamoille Canyon courtesy of the US Forest Service
Lower photo of the wall at Lamoille Canyon courtesy of Debbie Knudsen, US Forest Service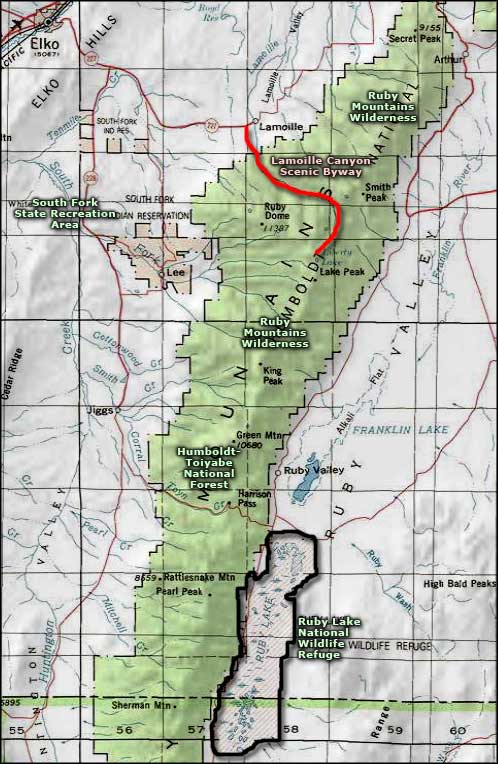 Related Pages
Map courtesy of National Geographic Topo!