Lahontan Reservoir State Recreation Area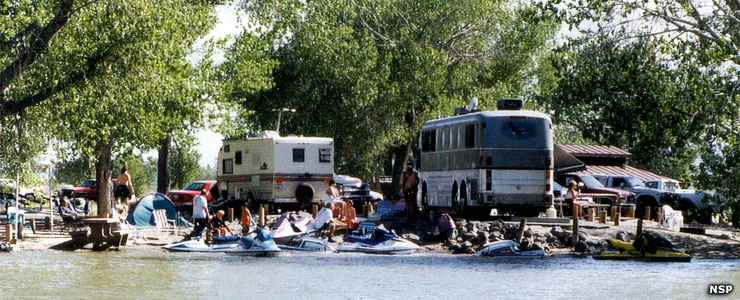 A typical holiday weekend at Lahontan Reservoir State Recreation Area
Facilities & Amenities
Camping
RV Dump Station
Group Camping
Flush Restrooms
Showers
Picnicking
Group Picnicking
Trails
Boat Launch
Nature Study
Swimming
Fishing
Max. RV size: 60'
Pets allowed
18 miles west of Fallon and 45 miles east of Carson City, Lahontan Reservoir State Recreation Area surrounds a reservoir almost 17 miles long with 69 miles of shoreline. When full, the lake offers almost 10,000 acres of water surface.
Lahontan Dam (162 feet high and 1,700 feet long at the top) was completed in 1915. The project diverts and stores water from the Carson and Truckee River basins to produce hydroelectric power and for use in irrigated fields near Fallon. That irrigation project then drains into the Stillwater Wildlife Management Area (which surrounds Stillwater National Wildlife Refuge).
The reservoir and dam are named for the ancient Lake Lahontan, an 8,500-square-mile lake that covered this part of the Great Basin during the last Ice Age. The sandy shores of that ancient lake can still be seen high on the sides of the surrounding mountains.
Lahontan Reservoir State Recreation Area is open year-round but sees maximum use from late spring through summer. There is developed camping at Silver Springs Beach #7 with modern restrooms, cooking grills and picnic tables (but this campground is closed in the winter and early spring because of freezing temperatures). Primitive camping is allowed on the beach everywhere except in the day use and boat ramp areas. ATV use is not allowed anywhere in the park. Horseback riding is most pleasant in the spring, as is wildlife viewing. Summers tend to be hot with cool nights. December and January are often below freezing.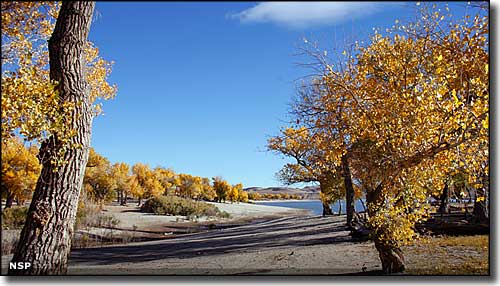 Lahontan State Recreation Area
Nevada State Parks
Photos courtesy of Nevada State Parks
Area map courtesy of National Geographic Topo!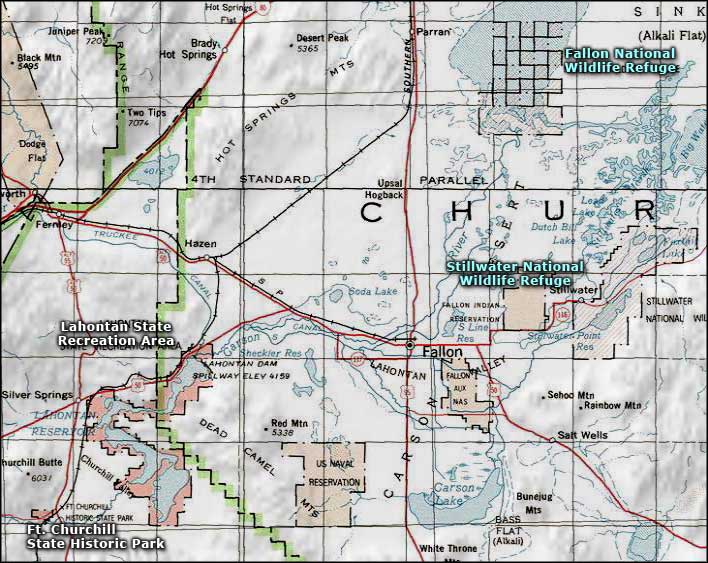 Related Pages
Map courtesy of National Geographic Topo!