Buckhorn Backcountry Byway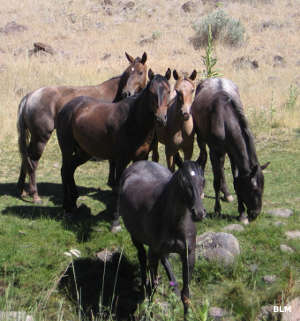 The Buckhorn Backcountry Byway crosses the California-Nevada State Line between Ravendale and Nevada Highway 447 (northwestern Nevada, west of the Black Rock Desert-High Rock Canyon Emigrant Trails National Conservation Area).
This is a 31-mile route that will probably take you at least 2 hours to drive, unless you stop often and enjoy the sights. For parts of the road you'll wish your sturdy steed were a high clearance 4WD vehicle. Pack everything you need and then some: once you leave the pavement there's nothing out there but big views, wild animals, ghost towns and a good time. Most of the route is along a one-lane gravel road that usually sees little-to-no traffic. You can probably say the same for road maintenance... Except in instances of heavy rainfall, Buckhorn Back Country Byway is usually passable from mid-May through mid-November.
The route travels through the Twin Peaks Wild Horse and Burro Management Area after crossing the Cottonwood Mountains and before heading to meet with Nevada 447 just below the Duck Lake dry lake bed. You'll also come across the incongruous situation of a beautiful stand of Ponderosa pines growing out of hot sands in the Pine Dunes Research Natural Area, just off the byway.
This is the Great Basin Plateau and there are no developed campgrounds. The BLM does allow primitive camping virtually everywhere on BLM-administered lands and there are camping facilities located to the north in Modoc National Forest.
The landscape is mostly sagebrush-covered hills but there are also stands of juniper, mountain mahogany and, in the higher and wetter areas, aspen. The valley bottoms are large and flat, the mountains steep. Elevations vary from around 4,000' to around 7,500'. Among the wildlife are pronghorns, mule deer and small herds of wild mustangs and burros. The spring and fall migration seasons will also bring in flocks of geese, ducks and other waterfowl, especially if there is some water in the several intermittently dry lake beds that pepper the countryside.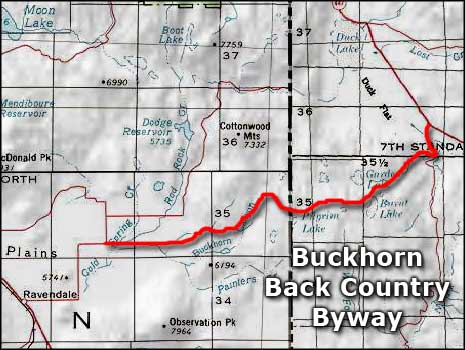 Photo courtesy of the Bureau of Land Management
Map courtesy of National Geographic Topo!