Barrel Springs Backcountry Byway

Sunset along the Barrel Springs Backcountry Byway
The Barrel Springs Backcountry Byway is a loop that straddles the California-Nevada border just south of Oregon. This is a road that works its way across an arid, high desert landscape filled with dry lake beds, alkali flats, old ranches and abandoned homesteads. The California segment of road is paved, the Nevada segment "natural surface" (which means dirt and gravel). If the road is dry, all of it can easily be driven by a 2WD vehicle with a bit of clearance. If the road is wet, you might want a bit more oomph in your vehicle.
Part of this route is along the old Applegate-Lassen Trail from the Emigrant Trails days, and you'll probably be scratching your head thinking "those pioneers walked and drove wagon trains through this countryside?" Quite a few of those folks tried to settle here, too, and failed. You'll see plenty of old buildings in the ghost towns along the way, sand-blasted over the years by the desert wind. It's not just barren desert, either. At times you'll be in the junipers, even in the aspens, depending on the elevation. Figure on seeing lots of pronghorns, mule deer and coyotes.
The 93-mile loop route begins and ends in Cedarville, California and can be driven in 3 hours, unless you get into it and stop often... If you stop at the BLM's Surprise Field Office in Cedarville and pick up the 32-page BLM Byway Tour Guide, you'll probably be stopping often. The Tour Guide offers stories of the Surprise Valley from pioneer days (and earlier) as well as where to stop and look for fossils, pictographs and particular areas heavy on the wildlife.
Some folks tell of having an epiphany while driving across the Surprise Valley's Middle Lake causeway at sunset...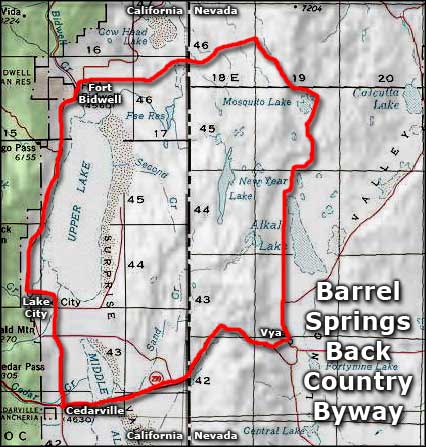 Barrel Springs Backcountry Byway area map
Upper photo courtesy of Laurie Sada
Map courtesy of National Geographic Topo!