Loup Rivers Scenic Byway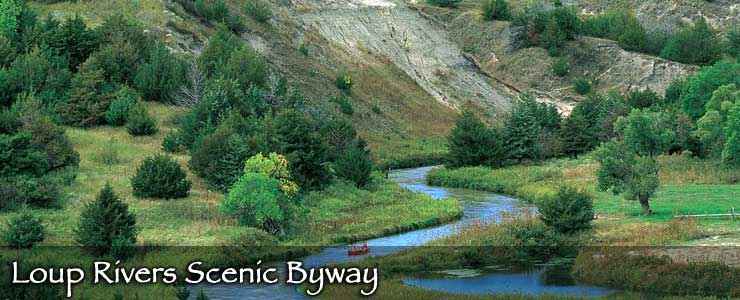 Canoeing on the Middle Loup River along the Loup Rivers Scenic Byway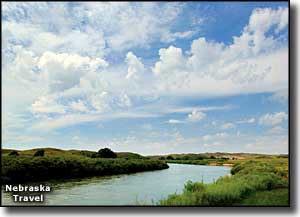 The Loup Rivers Scenic Byway climbs north and west out of the lush green of the prairie lakes region along the Platte River corridor into the heart of the Sandhills: a distinct eco-region of grass-stabilized sand dunes and shallow lakes. Back in the day, the Sandhills was home to large herds of bison but with the bison gone (for the most part), the area is now home to large, very productive cattle ranches.
The Loup Rivers Scenic Byway is a 141-mile paved, two-lane route through the heart of Nebraska's cowboy country. The byway's name comes from the meandering North, Middle and South Loup Rivers, although the scenic byway only follows the course of the North Loup. The valley of the North Loup contains three reservoirs: Sherman Reservoir near Loup City, Davis Creek Reservoir near North Loup and the Calamus Reservoir near Burwell.
"Loup" is the French word for "wolf." The rivers were named back in the early days of European exploration when this area was first penetrated by French fur trappers. Wolf packs and herds of bison seemed to naturally go together back in those days. The rivers flow out of the Ogalala aquifer, a vast ancient reservoir underlying the Sandhills. The Ogalala is very close to the surface and feeds many marshes, wetlands and shallow lakes in the region. That means the spring and fall bird migration seasons bring in literally millions of migrating waterfowl and other birds. Biologists have recorded 314 species of animals and 720 species of plants in the region. That's an incredible amount of diversity in an area that early pioneers and settlers wrote off as desert because the loose, sandy soil wouldn't plow properly or grow non-native crops.
The Loup Rivers Scenic Byway crosses the Sandhills Journey Scenic Byway near Cairo and has its western terminus at the intersection with the Sandhills Journey Scenic Byway in Dunning. Near that western terminus of the byway is the Bessey Ranger District of Nebraska National Forest, the largest hand-planted forest in the United States.
Other sites along the Loup Rivers Scenic Byway
Calamus Reservoir State Recreation Area
Dannebrog: Danish Capital of Nebraska
Dowse Sod House
Fort Hartstuff State Historic Park
Happy Jack Peak And Chalk Mine
Victoria Springs State Recreation Area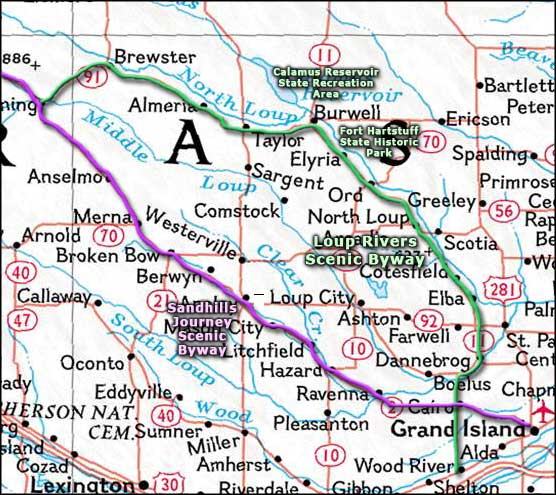 Loup Rivers Scenic Byway area map
Upper photo courtesy of M. Forsberg, Nebraska Travel & Tourism
Upper right photo courtesy of R. Neibel, Nebraska Travel & Tourism
Area map courtesy of National Geographic Topo!