Terry Badlands Wilderness Study Area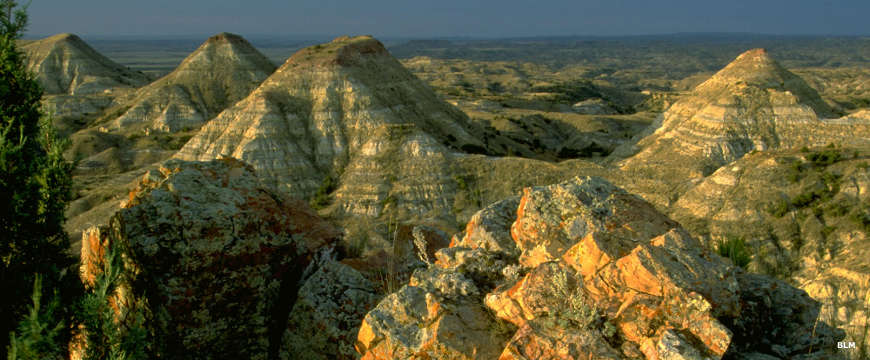 Terry Badlands Wilderness Study Area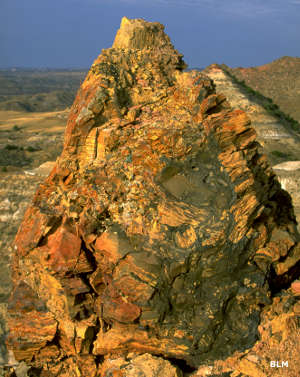 The Terry Badlands Wilderness Study Area includes colorful, banded sandstone cliffs overlooking rolling prairie. There are multiple geologic features including sandstone bridges, table tops, spires and buttes divided by deep gullies formed through thousands of years of wind and water erosion. There are also numerous chunks of petrified logs visible in the gullies.
The Terry Badlands is an excellent area for hiking, back country hunting, rock and fossil collecting and enjoying the spectacular badlands scenery. The landscape is mostly rolling benches vegetated with grasses, wildflowers and yucca, sage, greasewood and scattered stands of juniper. The Terry Badlands also includes the most easterly stands of limber pine in the USA. Wildlife includes mule and whitetail deer, elk, pronghorn, badgers, raptors and reptiles like as horned toads, snakes and lizards.
Historical resources include 1800's era graffiti from U.S. Army troops on Sheridan Butte.
The Terry Badlands Wilderness Study Area is located in Prairie County, 3 miles northwest of Terry, MT. To get there go north from Terry on Highway 253, aka: the Big Sky Backcountry Byway, about 3 miles to a gravel road heading west. That road will take you to the Terry Scenic Overlook near the northeastern boundary. The cherry-stemmed road is about six miles long and brings visitors a bit inside the WSA. Once you are inside the WSA (and that boundary is well-posted), you can pull over along the road and park almost anywhere: traffic is usually very light.
The second vehicle access route leads to the Calypso Trail, a 4WD route that bisects the WSA from southeast to northwest. To get there go west out of Terry on Old Highway 10 for about 2 miles, then turn right, or westward, on Milwaukee Road. Go a little over three miles to where you'll cross a one-lane bridge over the Yellowstone River. This where the route also crosses the Lewis and Clark National Historic Trail. The bridge itrself originally served as a Milwaukee Railroad bridge. About a half mile past the river there's a kiosk that gives information about the area and marks the beginning of the Calypso Trail. You can drive the Calypso Trail and pull over alongside the road pretty much anywhere that makes sense - not on a hill, etc., to park and walk. There are no designated parking areas, do not drive off road, the Wilderness Study Area boundary is well posted.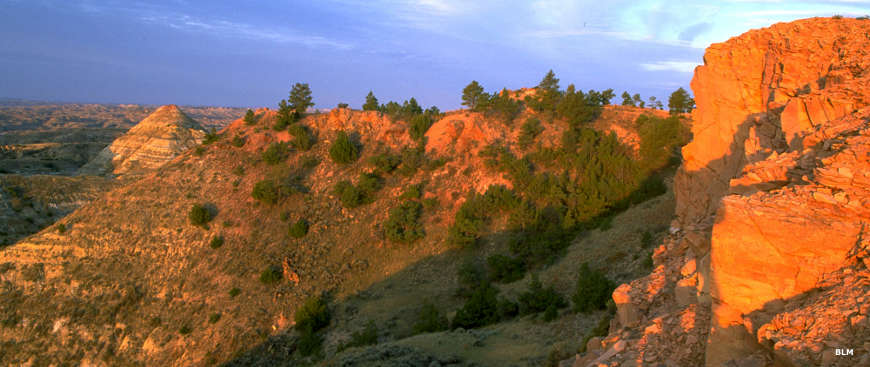 Geology exposed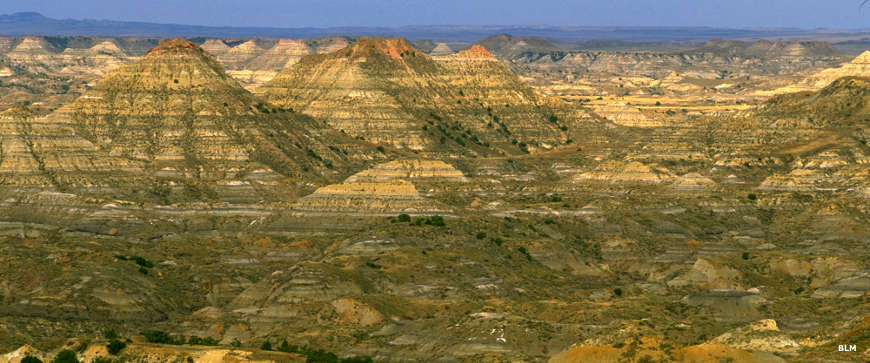 An ancient eroded canyon
Photos courtesy of the Bureau of Land Management