Burnt Lodge Wilderness Study Area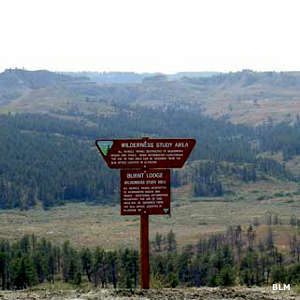 Burnt Lodge Wilderness Study Area is located on the Missouri Plateau in the northern Great Plains, adjacent to the Charles M. Russell National Wildlife Refuge. This is a spectacular riverbreaks landscape formed by tributaries to the Missouri River. Erosive forces over the ages have cut deeply into layers of shale and sandstone, creating steep south-facing badlands with little-to-no vegetative cover. The ridgetops and north-facing slopes tend to be vegetated by prairie grasses and forbs with scattered stands of ponderosa pine, lodgepole pine, Douglas fir and juniper.
The landscape offers outstanding opportunities for solitude. Big game and upland bird hunting are popular activities, along with hiking, backpacking, primitive camping, horseback riding, wildlife viewing and photography.
Burnt Lodge WSA is located in Phillips and Valley Counties. From Glasgow, Montana, go south on Highway 24 for 10 miles to Willow Creek Road. Turn onto that and go another 45 miles to Timber Creek Road. From there go another 4.3 miles, then turn left and drive about one-quarter mile before turning right to go one more mile to a stream crossing. Stop and look at that crossing before continuing: make sure your vehicle can do it safely. After crossing the streambed, follow the road to the right to the Plum Creek Road. Burnt Lodge WSA is on the right side of Plum Creek Road until it reaches the boundary of the National Wildlife Refuge.
WSAs are remote and undeveloped lands that offer primitive and unconfined recreation opportunities. Motorized and mechanized travel within the property is allowed only on the numbered routes.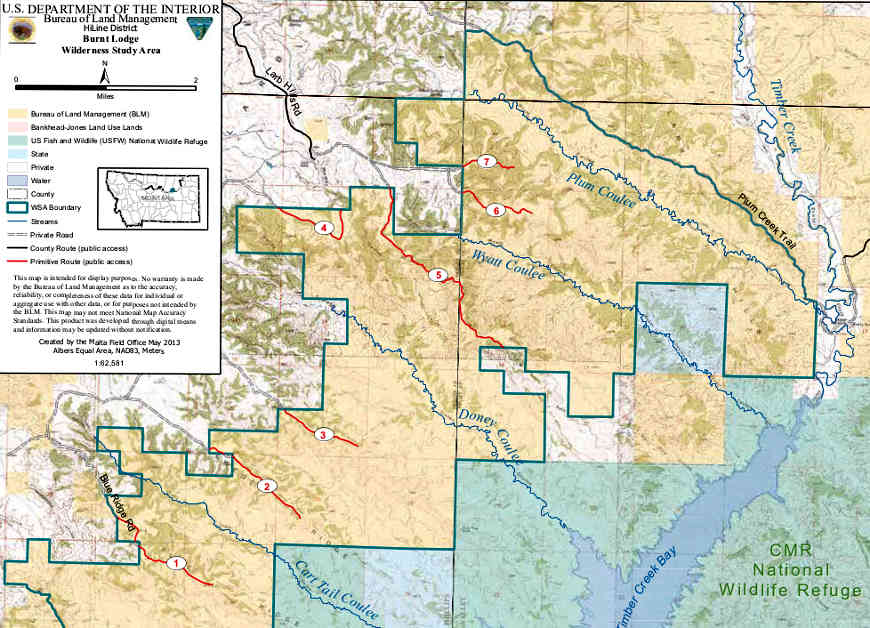 Photo and map courtesy of the Bureau of Land Management